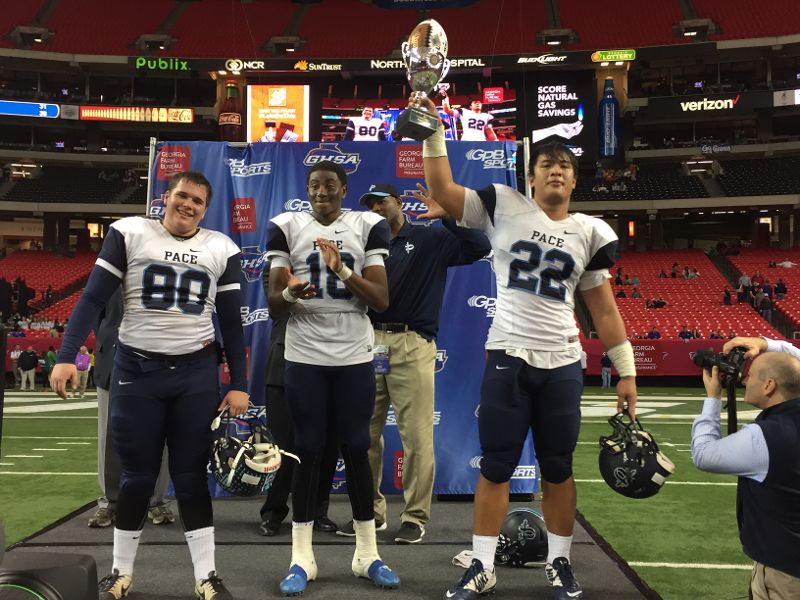 A No. 4 seed entering the state playoffs did not phase the Knights (13-2) as they won six straight games on the road en route to their first ever state championship. Pace Academy blew open an early fourth quarter 7-point lead into a 42-21 rout of Fitzgerald (13-2).
"This has been a long season. Guys have been willing to play together. They fought hard against a great Fitzgerald football team who beat us last year in the playoffs," said Pace Academy head coach Chris Slade after the game. "We knew it was going to be a tough battle, but we stuck together. We fought hard, guys got tired but they sucked it up and I'm just so happy and proud to be head coach of this team."
Pace never trailed and led 21-7 at the half, but Fitzgerald would not go away. Deon Jackson scored his second of his three touchdowns on the ground on a perfect misdirection handoff, going untouched to give the Knights a 28-14 lead at the 10:34 mark of the fourth quarter. The Purple Hurricanes responded with a 4-play, 80-yard drive capped by James Graham's first completed pass of the day, a 41-yard strike to Montrell Harris to cut the lead back to seven with 9:22 to play.
From that point on the Knights turned on the after burners. An 11-play, 80-yard drive was finished off by Jackson's third touchdown of the game, a 4-yard run, scoring on the same play as his second trip to the end zone. He finished with 113 yards rushing to balance an offensive onslaught that put up 471 yards, outgaining Fitzgerald who finished with 296.
The final dagger came on a 1-yard Realus George run with just over two minutes to play to make it a 21-point game. George added 78 yards and two rushing touchdowns as a part of Pace's 323 yards on the ground.
Gunnor Faulk was the difference and they key to balancing the Knights' offense. The sophomore quarterback completed 13-of-15 passes for 148 yards and one touchdown. Fitzgerald threw the ball only four times and completed just one pass, the 41-yard toss to Harris. Graham did however run for 100 yards and one touchdown, but star running back JD King, who entered with 2,380 yards rushing and 30 touchdowns, was held to just 55 yards and one touchdown on 18 carries.
"This ranks up as one of my most memorable victories," said coach Slade, a former AFC Champion with the New England Patriots. "Matter of fact, this tops it because we worked so hard to get here. No one thought we would get this far. No one thought we would ever have a chance to win a state title back in 2008 when this program started, but the people in our community have stuck with us and believed in us."