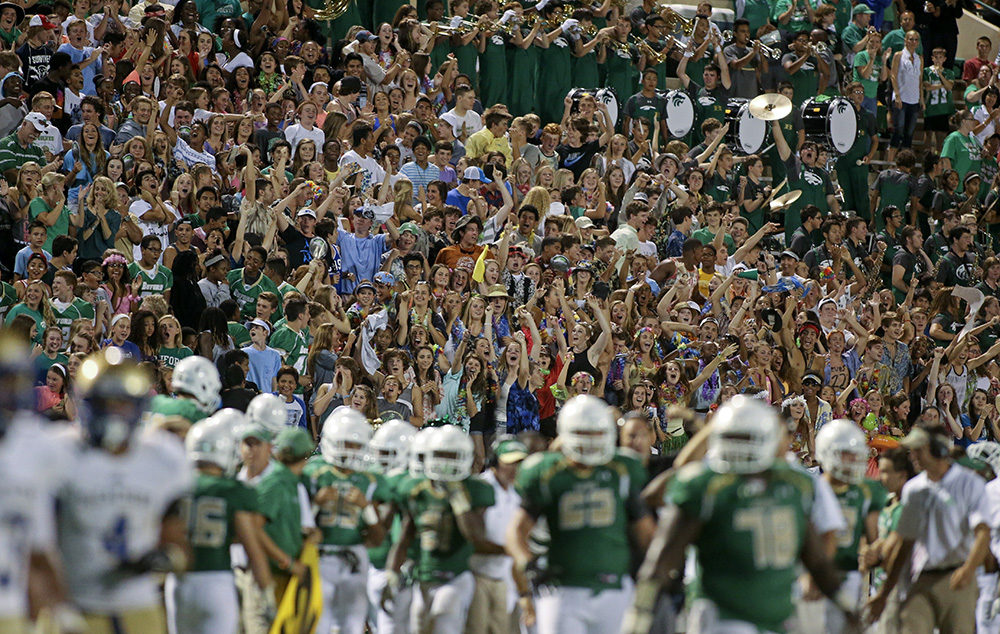 Class AAAA
Georgia Dome
Saturday, Dec. 12 | 4:30 PM
Cartersville
It has been 16 years since the Hurricanes captured their second state title in 1999. Behind a more seasoned Trevor Lawrence under center, a balanced overall offense and an improved defense, coach Joey King hopes year-two will yield the grand prize. King has gone 26-2 over his two year stint in Bartow County and many of those wins have come via the big arm of Cartersville's sophomore quarterback. Lawrence has thrown for 3,522 yards, 42 touchdowns and just four interceptions this season, but the Canes are more than just an air raid offense. Senior running back Tiamon Pennymon has carried the Cartersville offense at times. He has rushed for nearly 700 yards and has 20 touchdowns on the ground. Through the air, tight end and Alabama commit Miller Forristall is a matchup nightmare with his 6-foot-5 frame and great athleticism. He originally played quarterback before Lawrence showed up last season and took Cartersville to the next level. He has caught 54 passes for 881 yards and 10 scores. Lawrence's favorite target has been Terrius Callahan. His 62 catches, 1,187 yards and 16 touchdowns lead coach Joey King's offense. Defensively, the Hurricanes allow 7.6 points per game. Kobie Whitfield spearheads the secondary and provides game-breaking plays. Against Bainbridge in the semifinals, Whitfield intercepted two passes and returned a punt 70 yards for a touchdown to spark a 38-7 rout. Xavior Coaxum and Antoine Jefferson are two more pieces of a stingy Hurricane secondary while Tyler Reed is always among the team leaders in tackles each week from his middle linebacker position. The Canes have steamrolled their way to the state championship, beating Columbia, Liberty County, Jonesboro and Bainbridge by a combined 146-35. Their rematch with Buford from last season's state semifinals marks the first time the Purple Hurricanes have played for the state title since 1999's 15-0 Class AA state championship team, when they defeated Hart County 27-21.
Buford
Buford's road to championship number 12 has been a checkered one compared to years past. A 42-game winning streak which spanned two and a half seasons including back-to-back 15-0 campaigns, was shattered in non-Buford like style, losing to McEachern 37-14. The Wolves had a handful of starters missing, but still, seeing Buford on the wrong end of the scoreboard was something fans in the state of Georgia hadn't seen in a mind numbing 1,071 days. After shaking off the loss, coach Jess Simpson's team got right back to work, winning 11-straight games including six shutouts. The defense is anchored by North Carolina State commit Shug Frazier up front. Standing 6-foot-2 and 320 pounds, Frazier is an intimidating run stopper that has shown the ability to blow up blockers and get to the quarterback. He is joined by North Paulding transfer Dale Craig, a Middle Tennessee State bound linebacker. Craig has brought a solidifying force over the middle that has helped the Wolves allow just over 7.1 points per game this season. Two-way athletes Martin Mangram, Caleb Auer and Georgia Tech commit Xavier Gantt fly all over the field both offensively and defensively making plays. The go-to man under center who makes things click is signal caller Mic Roof. The junior isn't asked to sling the ball around like his counterpart, but he does a good job of hitting his spots and has thrown for over 1,300 yards. The grinding rushing attack of the Wolves is what most teams can't stop. The three-headed attack of Anthony Grant, Christian Turner and Mangram all have over 600 yards rushing and more than 40 touchdowns between them. Mangram rushed for 122 yards against Woodward Academy in the semifinals and scored three times. The Wolves rallied from down 18-7 to ease past the War Eagles, 35-18. Star running back and UGA commit Elijah Holyfield of Woodward was held to just 72 yards on the night. Buford has ratcheted up its play this postseason, outscoring opponents 40 to 6 as the Wolves seek their fourth straight championship.
The Matchup
Buford (13-1) vs. Cartersville (13-1)
In a rematch of last year's semifinal meeting, the Purple Hurricanes of Cartersville will attempt to solve the puzzle that is Buford, the 11-time state champs and three-time defending winners. Cartersville fell to Buford 27-3 in 2014; the second time the Wolves ended their season in the semis, with the first coming in 2012, 21-10. Buford was able to shut down the explosive Cartersville offense led by quarterback Trevor Lawrence. As a freshman, he was held to just 126 yards and an interception on 18-of-39 passing. As a sophomore he has taken his game to another level, passing for 3,522 yards, 42 touchdowns and only four interceptions. Coach Jess Simpson will lean on his defense one more time this season and hope history repeats itself in terms of slowing down the Canes' offense. North Carolina State commit Shug Frazier will bring pressure up the middle, testing the Cartersville line. Linebacker Dale Craig and cornerback Martin Mangram will be integral parts in stopping the Canes.