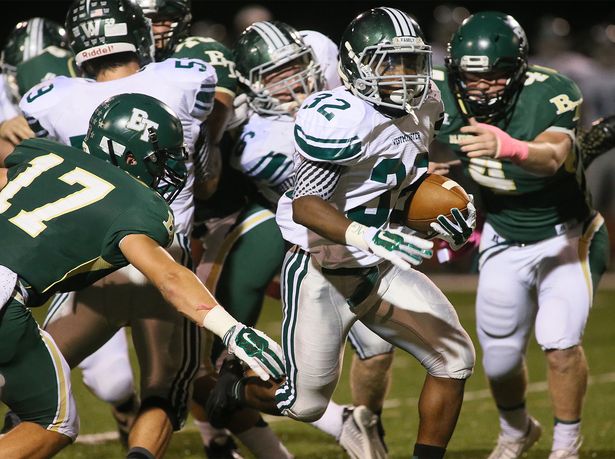 Class AAA
Georgia Dome
Friday, Dec. 11 | 4:30 PM
Blessed Trinity (13-0-1)
The Titans have finally reached the mountain top. Now it is just time to plant their flag. Blessed Trinity has been slowly improving each season and now the opportunity to bring home the program's first state title is here. After back-to-back nine win seasons in 2012 and 2013, the Titans rumbled to a 13-0 start before falling in the semifinals to eventual state runner-up Washington County, 28-17. That loss has fueled coach Tim McFarlin's team into another unbeaten season. The Titans' lone tie came in the region championship against Cedar Grove, 13-13. Though Blessed Trinity rolls into the title game, it hasn't been without adversity. Starting quarterback Conor Davis injured his shoulder and missed the majority of the Jefferson game in round two and the entire quarterfinal meeting with Dawson County. An Auburn commit in baseball, Davis gutted his way through a 12-7 win over defending state champion Calhoun in the semifinals. He completed 7-of-15 passes for 78 yards and now has 1,392 yards and 15 touchdowns on the season. Senior running back Garrett Dupuis carried the load in the low scoring game with 60 yards and a score. He has 592 yards rushing on the season and a second-best 110 tackles on the year. Dupuis made 10 stops in the win. Calhoun had a first-and-goal from the Blessed Trinity 4-yardline, but the goal line defense stood and sent the Titans onto unchartered territory – the Georgia Dome. Blessed Trinity would have never gotten to this point however if it weren't for the play of freshman quarterback Jake Smith, who stepped up during Davis' absence. He completed 20-of-28 passes for 331 yards and two touchdowns in his two games of action. No matter who is playing quarterback, the number one option on offense is senior running back Milton Shelton. He has run for 1,806 yards and 27 touchdowns to power the Titan offense.
Westminster (10-4)
Westminster opened the season 3-4 overall and 1-2 in region play. The slow start was illuminated by a Week 5 loss to Therrell (3-7), 25-23. In came Blessed Trinity on senior night and the Titans walked out of Henderson Stadium with a 24-10 win; already twice as many losses as the 2014 team that went 12-2 and lost in the semifinals. After that loss to Blessed Trinity, the season turned around for coach Gerry Romberg. Seven wins in a row later and the Wildcats are playing for their first title since winning it all in 1978 against Dalton, 17-0. The offense turned things around behind quarterback Rankin Woley and running back Zay Malcome. Through their first seven games of the season, the Wildcats averaged 25.8 points per game. Through their final seven, they have posted 38.5 per game and have been handily defeating opponents. Explosive outbursts of 49 and 51 points against Callaway and Adairsville in the second and quarterfinal rounds has the Wildcats believing they can play with anyone. In last week's semifinal meeting with Region 4 rival Cedar Grove, Westminster used 146 rushing yards from Malcome to advance to the Dome, with a 24-8 win. As good as their offense has been the Wildcat defense flexed its muscle against Cedar Grove, allowing just two first downs in the first half. Westminster has been road warriors the entire post season, playing every game on the road. The Wildcats have actually played and won seven straight road games. In the quarterfinals at Adairsville, they exploded for their highest scoring output of the season, winning 51-21. Woley did everything, tossing two touchdowns, running for a score and adding a 31-yard interception return for six. His versatility is something that Romberg will rely heavily on in the title game. A not-so secret weapon this season for the Cats has been the kicking game. Blake Gillikin is a Penn State commit and booted a school-record 56-yarder in the quarterfinals.
The Matchup
The Class AAA championship features a rematch of an early game between familiar Region 4 foes. Blessed Trinity has won five straight games against Westminster including a 24-10 road victory on Oct. 16. Milton Shelton sprinted 85 yards for a back breaking touchdown with 4:50 to play to shatter any hopes of a Wildcat victory. He finished with 174 yards on the ground and will be Westminster's main target to stop this time around. Westminster running back Zay Malcome totaled 55 yards and Rankin Woley was held to 91 yards passing in the defeat. The Wildcats have won seven straight games since dropping to the Titans. If the game comes down to special teams, Westminster will have the advantage with Penn State-commit Blake Gillikin at kicker.