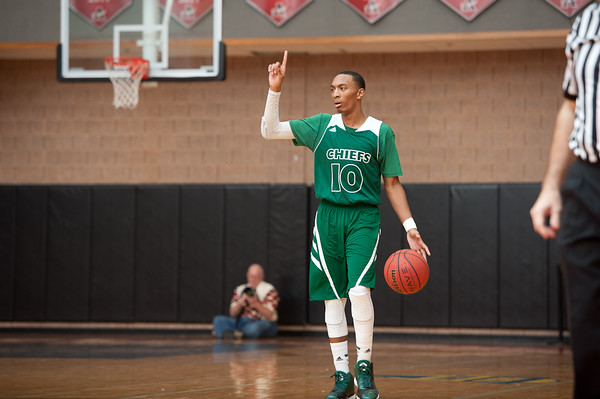 Photo by Ty Freeman
#2 South Paulding (21-7) @ #1 Brunswick (25-2)
After dropping a heart breaking multi-overtime game to Allatoona in the Region 5 championship, the Spartans put together one of their best games of the season spanking Stephenson, 66-37. Brothers Kane and Joe Williams give Coach Gil Davis reliable options on offense. Big man Kinsey Burgess is an experienced senior relied upon to battle inside. Brunswick will be a stiff task as the Pirates hammered Stockbridge, 91-71. Roger Davis and Jabrill Heck had monster games combining for 60 points and 24 rebounds. Brunswick hopes to bring the state title down south for time in years.
#2 ML King (23-5) @ #1 McIntosh (29-0)
The Chiefs are the only remaining undefeated team in the state and have held that title for months. Jordan Lyons is an explosive scorer and Will Washington is one of the best passer in the state, averaging close to a double-double. Dishon Lowery gets his double-double on the glass averaging 10.5 points and 11.4 rebounds while wiping away 3.4 shots a game. Chase Walter is another polished banger inside that pitches in 10.5 points and 8.9 rebounds a night. MLK has survived in Region 6 after three battles with Miller Grove. Kevon Harris averages a double-double and should provide a great matchup with Lowery. Though it is Harris who leads the Lions in points and rebounding, Jordan Martin stole the show in round one in a 64-58 win over Alexander. The senior scored 24 points, grabbed 10 rebounds and dished out six assists.
#2 Northside WR (16-10) @ #1 Cedar Shoals (21-8)
The Jaguars routed Kell 73-50 in round one. D'andre Mahaffey and Phlandrous Fleming play big roles for Cedar Shoals. The Jags knocked off Gainesville and Heritage-Conyers en route to claiming the number one seed out of Region 8. Northside took care of Northside Columbus, 69-53 in its first game.
#3 Statesboro (17-10) @ #1 Miller Grove (26-3)
Six-time defending state champ Miller Grove had the scare of a lifetime in round one as Chapel Hill played them as good as anyone has all season long. The Wolverines survived with a 49-46 win proving that nobody can be overlooked in the state tournament. Alterique Gilbert and Lamont West give Miller Grove one of the strongest inside-out tandems in the state. The Blue Devils upset Drew, 77-68. Jaylan Patrick and Michael Salomon will be relied upon to handle Miller Grove's defense and find open buckets.
#3 Apalachee (20-8) @ #1 Warner Robins (22-4)
The explosive Kamar Baldwin leads the Wildcats into a showdown with the Demons. The electrifying junior went for a ho-hum 28 points, 10 rebounds and six assists in a 72-58 win over Rome in round one. The scary part is that that stat line is nearly identical to his season averages. As great as Baldwin is, Kent Knowles and Alantae Billings are two others defenses must key in on. Warner Robins is led by Marquez Callaway who is also a star on the football team. The Demons handled Carver-Columbus, 68-47 in round one.
#2 Coffee County (20-10) @ #1 Allatoona (26-2)
The Bucs drilled Mays 65-49 in round one and are riding a 15-game winning streak. Rodney Brown, Trey Doomes, and Ephraim Tshimanga starred in Allatoona's opening round victory. Chris Ifill and Bradley Brevet are two other scorers that can break out for double digits any given night. Coffee nearly upset Brunswick in the Region 3 championship, but after being outscored by 18 in the final frame, they dropped 73-50. The Trojans took care of Mundy's Mill 70-60 in round one. Tyree Paulk leads the charge averaging 16.4 points per game.
#2 Heritage-Conyers (21-9) @ #1 LaGrange (21-7)
Head Coach Mike Pauley and the Grangers are no stranger to success in the tournament. This year's team features high-scorers Rico Smith and Laperion Perry. The two guards pace the LaGrange offense and can be difficult to stop. They helped the Grangers race past Houston County, 60-41. The main feather in Heritage's cap is a three point win over Tucker. The only of school to beat Tucker this season? Miller Grove. The Patriots have proven they can hang with the big boys behind a trio of players averaging over 10 points per game. Sophomores Isaiah Banks and Jordan Thomas average 12.4 and 11 points respectively while junior Makyle Wilkerson scores 10 points and grabs 7.8 rebounds. They defeated Riverwood, 53-45.