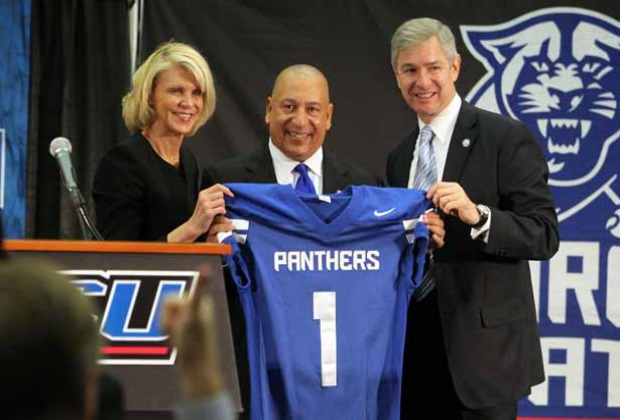 Jason Getz/AJC
Establishing and building young athletic programs is never easy in a business driven by money, alumni and tradition. Matters be- come even more difficult when the school in question began predominantly as a commuter school. Without a large following to support the program in its infancy, Georgia State has struggled to maintain attendance at its football games following each of the season openers.
FIRM FOUNDATION …
Following the retirement of Bill Curry many people felt the program would fizzle and ultimately fail if the search committee could not produce a big-name hire. What the athletic department returned with was a hire that appeared uninspired on the surface; however, what athletics director Cheryl Levick understood was that she needed a coach who had experience building a program from the ground up.
The Panthers had previous success using this method when they were transitioning in their men's basketball program. Georgia State was able to attract Ron Hunter to guide the Panthers by way of IUPUI, where he developed a tradition of exceeding expectations. Hunter brought new energy to a program that had grown stale and began to draw fans back to the arena. He refused to settle for the apathy that had infected a student body that has little reason to be unified.
If the new leader of the Panthers' football team, Trent Miles, can follow the lead of Hunter, Georgia State can use its jump to the Sun Belt Conference as a fresh start to change the culture of a program. In his brief time with the program, Miles has already decided on not only pursuing players who would be settling to play for the Panthers, but also seeking out those who may have their sights set on the big schools. By getting the Panthers' name out, Miles has been able to spread the good word and create a buzz on the recruiting trail by hauling in former South Carolina commit Kight Dallas, a three-star outside linebacker from Stephenson. Kight also had offers from Arkansas and Auburn among others.
By simply changing the culture of a program that admittedly struggled to a 1-9 record last year, Miles is working towards developing a following amongst students who have been removed from their university. This will not be the first building project in Miles' short career as a head coach. He arrived at Georgia State after guiding the Indiana State Syca- mores to a 20-36 record over the past five years. At first glance, this record does not instill confidence in those who follow the Panthers closely, but when you look deeper, it is easy to recognize the promise he has shown in a difficult situation.
If his career follows the same path as it did at Indiana State, success may not be immediate, but it will be important to maintain patience to allow the process time to pan out. When success does find itself on the football field for the Panthers, you can be sure that one of the reasons will be the plan Miles has begun to lay out for his program.
ON THE RISE …
Georgia State has two young, up-and-coming coaches who are looking to build a culture of success that has not been present on campus since the days of "Lefty" Driesell. With the rapid growth experienced the past few years at GSU, a large base of fans are waiting to throw their support behind an athletic program they can be proud of. This is no longer a small commuter school with little presence in the city of Atlanta. The Panthers of Georgia State are growing in stature and looking to make an impact on the sports landscape in Atlanta. Look for this hire by Levick and her staff to make ripples around the NCAA and other programs to stand up and take notice. Panthers fans have a bright future ahead, so take your seat on the bandwagon now and enjoy the ride. These coaches are here to stay and have set out to leave their imprint on a program, a student body and a University.