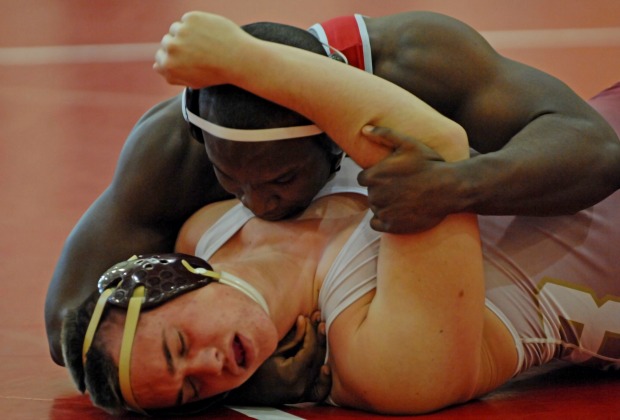 Sonny Kennedy
At the state dual wrestling tournament in Macon, No. 1 Archer won its first state wrestling championship while top-ranked Pope breezed to the Class AAAAA title.
Archer was considered the favorite coming into the tournament and lived up to the hype by blowing past Rockdale 66-3 in the semifinal and then convincingly beating defending champion Camden County 35-19.
"We're pretty ecstatic," said Archer coach Tom Beuglas. "We have a group of seniors that had never wrestled before their freshmen years, and now they're state champs."
Beuglas, who led Parkview to four state titles, took over the Archer program four years ago when the school had just opened its doors. Today, the Tigers had nine winners including Sam Bullard (120), Grant Aycox (126), Chris Diaz (132), Daniel Bullard (138), Zach Wright (152), Ernest Alexander (195), Hunter McCleskey (220) and M.J. Couzan (285).
Beuglas knew coming into the finals that his team faced a tough opponent.
"On paper, (Camden County) matched up better with us than anyone," he explained.
But a 20-point streak from the 120-pound match through 138-pounds gave Archer a big early lead.
"After that, we felt good about it," said Beuglas of his team's chances at the title.
Camden County made the finals by beating traditional power Collins Hill 31-22 in a battle of recent champions. Collins Hill had won the dual title from 2008-2011 prior to the Wildcats' upset win last season.
In Class AAAAA, there were no surprises to be had as No. 1 Pope swept past second-seeded Woodland-Bartow 50-14 to take the Greyhounds' second dual title in a row.
"I'm elated," said coach Jim Haskin of his team's championship. "It's a great win for the kids and the program."
The Greyhounds won 11 matches and dropped just three despite missing star wrestler Brooks Climmons, who missed the tournament due to a death in the family. Trevor Stevens filled in for Climmons and won his match in the 182-pound weight class. Preston Markwell (120), Tyler Haskin, (126), T.J. Collins (132), Davis Burson (138), Jonny Sexton (145), Jake Henson (152), Billy Meek (160), Zeke Weber (170), Joey Tabachino (220) and Taylor Howard (285) also had wins for Pope.
Haskin realized his team had the finals match sewn up early on.
"My coaches and I figured if we won at either 138 or 145, we'd take the match," he said. "We won at both, so we knew we were in good shape then."
Haskin is in his 17th season at the east Cobb school and attributed his program's success to building from the ground up.
"When I got here, I cleaned house and started from the bottom," said Haskin. "We built a solid junior program and then started recruiting in the halls (of Pope High School). We'd pick out kids in the hall that looked like they wanted to be winners, champions. It's hard to tell (if they'll wrestle), but you can always ask."
The upset of the day was in Class AAA where second-seeded Banks County outpointed No. 1 Woodward Academy 34-33. It is the Leopards' first state crown in wrestling.
In Class A, a feud may have been resolved when No. 2 seed Gordon Lee edged top seed Holy Innocents' 33-30. Last year, the GHSA had to vote to decide the dual wrestling winner in Class A and decided on a split title between the two programs.
Jefferson won its fifth straight Class AA dual title with a 47-16 win over Bremen. The Dragons have won a state championship in each year that dual tournaments have been held, dating back to 2002.
Gilmer won the Class AAAA championship 45-14 over Alexander for its fourth straight dual title.
State wrestling dual tournament
Macon Centreplex
Final Results:
Class AAAAAA final
Archer 35, Camden County 19
Consolation; Collins Hill 59, Brookwood 12
Class AAAAA final
Pope 50, Woodland-Bartow 14
Consolation; Whitewater 32, Ware County 27
Class AAAA final
Gilmer 45, Alexander 14
Consolation; West Laurens 41, Carrolton 36
Class AAA final
Banks County 34, Woodward Academy 33
Consolation; Oconee County 43, Morgan County 33
Class AA final
Jefferson 47, Bremen 16
Consolation; Lovett 39, Social Circle 27
Class A final
Gordon Lee 33, Holy Innocents' 30
Commerce 55, Mt. Zion-Carroll 21