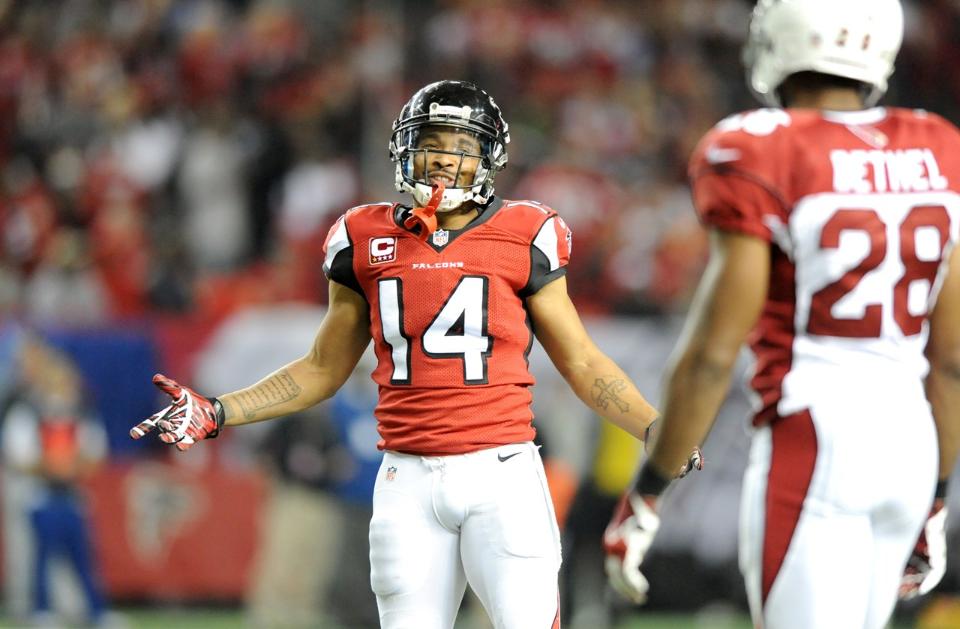 AtlantaFalcons.com
Ever since Mike Smith and Atlanta Falcons parted ways one day after a season-ending, Week 17 home loss to Carolina, the headlines around these parts have been dominated by the head coaching search. And why not? The outcome of that process could define the direction this franchise takes over the course of the next decade—or longer.
But with other teams going into carpe diem mode (the Bills wasted no time landing Rex Ryan and the Jets snagged Todd Bowles, just to name a few) while the Falcons bide their time (at least that was still the case as of Wednesday afternoon), now might be a good time to turn attention to a different department: player personnel.
GOT LONG LIST OF EX-FALCONS? …
"We have a tremendous number of skill players," owner Arthur Blank said during his press conference to announce Smith's firing. "Were they performing to their level of ability? That's debatable…. Do we have holes? Probably, yes. How best to fill them will be in large part up to the new coach."
There is, of course, no coach now and perhaps no coach until after the Super Bowl if the Seahawks win this weekend and the Falcons want to wait for defensive coordinator Dan Quinn. Even after Blank and company make their decision on Smith's replacement, free agency does not begin until March 10.
Only time will tell who is sticking around and who is hitting the road, but it is clear from Atlanta's 2015 free-agent list that the roster may be in line for an overhaul. Among the team's unrestricted FAs are Osi Umenyiora, Sean Weatherspoon, Kroy Biermann, Matt Bryant, Jacquizz Rodgers, Corey Peters, Robert McClain, Dwight Lowery and Eric Weems. The most significant fluctuations could come with the pass rush and in the offensive backfield. Umenyiora has insisted that he will retire and even if he changes his mind, he will not be in the Falcons' plans. Biermann, another veteran defensive end, should have several seasons left in his tank but those are not likely to come in Atlanta. The case of Weatherspoon is an interesting one, because his talent commands a substantial salary but his durability—or lack thereof—does the opposite. If he will settle for a short-term offer, he will stay.
The Falcons have utilized a running back by committee approach over the past two seasons and while they may employ the same strategy in 2015, the components could be different. Devonta Freeman, who showed promise as a rookie, possesses a similar skill-set to that of Rodgers. Jackson has one season left on a three-year deal but there is a chance he is released a la fellow veteran Michael Turner following the 2012 campaign. All transactions will be made with an eye toward 2016, when Julio Jones' free agency will be of utmost concern—if it is not already. In other words, quarterback (Matt Ryan) is the only position at which the Falcons can rest easy for the foreseeable future.
"When you talk to head coaches, they always start with, 'if you have a quarterback, you have a chance,'" Blank added. "And we have a great quarterback."
THINKING OUTSIDE THE BOX …
Ryan's greatness cannot be realized, however, if he is not surrounded with parts that can produce a championship. Are those parts already in Atlanta? Some, maybe. All of them? No.
Remember what happened last year on the first day of free agency? Well, get used it. With so many Falcons possibly heading elsewhere, the team will likely dive headlong into the free-agent circus by reeling in players from outside sources. That's exactly what general manager Thomas Dimitroff did last offseason, when he signed Jon Asamoah, Tyson Jackson and Paul Soliai literally right when the gun went off before coming to terms with Devin Hester less than two weeks later.
This year's dream signing, which should be plainly obvious to people around here, is former Georgia sack-master Justin Houston. Not only does Houston have a ton of local ties (he is a Statesboro High School alum, as well), but he fits a massive need. However, the Chiefs might put the franchise tag on him and his price will be astronomical even if they don't. Ndamukong Suh is a name that also must be thrown out there. Blank surely wants to bring in some marquee attractions as he attempts to sell seats in the new stadium that is scheduled to open in 2017. Ryan as head coach would have satisfied such criteria. Say what you will about Suh's character, but he could do it, too, based on what he brings to the on-field table.
Less spectacular options, which Dimitroff has never shied away from in an effort to build a solid, well-rounded roster, include offensive linemen Mike Iupati (San Francisco) and Doug Free (Dallas). If Atlanta is ready to give up on tight end Levine Toilolo, Julius Thomas (Denver) and Jermaine Gresham (Cincinnati) become possibilities.
DRAFT DAY …
Then there's the NFL Draft. The Falcons' loss to Carolina last month was unquestionably a rough one, especially because it prevented them from hosting a playoff game against the Ryan Lindley-led Cardinals. Some direct benefits, however, could be reaped come the last day in April. They have the No. 8 pick in the draft instead of No. 21 if they had been ousted in round one of the postseason, No. 25 if they had lost at Seattle, or even later had they made a deep playoff run.
That is not to say that Atlanta will automatically add an immediate impact player at No. 8. Like any other team, it has endured its fair share of misses over the years. But recent hits cannot go unnoticed. Dimitroff made a shrewd move to get Jones at No. 6 overall in 2011 and picked cornerbacks Desmond Trufant and Robert Alford in 2013 The jury is still out on offensive tackle Jake Matthews, but early returns suggest Atlanta got a good one with the No. 5 selection in last year's proceedings.
With a favorable standing in the pecking order at which Atlanta has plenty of recent experience, available pass-rushers could include Vic Beasley of Clemson, Randy Gregory from Nebraska and Missouri's Shane Ray. The team might also look at defensive line help in the form of USC's Leonard Williams or a boost in the secondary from Alabama's Landon Collins.
For now, it's still early. But get ready—this offseason is about to get crazy.