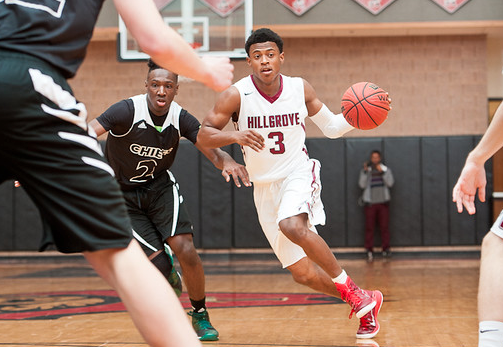 Photo by Ty Freeman
GIRLS…
McEachern at Hillgrove
Class AAAAAA No. 2 McEachern's 73-66 win over Hillgrove earlier this season (Dec. 5) came with a price, as Caliya Robinson suffered a knee injury that would sideline her for the remainder of the season. The future Georgia Bulldog's absence has been noticeable but senior captain Te'a Cooper has kept the Indians' title defense alive while playing the best basketball of her career. There are not many scorers more explosive than Cooper and that has been especially true since Robinson's injury. Cooper was unstoppable with her 25 points, 10 assists, six steals and six rebounds in the win over Hillgrove and she returned to the court the next game to drop 43 points in the Indians' first game without Robinson. Cooper is averaging 28.8 points per game this season while also dishing out 7.6 assists per game. Jada Lewis is McEachern's other top scorer and the 5-foot-8 junior scored 24 points off of 10-of-14 shooting in McEachern's 81-57 win over Harrison this Tuesday.
Stephenson at Southwest DeKalb
No. 2 Stephenson and No. 5 Mays sit atop a deep Region 6-AAAAA with undefeated records, but No. 8 Southwest DeKalb is only one game back with a 7-1 region mark. Davion Wingate is Stephenson's star in the backcourt and averages 17.2 points per game with 3.0 assists and 3.2 steals per game. Wingate will be matched up with Southwest DeKalb junior Daisa Alexander. Alexander has netted 16.5 points per game this year, while adding four steals per game and nearly eight rebounds a game. Stephenson won the last matchup on Dec. 5 by the score of 59-58. Wingate chipped in 14 points but it was Terrianna Cave that led Stephenson with a team-high 17 points. Southwest DeKalb sophomore Jada Walton finished with a game-high 19 points off of 9-of-17 shooting.
BOYS…
Wheeler at Cherokee
The No. 1 ranked team at the Class AAAAAA level, Wheeler Wildcats (16-1, 8-0), visit the Cherokee Warriors (11-7, 5-4) in an interesting Region 5 matchup. Coach Roger Kvam's undersized Warriors always seem to play Wheeler tough which was proven yet again earlier this season as Cherokee lost by just three, 51-48 at Wheeler back in December. The Wildcats are led by the number two ranked player in the nation, Jaylen Brown, and Tennessee-commit Shembari Phillips who is coming off a 39-point performance. Cherokee's senior trio of Jeremiah Gill, Jovan Morris, and Willie McClure will need to come up big to have a chance at pulling off the upset.
McEachern at Hillgrove
Powder Springs will be up for grabs once again in one of the state's best growing rivalries. No. 9 Hillgrove (13-3) sits atop Class AAAAAA Region 4 with a 6-1 record, while McEachern (12-5) is a game behind at 5-2 after stumbling against Harrison in overtime on Tuesday. The Indians receive the bulk of their scoring from senior wing Brandon Caruthers and junior point guard A.J. Jones. The two combined for 36 of the team's 61 points on Tuesday. Hillgrove has had McEachern's number as of late, winning five straight meetings dating back to 2012.
GAC at Holy Innocents'
No. 4 GAC faces No. 3 Holy Innocents' for the second time this season in a crucial Class AA Region 6 meeting. GAC (10-5, 5-1) knocked off the Bears (15-3, 5-2) earlier this season 58-49. The two teams trail No. 1 ranked Pace Academy who is undefeated in region play. Freshman guard Travis Anderson leads the Bears in scoring (15.3) and assists with 2.8 per game and sophomore Cole Smith teams up in the youthful backcourt and provides 11.5 points per game. Garrett Covington, Cam Boyd, and Jacob Hoffman give GAC Head Coach Eddie Martin plenty of weapons to rely on.
Collins Hill at Mill Creek
After surviving a scare from rival Peachtree Ridge on Tuesday, Class AAAAAA's No. 7 ranked team, the Collins Hill Eagles (15-2, 6-1), will face another stiff test visiting the Mill Creek Hawks (12-6, 4-3). Coach Chad Rogers' crew handed Collins Hill its only loss of the season in Region 7 play, 75-62 back in December. Both schools have undergone great resurgences this season as Collins Hill finished .500 a year ago while Mill Creek managed just seven wins. Seniors Kai Lambert, Jalen Mitchell, and Devin Watson do the majority of the scoring for the Eagles. Mill Creek's balance is led by Davion Clark, Miles Riley, Scotty Chadwick, and Shaheim Powell. Charles Botchway scored 21 in Mill Creek's win over Collins Hill this season.
Dunwoody at Miller Grove
Class AAAAA's No. 1 ranked team, the Miller Grove Wolverines (16-3, 8-0), welcome Dunwoody (5-12, 1-7) in this Region 6 clash. The Wolverines scored an easy 69-34 win at Dunwoody earlier this season. Lamont West scored 24 points and Alterique Gilbert added 19 in the rout. West leads Miller Grove in scoring this season averaging 20 points and Gilbert pours in 18.3 a game while grabbing 5.8 rebounds and dishing 6.5 assists. Raylon Richards patrols the paint with West, both players swatting 2.7 shots per game. BJ Millard and Connor Vieria shoulder the load for the 'Cats as Zaire Mateen has been sidelined with an ankle injury.
Gainesville at Apalachee
Class AAAAA Region 8 features a big matchup between two schools with their eyes set on making the state playoffs coming out of a competitive region. No. 3 Gainesville (15-1, 6-0) will look to hold onto its region lead against the Wildcats of Apalachee (13-4, 6-2) who are tied for second with Cedar Shoals. Mississippi State-commit D'Marcus Simonds, an explosive shooting guard who transferred from Buford, leads the Red Elephants along with Luke Maddox and football standout Messiah Dorsey. The dynamic Kamar Baldwin runs the show for Apalachee. The electric combo guard averages 26.6 points, 10.5 rebounds, 3.8 assists, 3.4 steals, and a block per game.
South Paulding at Allatoona
South Paulding (13-4, 7-3) looks to avenge a 55-41 loss from December. The Spartans will try and keep pace with the No. 4 Buccaneers (15-2, 10-0) who lost in the elite eight a year ago. Second place in Class AAAAA Region 5 is still up for grabs with South Paulding holding a game lead over Lithia Springs and Hiram. C.J. Baisden has been a rock for the Spartans. He has played varsity for four years and is the team's leading scorer. Sophomore point guard Kane Williams has shown great promise and senior Kinsey Burgess and big man Anthony Brown have contributed in a multitude of ways. Allatoona's veteran squad is ladened with seven seniors and four juniors.
Roswell at Etowah
The final spot for Class AAAAAA Region 5 is still up for grabs with Cherokee holding a 5-4 region record, and Etowah (11-5) not far behind at 4-4. Roswell (7-11, 3-6) coming off a tough loss to Woodstock, finds itself in peril of getting a good seed heading into the region playoffs. Etowah is led by the seasoned scoring trio of seniors Josh Fulenwider (13.8 points & 5.8 rebounds), Dante Richitelli (10.3 points), and junior Ryan Grigsby (11.3 points). Sam Jessen and Solomon Michael are two of the cornerstones for the Hornets. Roswell lost 66-53 to Etowah earlier this season. The aforementioned Eagles trio combined for 50 points in the win.
Pope at Milton
After edging Milton (9-7, 7-2) 53-49, the Greyhounds (14-3, 8-2) will look to do so again and in the process take a stranglehold of second place in Class AAAAAA Region 5. A stunning loss to Roswell last Friday threw a monkey wrench into Pope's plans of cruising into second or even challenging Wheeler for first place. The loss opened up the door for Milton to have a chance to take over second with a win this Friday. Pope is led by senior guard Chase Hutchins, who is the heart and soul for the Greyhounds. The GCSU-commit averaged 18 points and 8 rebounds a game as a junior. Garrick DeBowles is a physical presence as well for Pope. 6-foot-8 Chris Lewis is Milton's go-to guy averaging 16 points per game.
North Clayton at Blessed Trinity
Class AAA Region 4 features a sub-region crossover between No. 9 Blessed Trinity (14-3, 5-0) and North Clayton (11-6, 2-3). The Titans of Blessed Trinity did not fare well in their last crossover game when they were thumped by No. 2 Cedar Grove 46-20. Cameron Johnson and Adam Fenlon compose a solid backcourt for the Titans. The Eagles are led in scoring by senior Reginald Scurry, a 6-foot-7 senior who averages 19 points per game. Fellow senior Taiyon Hector averages 11.8 points per game at the guard position.
Pace Academy at Lovett
Pace Academy (13-2, 6-0), the No. 1 ranked school in Class AA, visits Lovett (6-8, 3-3) in a Region 6 match. The Knights drilled Lovett 62-35 in their first meeting this season. 6-foot-10 Wendell Carter Jr. poured in 23 while Elijah Holifield chipped in 18 points in Pace's victory. Carter Jr, only a sophomore, is averaging a double-double on the season. James Smith and Ford Coleman help ignite the Lovett offense.
Carrollton at Woodward Academy
Montae Glenn, a 6-foot-7 forward, is heading to Georgia Southern after finishing his time at Carrollton. The Trojans, ranked No. 6 in Class AAAA, are 13-2 overall and 3-0 in Region 5. Woodward (7-7, 3-0) is also undefeated in region play even though the War Eagles have seven losses. Woodward has six players averaging over seven points per game led by Jake Nestlehut's 9.4 and Maxwell Chester's 8.4. The War Eagles will need to negate Glenn's presence if they want to remain perfect in region play.