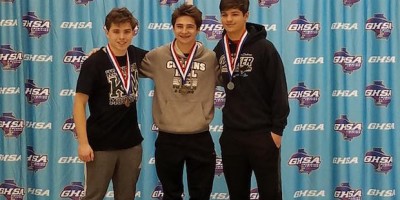 Peter Smithson (center) of Collins Hill defended his diving title in the top division.
The 2018 GHSA Swimming and Diving State Championships began today at Georgia Tech's McAuley Aquatic Center with the diving portion of the competition.
On the boys side of the division featuring Class AAAAAAA and Class AAAAAA, the long-awaited rematch between last year's top two finishers, Collins Hill's Peter Smithson and Colquitt County's Parker Hardigree, lived up to the hype as Smithson successfully defended his title. The junior diver scored a 602.00, which for the second year in a row put him above the 600 mark. In last year's championship, Smithson took the championship with a score of 613.45, not far off Jack Nyquist's state record of 629.80. Hardigree finished second with a score of 567.35. Kennesaw Mountain's Karsten Dixon scored 503.8 to take third place. Sam Witcher of Lakeside-DeKalb came in fourth at 500.95. Three Colquitt County divers, Sky Geovanni (491.20), Timothy Fagan (471.85) and Carson Tyler (458.75) finished fifth, sixth and seventh, respectively.
For the girls, Sequoyah's Rachel Renner successfully defended her title with a 514.35 showing. The performance placed her 44 points ahead of Dunwoody's Lauren Davis (470.50), who finished second. Walton's Mackenna Buchanan scored 444.65, which placed third. Kellian Howell led Colquitt County in the diving category, placing fourth with a score of 438.55. Dacula's Lauren Henderson placed fifth at 419.95.
In the lower division, featuring Class AAAAA down to Class A, Greater Atlanta Christian's Anthony Stewart took first place with a score of 557.75. The Westminster Wildcats were well represented at the podium, as teammates Santiago Morales (509.00) and Charlie Greene (503.55) took second and third, respectively. Oconee County divers Adam Brooks (465.35) and Allen Mann (445.55) finished fourth and fifth, respectively.
In the girls championship, Marist placed two divers in the top five in the finals. Ellie Crump took first place with a score of 553.00, and teammate Annie Price (438.23) placed fifth. Elizabeth Kaye of Pace Academy took second place with a 494.85-point performance. Avery Fassnacht represented Whitefield Academy at the podium with a score of 488.55. Jefferson's Addison Kelly, a UGA commit, took fourth (472.35).