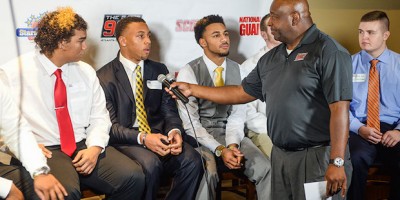 92.9's Sam Crenshaw talks to players at Signing Day Frenzy. Courtesy of Rob Saye.
Wednesday, Feb. 7 marks this year's National Signing Day for the Class of 2018, and Score Atlanta's annual Signing Day Frenzy will give the spotlight to Georgia's latest class of recruits.
The event, held at the Stars and Strikes in Sandy Springs, will feature some of Georgia's top football signees as they make their final transition from high school to the next level of play. Players, parents and coaches will all be in attendance to take part in the largest signing day celebration in the region.
Radio coverage from 92.9 The Game will break down these top players, highlighting their past performances and where they plan to succeed next. The participating players will represent some of Georgia's top recruits in the area as we celebrate their accomplishments on and off the field. Also expected to attend are the players that signed during the early period in December.
Schools scheduled to attend include Rome, McEachern, Walton, Brookwood, North Gwinnett, Buford and many other elite Georgia High School football programs. Each school will arrive with its signees at Stars and Strikes in an allotted time slot. Players will take a walk down the red carpet as they are showed into the venue's exclusive back room. Meals will be provided and numerous players will be interviewed by 92.9 The Game regarding their choice of school and goals both on and off the field. After players wrap up their time with the media and their meals, they are let loose to enjoy the Stars and Strikes bowling alley and arcade. Thanks to Stars and Strikes, 92.9 The Game and the National Guard, this event will celebrate another outstanding year of Georgia high school football and the next class of collegiate stars.
Follow the hashtag #SigningDayFrenzy and visit SigningDayFrenzy.com to check out live updates of where every player in the state is signing.
Signing Day Frenzy schedule (subject to change)
10:20 a.m. – Lanier
10:20 a.m. – Mountain View
10:40 a.m. – Mill Creek
11 a.m. – Walton
11:20 a.m. – Chattahoochee
11:40 a.m. – Central Gwinnett
11:40 a.m. – South Gwinnett
12 p.m. – Brookwood
12:20 p.m. – Kell
12:40 p.m. – Buford
1 p.m. – Alpharetta
1:20 p.m. – McEachern
1:40 p.m. – North Gwinnett
2 p.m. – Tucker
2:40 p.m. – Rome
3 p.m. – Blessed Trinity
3:20 p.m. – North Atlanta
3:20 p.m. – Pinecrest Academy
4 p.m. – Johns Creek
The following schools also plan to attend:
Arabia Mountain, Campbell, Cass, Holy Innocents', Lovejoy, Meadowcreek, Mt. Zion-Jonesboro, Norcross, Paulding County, Richmond Hill