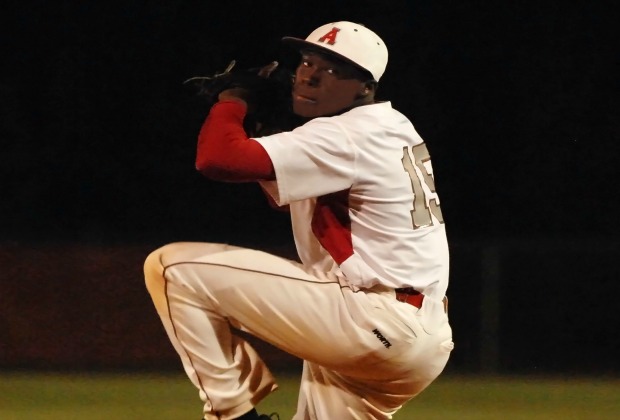 Sonny Kennedy
Class AAAA No. 1 Columbus blanked Mill Creek 6-0 Saturday in Hoschton behind pitcher Hunter Swilling's 6 2/3 scoreless innings of work. Earlier in the week, the three-time defending state champion Blue Devils fell to Columbus-area rival Russell County (Ala.) 5-3. It was Columbus' first loss to Russell County since 2006. … Peachtree Ridge shut out Chattahoochee 7-0 Saturday as pitcher Jonathan Hudson struck out six in five innings of work. Hudson also had a double and an RBI in the game. … Dunwoody edged Pope 10-9 Saturday despite trailing 9-1 through five innings. The Wildcats scored four in the sixth and five in the seventh to compete the comeback. … Berrien rocked Class AA No. 5 Cook 13-1 Friday night in Nashville. The Rebels scored 11 runs in the fourth inning. … Clinch beat Irwin 8-5 Friday night in Ocilla as K.J. Infinger went 3-for-3 with three RBIs. … Class A-Public No. 1 Charlton County routed Echols County 17-1 Friday. … Holy Innocents' beat Walker 7-6 Saturday on the strength of two three-run homers in the second inning. … Defending Class A-champion Providence Christian dominated Prince Avenue Christian 12-1 Saturday as Matt James homered and drove in six runs.
Soccer
The Class AAAAA No. 7 Allatoona boys soccer squad beat North Paulding 3-2 in two overtimes as Eddie Willborn scored on an assist from Christian Lopez in the second OT. … Octavio Rico scored twice as Marietta beat South Cobb 6-0 Saturday in a Region 4-AAAAAA contest. … Class AAA No. 1 St. Pius X beat North Gwinnett 2-0 last week before traveling to the Brine Tournament of Champions at Jekyll Island over the weekend where the Golden Lions beat Houston (Tenn.) 4-0 and tied Class AAAAA No. 2 Greenbrier 0-0. … Mount Paran beat Brunswick 5-0 in the Brine Tournament of Champions Saturday at Jekyll Island. … In girls soccer, St. Pius X beat North Gwinnett 5-2 Tuesday, then tied Pope 1-1 in Jekyll Island. … Rachel VanHorn scored the lone goal for Mt. Paran in a 1-0 girls soccer win over Wayne County in the Brine Tournament of Champions. … Whitefield Academy beat Pacelli 5-1 as Caitlin Hesse had three goals.
Tennis
Norcross won both the boys and girls tennis tournaments at the Viking Invitational Saturday in Valdosta. The Blue Devils beat host Lowndes in the finals in each tournament. Bleckley County took third and Colquitt County took fourth in the boys tournament. In the girls side, Colquitt beat Bleckley to take third place. … The Allatoona girls tennis team beat Westlake Friday, then Pope in the semifinals and Newnan in the finals Saturday to take the Marietta Invitational. … Blessed Trinity won the LaGrange Tournament over the weekend by beating North Gwinnett in the finals. Also competing in the event were Wheeler, Columbus and Pace Academy. … St. Pius X won boys tennis matches over Marist (3-2) and Dunwoody (4-1) last week.