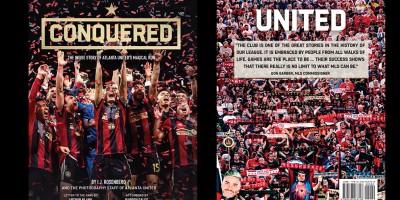 "CONQUERED: The Inside Story of Atlanta United's Magical Run" takes an exclusive, behind-the-scenes look at the club's roller-coaster journey to the top of Major League Soccer.
Told in vivid detail by longtime Atlanta sports writer I.J. Rosenberg alongside the stunning photography of the Atlanta United staff, this is the story of the boys in red, black, and gold who captured the heart of a city and took the soccer world by storm. Get inside the minds of Arthur Blank, Darren Eales, Carlos Bocanegra, and so many others who played a part in turning the dream of a top-tier soccer franchise in the south into reality as they share what went into the process — from the hiring of key personnel to the creation of the Five Stripes brand — and all the challenges and milestones along the way.
Beginning with his idea to bring a soccer franchise to Atlanta, this 25-chapter book follows Blank's fight to fulfill a promise to his adopted hometown and the growth of his relationships with his son Josh and "The Beautiful Game." Once it's announced that MLS is coming to Atlanta, ambitious vision and a startup mentality shape the construction of the club and join forces with the city's ever-growing band of supporters to generate an unforgettable inaugural season.
The excitement ramps up even more for the club's second season and a well-played offseason bolsters the roster even more. Record-setting home crowds pack Mercedes-Benz Stadium and Atlanta United tallies a league-record 10-road wins to march its way into the playoffs with a chance to host the MLS Cup. Striker Josef Martinez shatters the league's all-time scoring record on his way to earning MVP, and the club conquers its quest by defeating the Portland Timbers 2-0 to clinch the 2018 MLS Cup.
Featured on the front cover is a gold-foiled CONQUERED printed beneath the gold star that represents Atlanta United's 2018 championship and the final chapter called "The Numbers" takes a look at all the record-breaking stats and facts on and off the pitch. There also is a "Letter To the Fans'' by Arthur Blank and an afterword by Darren Eales.
"CONQUERED" is for the fans, and anyone curious about the inner-workings of launching a franchise and constructing a championship team.
The limited first edition of the book will be available at club's team stores Saturday morning at 10 a.m. at Mercedes-Benz Stadium and Atlantic Stadium. For more information on CONQUERED!, email info@ScoreATL.com.