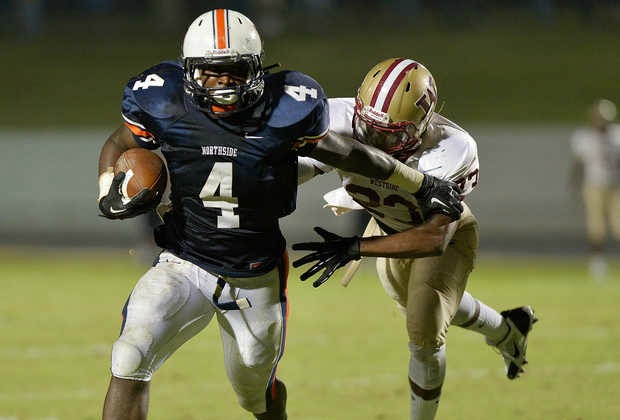 Photo by Northside Football
We are releasing our Class AAAAA rankings today as part of a series that will continue all week.
Coach Kevin Kinsler has led the Northside-Warner Robins Eagles to 10-plus wins each year of his four years as head coach. Kinsler has been with the program for 23 years and the Eagles have won at least 10 games each season since 1998. Running back Willie Jordan returns as does massive offensive lineman Brandon Sandifer. The Eagles tied arch-rival Warner Robins for the region title last season (the Demons won the tiebreaker due to a win in the head-to-head meeting) and finished 10-2 after a second-round loss to Ware County.
Last year's state champion, Creekside, lost the Berry brothers as well as Ed Curney and Cameron Jackson, who both signed with Georgia State. Quarterback Felix Harper and a talented cast of teammates return.
Stephenson again enters the season with a bevy of top college recruits. The Jaguars have been one of the state's most consistently talented programs in Class AAAAA in recent years and return a bevy of D-1 recruits like Chauncey Rivers (a UGA commit), Dexter Neal (South Carolina), Nekyle Lundy (Tucker transfer and Nebraska commitment) and Dareus Brown among several others. The Jags will benefit from Tucker's move to Class AAAAAA.
No team will benefit more from changing classifications than Coffee. A solid team last season, the Trojans went 4-0 in non-region games, then lost their first five in ultra-competitive Region 1-AAAAAA. Coach Robby Pruitt's team is now in a much better position to succeed in Region 3-AAAAA.
Perennial-power Ware County saw head coach Ed Dudley leave for Carrollton, but the Gators hit a home run by hiring Franklin Stephens, who won big at Tucker and Lamar County. Familiar names like Kell, Gainesville and Warner Robins are also in the rankings while Allatoona and Creekview have turned themselves into powerful programs and also make the top 10.
CLASS AAAAA PRESEASON POLL
1. Northside-WR
2. Creekside
3. Coffee
4. Stephenson
5. Ware Co.
6. Kell
7. Gainesville
8. Allatoona
9. Creekview
10. Warner Robins