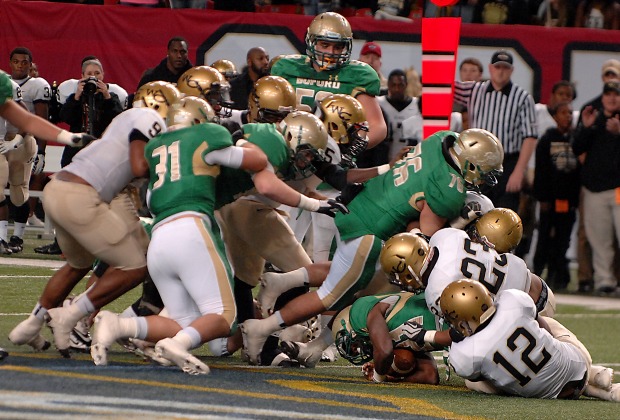 Photo by Rob Saye
We are releasing our Class AAAA rankings today as part of a series that will continue all week. Buford was classed up into Class AAAA and debuts at No. 1 after claiming four Class AA state titles and two Class AAA championships the past seven seasons. Sandy Creek comes in at No. 2 and has been the most dominant team in Class AAAA the past two seasons. Last year's state champion Griffin upset Sandy Creek in the quarterfinals and handed the Patriots' their first loss in 27 games. Griffin rounds out the top 3 behind Sandy Creek, however, after losing last year's Georgia player of the year Jaquez Parks.
No. 4 Carrollton begins its first year of the Ed Dudley era and consistent Marist sits at No. 5 entering what will be Alan Chadwick's 30th season as the War Eagles' head coach.
No. 7 St. Pius joins Buford as the only other team that was classed up from AAA and made the poll and No. 10 Arabia Mountain enters the football rankings for the first time in school history after posting a school-record 7-3 season last year under head coach Stanley Pritchett.
CLASS AAAA PRESEASON POLL
1. Buford
2. Sandy Creek
3. Griffin
4. Carrollton
5. Marist
6. Thomas County Central
7. St. Pius
8. Burke County
9. Veterans
10. Arabia Mountain