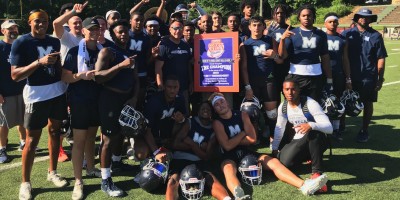 The Seventh Annual Corky Kell 7-on-7 Tournament is returning on Friday, June 11 and will feature a 45-team field of the state's top programs. Pool play has been slightly modified this week ahead of Friday's action to bypass the possibility of rain early Friday morning. Only one of the nine fields for pool play was scheduled to be played on grass, but now pod (Pod C) has been relocated to Centennial High School's game field. As a result, Centennial swapped with Tucker from Pod B to Pod C so the Knights can serve as hosts. Pod C was originally scheduled to be played at Blessed Trinity's grass practice field; Pod B will still play at Blessed Trinity's turf stadium. This means that Pool Play will take place at seven total locations on nine total fields: Roswell Area Park (Field #1, #2, #3) , Blessed Trinity, Alpharetta, Fellowship Christian, King's Ridge Christian and Centennial before the single elimination tournament is played solely at Roswell Area Park's multiple fields. (The complete Pool Play assignments are linked at the bottom of the story). There will be a total of 134 games played with 90 Pool Play games and a total of 44 games in the single elimination tournament. All tournament games will be played in the afternoon at Roswell Area Park and the championship game is scheduled to start at 4:45 p.m. on Field #1.
Marietta High School has won the last two Corky Kell 7-on-7 Tournaments and resides in Pod E with two-time tournament champion Central Gwinnett and Archer—the winner of the inaugural tournament in 2014. This trio of former champions will also be competing in pool play with Region 4-AAAAAA rivals Westlake and North Atlanta. Westlake is coming off a school-record 11-2 season and the ascending North Atlanta program is just two seasons removed from its from its first playoff run since 1996.
Marietta head coach Richard Morgan saw his team emerge victorious in the 2018 and 2019 Corky Kell 7-on-7 and the Blue Devils were able to keep riding the momentum all the way to the 2019 Class 7A state championship—the program's first state title since 1967.
"I've been really proud of the kids the last couple years," said Morgan. "It's always a battle of attrition because you are trying to survive the heat and the day and you've got to play close to 10 games to win the whole thing and there is never a game off. Every game is do or die and it comes down to a couple points or a couple key plays."
The Blue Devils' last two 7-on-7 victories came with a core of guys that had seen significant playing time as underclassmen that were hitting their stride as juniors and seniors. Marietta had to replace 20 starters following its 2019 season, but Morgan sees that upward trajectory returning now that he returns a group of players that stepped into starting roles for the first time this past season."
"What I like about this tournament is that you get to see a lot of guys step up and make plays that you might not have seen step up before," said Morgan. "It takes all the guys finding ways to step up and make plays and that is what is going to also be needed from our team this season."
On the defensive side of the ball, Marietta is returning all the guys that were thrown into the starting role for the first time last season and he is looking forward to seeing their continuing growth. As for the quarterback position, Tyler Hughes assumed the role last season and filled the shoes of Harrison Bailey. Hughes ended up earning First Team All-Region Offense and Morgan is eager to see him take command of this year's team.
"I'm really pleased with where Tyler Hughes is right now," said Morgan. "He's throwing the football extremely well and he understands the entire offense now where he can make corrections, make adjustments, teach the receivers and also put the football where it needs to be. I'm looking forward to seeing him compete and I think he is going to have a tremendous season."
Marietta's success and competitive spirit in the summer helped set the tone for their state championship run and the Blue Devils are still riding the excitement and striving for new heights.
"Our championship run in 2019 has permeated through the whole Marietta community and there is a lot of excitement on our campus," said Morgan. "Especially with our girls basketball team and boys cross country adding more state titles this season. We made strides all through last season with our young team and I felt like we were playing our best football by the end of the season and turned the corner. This should be a continuation even though we do have arguably the toughest schedule in the entire season, but we schedule our games like that for a reason.
This year's 45-team field is the largest field in the event's history. Additionally, this is the first time that seven of the classifications will be represented and Class A Private will have five schools (Fellowship Christian, Athens Academy, King's Ridge, Pace Academy and Christian Heritage) participating—offering a great opportunity to see the classifications face programs they wouldn't get to see in the regular season. The amount of big name prospects is also a major trend this year, with the Nation's No. 1 Class of 2022 prospect Travis Hunter (Collins Hill) headlining a long list of big name prospects
CORKY KELL TOP PROSPECTS: CLICK HERE
UPDATED POOL PLAY ASSIGNMENTS: CLICK HERE