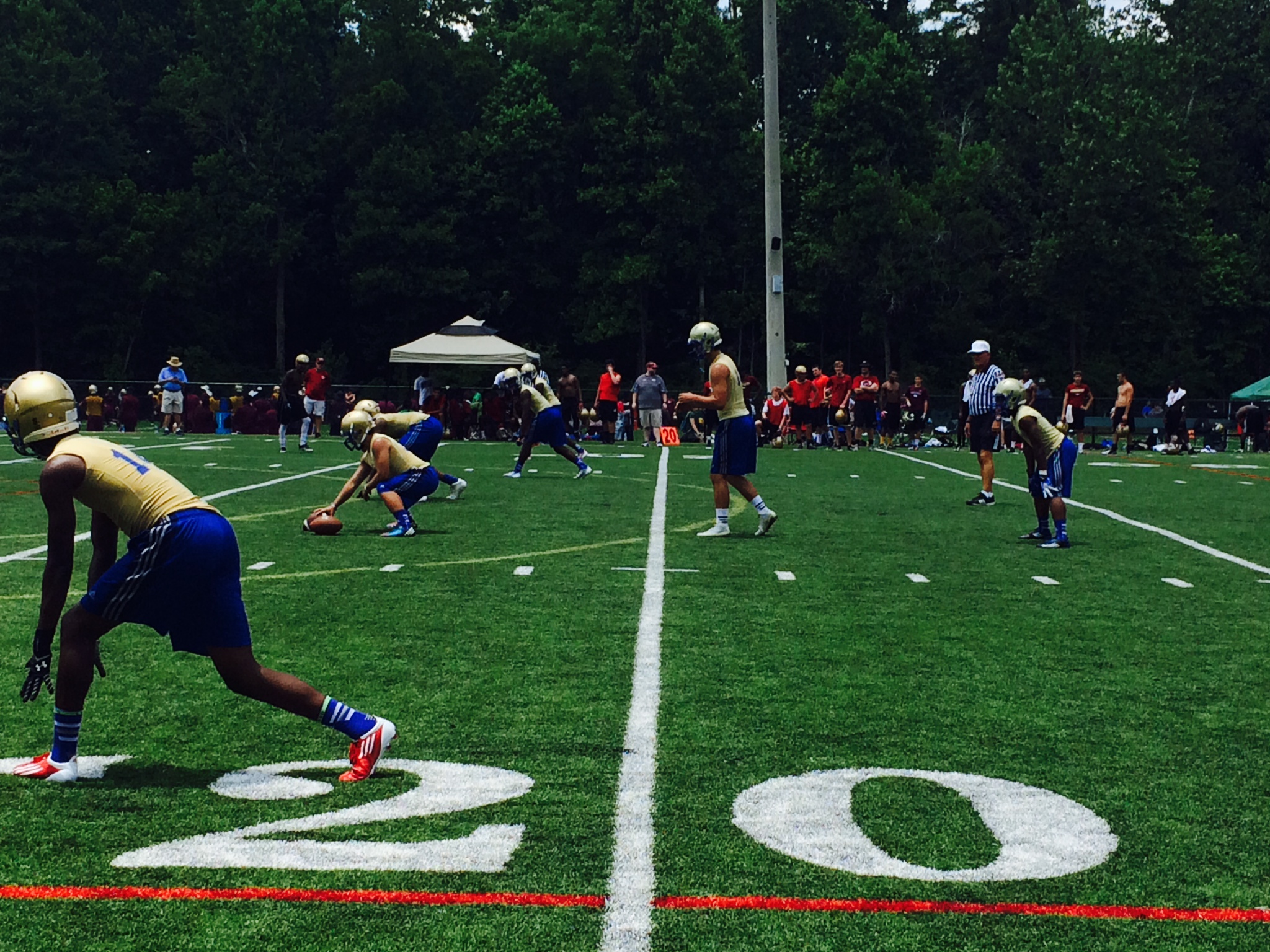 With 14 teams and seven games spanning over two days of action at McEachern High School and the Georgia Dome, the 2015 Metro PCS  Corky Kell Classic presented by GreatClips stands as the biggest high school football kickoff event in the country. But before the football season begins with the 24th installment of the Classic on Aug. 21-22, the highly-competitive atmosphere of 7-on-7 tournaments test the physical and mental condition-ing of the coaches and players, while giving individuals a chance to rise in the recruiting ranks and teams to earn bragging rights and momentum head-ing into the season. This year will mark the second annual Corky Kell 7-ON-7 Tournament, which has grown into one of the largest single-day events of the offseason.
SETTING THE STAGE …
The tournament will be held in the City of Roswell at the Roswell Area Parks Football Complex located at 10495 Woodstock Rd., Roswell,GA 30075. The complex has three new football fields with ample parking and pavilion areas. Games will also beplayed at Blessed Trinity and Roswell High School stadiums. The Corky Kell Classic is proud to sponsor this event as eight teams will arrive Thursday evening to participate in a passing league beginning at 6:15 p.m. at the Blessed Trinity and Roswell High School stadiums. The tournament excitement kickoffs on June 19 at 9:30 a.m. and will last until approximately 4:30 p.m. We will see reigning Corky 7-ON-7 championArcher square off with 24 other teams after taking first place in last year's 15-team pool. Archer defeated McEachern in the finals of last year's tournament and led the way for Gwinnett County teams that dominated the action. Norcross, Archer,Mill Creek, Brookwood, North Gwinnett and Collins Hill went a combined 21-4 against teams from outside of the county in last year's tournament and will each be returning to this year's field. Archer returns as one of this year's headliners and is one of 12 teams from the 2015 Corky Kell lineup that will play in the 7-ON-7 tournament.The Tigers are joined by Norcross, MillCreek, Brookwood, North Paulding,Carrollton, Sandy Creek, Creekview, North Gwinnett, Tucker, Kell and defending Class AAAAAA state champion Colquitt County. The 13 other teams include out-of-state powerhouse Byrnes (SC) and Gwinnett County's Peachtree Ridge and Collins Hill. Roswell, Centennial, Blessed Trinity, Cartersville, Mays,Glynn Academy, Houston County,Cherokee, Walton and Gainesville make up the remaining field.
SUMMER'S SHOWTIME …
The tournament will attract a lot of recruiting attention as some of thetop prospects in the state will sharethe field. Roswell's hard-hitting line-backer Tre Lamar stands 6-foot-4, 240pounds and the 7-on-7 format will giverecruiting experts a chance focus on hispass coverage abilities. With the fastpace of these tournaments and quick turnaround of games, team depth and conditioning is also exposed and gives a good indication of which teams have been hitting the offseason condition-ing hard. Coaches are able to practice making adjustments quickly as different opponents are stacked one after another and they get valuable time watching their players compete against some of the top athletes in the country.
GAME ON …
Archer's Kyle Davis is one of the Peach State's most prized Class of 2016 prospects and did it all in the Tigers' offense last season as a receiver and running threat. Davis will star in the offense once again with new starting quarter-back Will Bearden for the first time. North Gwinnett's towering wide-out Josh Imatorbhebhe committed to USC in May and is the No. 21 rated senior in the state. Other top receiving prospects like UGA-commit Darion Anderson of Houston County will challenge a deep lineup of highly-recruited defensive backs participating in this year's tournament. Peachtree Ridge brings four-star cornerback Chad Clay (UGA-commit) and the No. 1-ranked Class of 2017 prospect in the state in cornerback Deangelo Gibbs. Archer will also have safety Isaiah Pryor, the No. 6 ranked Class of 2017 prospect in the state. For the past 23 years, teams have used the unparalleled experience gained while competing on the massive stage of the Corky Kell to achieve greatness during the remaining season. The second Corky Kell 7-ON-7 tournament aims to give its 25 participating teams these same experiences and opportunities as the much-anticipated 2015 foot-ball season quickly approaches.
For more information and a live link to watch the tournament visit CorkyKell.com