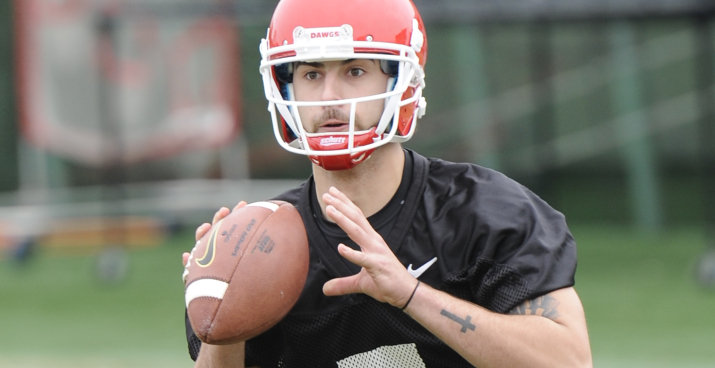 John Kelley/ GeorgiaDogs.com
The news that was reported a couple nights ago by multiple outlets has indeed been confirmed by Georgia's football program and redshirt freshman quarterback Jacob Park is transferring. The news came down earlier today through a release by the school's athletic communications office.
The news became official after head coach Mark Richt met with Park.
"We've had conversations during which we discussed all the viewpoints," Richt said in a statement. "In the end, he feels like the opportunity for significant playing time would be better at another school. I can understand his decision, and we'll support him in finding a good fit at another institution."
Because he is a redshirt freshman and still has credit to complete toward his undergraduate degree, Park would not be eligible to play right away at another FBS program. He would sit out a season and lose that year of eligibility should he decide to go that route.
That said, if Park decided to go to junior college or drop down to the FCS level he would be eligible to play right away.
Dawgs247.com reports that it is likely that Park will go play this next season at a junior college. UGASports.com's Radi Nabulsi brought up the chance of the QB heading to Colorado State to play for former offensive coordinator/now head coach Mike Bobo.
It was last reported on Tuesday night that conversations between Bobo and Park had not taken place.
Along with Richt's statement, UGA also released some of Park's thoughts following the meeting.
"I want to thank Coach Richt and Georgia for the experience I've had in Athens," Park said. "I'm grateful for the opportunity but now look forward to what's next in my college career."
Now that Park has left the program, Georgia has three quarterbacks under scholarship heading into fall camp. This means that redshirt sophomore Brice Ramsey, Junior Faton Bauta, and Virginia transfer/junior Grayson Lambert will be up for the job.
Park is not the only Bulldog to leave the program over the past week. Last Friday, news came down that redshirt sophomore offensive lineman Josh Cardiello left for FCS school Chattanooga.