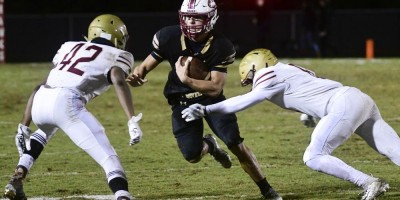 AJC
ATLANTA—Mill Creek finished Saturday's Corky Kell Classic action at Mercedes-Benz Stadium with a dominant win over East Coweta, 38-6, in a matchup of Class AAAAAAA programs. Josh Lovelady, a longtime assistant coach with the Hawks, won his first game as Mill Creek head coach after the move of Shannon Jarvis, the only coach the program had known, to an administrative role.
"Corky Kell is not a normal game," Lovelady said. "You've got so much preparation, so many things that go into it to go in here, from the organization to getting everybody here, but it went real well. Obviously we'll take a 'W' any day and represent our community. I think our kids played hard."
The Hawks scored their first touchdown at 2:20 in the first quarter after taking advantage of an East Coweta fumble by Amaryion Moss that was recovered at the 50-yard line. On the next play after the turnover, Mill Creek's Joshua Battle broke off a 50-yard run for a touchdown to put his team ahead 7-0.
After Mill Creek forced a punt on East Coweta's ensuing possession, the Hawks took over at their own 48-yard line. On a second-and-3 from East Coweta's 32, Mill Creek quarterback Thurman Harris found Romeo Pelham for a 32-yard touchdown to put the Hawks up 14-0 with 3:52 remaining in the half.
Mill Creek closed the half on another short drive, this one starting on its own 18 and beginning with a 71-yard run from Chancellor Lee-Parker. Battle finished the drive with a 10-yard run to the 1 and then found the end zone on the next play to give the Hawks their 21-0 halftime lead.
Mill Creek's three-touchdown lead at the break was possible thanks to a ferocious defensive effort, as the Hawks held East Coweta to 4 yards rushing on 19 attempts in the first half and forced the Indians to punt four times while recovering a fumble.
"Defensively is where we really showed up, where we could go at our own pace on offense," Lovelady said.
In the third quarter, Lee-Parker added another touchdown rush, this time on a 17-yard run to make it 28-0. Parker Wroble caught a Harris pass and streaked 60 yards for a touchdown on the first play of a Mill Creek possession.
Lovelady was pleased with his team's ability to control the clock offensively but then get explosive plays from its main offensive weapons.
"They've got to be there," Lovelady said of his playmakers. "You've got Parker Wroble, and both of our running backs, Josh Battle and Chancellor Lee-Parker. [Lee-Parker] ran phenomenal. He ran angry, so to speak. And that was a big difference maker."
East Coweta scored its lone touchdown on a 71-yard run by Moss on the second play of a fourth-quarter possession, making it 35-6 with 8:53 remaining. The Hawks tacked on a 42-yard Brock Pellegrino field goal four minutes later to complete the scoring.
Lee-Parker rushed for a game-high 155 yards on 14 carries and a score and Wroble had a game-high 73 yards receiving on two catches with one touchdown. Moss led East Coweta with 121 yards rushing on eight attempts with a score.
Mill Creek outgained East Coweta 367 to 248, and the Hawks defense sacked the Indians five times and had 10 tackles for loss. Mill Creek's Noah Faircloth had 3.5 total tackles, two tackles for loss and a sack.
"I'm very excited about the way we played, fast and physical," Lovelady said.