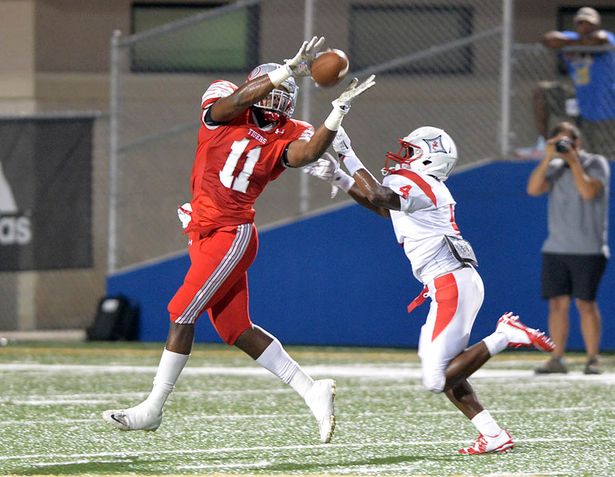 AJC.com
Archer and North Paulding occupy the backend of Friday's double-header and will be facing each other for the first time in history. Archer returns to the gridiron as a heavy favorite to win the Class AAAAAA state title after making a run to last year's championship and falling just short to Colquitt County 28-24. The Tigers started the season 0-3 before exploding for 11 straight wins entering the championship a year ago. Despite the four losses, the Tigers still managed to outscore their opponents by 316 points (20.1 ppg) last season. Archer averaged 35.1 points per game offensively, including a 41.2 average its last 12 games. Archer's explosive scoring could be dangerous for North Paulding as the Wolfpack found their way to the playoffs last season, despite giving up the third most points in all of Class AAAAAA. North Paulding gave up 43.18 points per game last year, third to only Meadowcreek (49.2 ppg) and Pope (46.3). The defense struggled matching the speed of Region 4 and saw Hillgrove (72), McEachern (60) and North Cobb (49) combine for 181 points.
In just six short seasons Archer head coach Andy Dyer has built a powerhouse football program. On offense, the Tigers are a balanced machine that rushed for over 2,500 yards and passed for over 3,200 yards last year. They will have to replace starting quarterback Gabe Tiller (West Alabama) who threw 31 touchdowns last season. Stepping into the starting role will be senior Will Bearden. Bearden will have five-star wideout Kyle Davis. Davis caught three passes for 107 yards and one touchdown in last year's Corky Kell Classic. In the running department, Randy Nails (Kennesaw State) is also gone but junior Jamyest Williams and senior Dylan Singleton return as a versatile and explosive tandem.
Williams racked up over 1,100 all-purpose yards while Singleton scored 11 times on the ground and six times through the air in 2014. E.J. Price, a four-star lineman, will play tackle for the Tigers. At 6-6, 317-pounds, Price is an unstoppable force that can plow the way for Williams and Singleton.
On defense, the Tigers are led by a pair of three-star SEC-commits, nose tackle Kobe Smith and linebacker Donta Evans. Smith, at 6-foot-4, 295 pounds, was originally a North Carolina State-commit but on July 29th, decided to switch his verbal to Kentucky. Evans committed to Ole Miss on August 2nd. However the best player on the Tigers defense might be junior Isaiah Pryor. Pryor committed to Ohio State on July 27th. Junior Quinn Miller, a state champion wrestler, returns after leading the team with 93 tackles last season at the linebacker position. Last season, this unit forced  at least four turnovers in six different games.
The Wolfpack struggled defensively last season, but the offense lit up the scoreboard and returns its signal caller Kyle Banks. North Paulding kicked off last season's Corky Kell with a sound defeat of Creekview, 55-20. Banks connected on 22-of-29 passes for 320 yards and four touchdowns and also added a five-yard touchdown run. It was a strong starting debut that carried him to a season in which he threw for 3,498 yards and 32 touchdowns. Banks is now committed to Middle Tennessee State.
Banks returns with his two favorite pass catching targets, seniors D.J. Owens and Dylan Autenrieth. Owens grabbed 67 receptions for 1,157 yards and 12 touchdowns. The 5-foot-11 playmaker also returns as the team's leading rusher after Meshach Mays graduates with his 1,086 yards and 11 touchdowns. Owens holds offers highlighted by Cal, Georgia Southern, Colorado State and Central Florida.
Autenrieth is a two-sport standout who plays forward for the basketball team is a three-star tight end heading to North Carolina State. Autenrieth uses his 6-foot-5 frame to attack balls in the air like he does rebounds on the hardwood. He totaled 32 catches for 468 yards and five scores.
On the defensive side of the ball, tackle Tanner Sheffield has graduated and signed to play with Army. Outstanding linebacker Javier Williams returns after totaling 97 stops. Last season's top tackler William Craig has transferred away to Buford leaving more responsibility on Williams to excel. With more experience returning defensively, the Wolfpack should be much more acclimated to the high powered offenses entering their second season in Class AAAAAA.