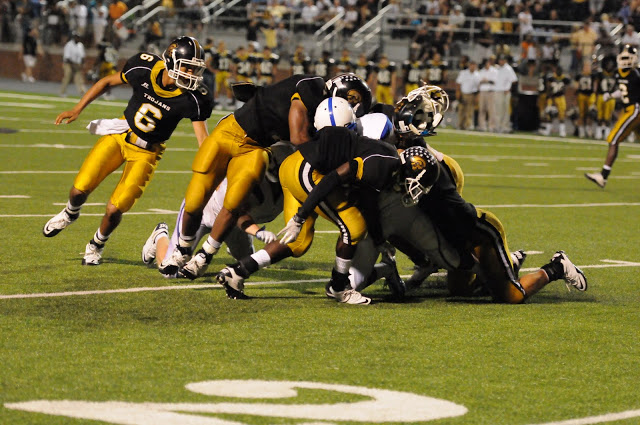 Photo by Elisa Herring
The Kell Longhorns started their program in 2003 and have quickly turned into Cobb County's winningest program over the past several seasons.  Head coach Derek Cook took over in 2008 and has accumulated 61 wins the past six seasons.
The Longhorns (11-1) capped off a 10-0 regular season with a Region 7-AAAAA championship and a spot in the playoffs.  They dominated Winder-Barrow 31-7 in their first-round matchup, but lost a heartbreaker to Jones County 33-31 in the second-round.  Quarterback Cameron Rosendah, who threw for 2,341 yards and 17 touchdowns, led the Longhorns and is now playing at Georgia Military College in Milledgeville, Ga.
Stone Hatfield was used under center sparingly in 2014, but will be an integral part of the offense this season. The offense will also have their leading rusher Ivan Walls back this season, as he looks to build on his 1,056-yard and 11-touchdown campaign in 2014. Walls is a workhorse running back who also caught passes out of the backfield, including 18 receptions for 211 yards and two scores.  He will split time with sophomore Josiah Futral, which the coaching staff has high hopes for this fall.
Kell has experienced receivers back in senior Bryson Armstrong and junior Josh Blancato.  Armstrong was the team's leading receiver as he finished with 50 receptions for 725 yards and three scores. Armstrong caught nine balls for 106 yards in last year's Corky Kell. He is currently committed to play for Kennesaw State in 2016.  Blancato was second on the team as a sophomore with 41 receptions for 668 yards and four scores.
Defensively, the Longhorns are led by Michael McCain and Armstrong.  McCain from his safety position finished 2014 with the fifth-most tackles in Cobb County with 115 (75 solo).  As well as being a star receiver, Armstrong also starts at outside linebacker. The two-way star finished last season with 113 tackles (74 solo).  Another defensive leader is outside linebacker Solon Page III.  At 6-foot-3 and 200 pounds, Page has already picked up an early offer from Tennessee.  Page was hurt almost his entire sophomore year and only played in one game.
Carrollton (4-6) struggled in the first season under new head coach Ed Dudley. It was a season which saw the Trojans finish with a losing record for the first time since 2001. They have not had back-to-back losing seasons since the 1949-1950 seasons. Prior to Carrollton, Dudley has also led the program at Buford, Walton and Ware County. He has amassed a 187-81 record over 23 seasons.
Last year started off with a 20-7 loss at the hands of Kell in the Corky Kell Classic, but the two teams meet again as the lone rematch in this year's event.  Dudley will be without his top playmaker on the outside, Jarel Rowe, after the 6-foot-5 receiver broke his ankle on the first day of practice this season.
Quarterback Demarcus Mitchell played in six games last year as a junior, throwing for nearly 500 yards and completing over 50 percent of his passes. Mitchell is also a threat on the ground rushing for 195 yards on only 23 carries a season ago. Carrying the ball for Carrollton will be senior tail back Conrad Jackson who rushed for 492 yards on 93 carries, which was good for the second most rushing yards on the team in 2014.
The offense will be ripe with experience as the Trojans are slated to start eight seniors. Senior offensive tackle Tristan Crowder will be starting next to his brother Khalil. Tristan has gained interest from many colleges since the end of last season and now has offers from 17 different schools. Junior tackle Case Cook is the younger brother of current NC State tight end Cole Cook, which starred for the Trojans 13-2 team in 2013. Case is a three-star lineman with offers spanning the ACC and SEC.
The defense will boast six seniors in the starting lineup. Roury Glanton will be the cornerstone of the defense. The linebacker led the team in total tackles last season with 77 total tackles. 51 of those tackles were solo and nine of them were tackles for loss. Holding down the defensive front will be three-star prospect Michael Boykin. Boykin has offers from 21 different schools including Florida, Auburn and Mississippi State.