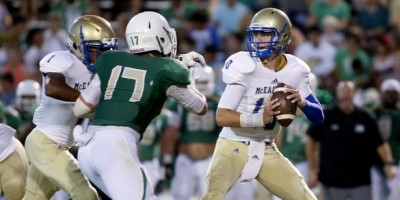 Photo By Jason Getz
The final game of the 25th annual MetroPCS Corky Kell Classic and the last Corky Kell game ever held in the Georgia Dome pits McEachern against Archer in a Class AAAAAA state playoffs second round rematch which the Tigers stopped the Indians last season, 24-21. Fireworks should be a plenty as both teams are coming off dominant Corky Kell perfomances in 2015, McEachern drilling Tucker 50-14 and Archer crushing North Paulding 49-21.
Gold Blooded
Aside from a Week 3 stumble against Peachtree Ridge 9-6, McEachern (10-2) steamrolled its way into the playoffs, pitching four defensive shutouts along the way and giving up just 7.1 points per game in the regular season. Julian Rochester (UGA) and Andrew Tarver (FIU) paved the way for a crushing defense. Justin Coleman takes over the mantle as the Indians run-stuffer. At 6-foot-2, 265 pounds, the senior is ready to step into the limelight after collecting 17 tackles a year ago. Willie Dean and Michael Fairbanks both surround Coleman on the line and can blow up offensive linemen in their pursuit of the quarterback. Navy-commit Myles James patrols the middle of the field at linebacker with Quentin Hayes who made 61 stops a year ago. Jaytlin Askew is pegged as the Indians' top cover corner and is a Georgia Tech-commit.
As great as McEachern was on defense, everything falls back on the shoulders of four-star Florida State-commit, quarterback Bailey Hockman. The coach's son announced his presence as a sophomore in 2014 when he passed for 3,600 yards, 42 touchdowns and only nine interceptions but took a step back his junior season, totaling 2,118 yards, 17 touchdowns and 11 picks. Hockman will get a chance to further cement himself as one of the best quarterbacks in the state his senior season as weapons Tyler Smith (UNC), E.J. Scott (three-star) and Genuine Potts pose problems on the outside for opponents. Smith tore his ACL against Buford and spent the next six months rehabbing to be ready for his final season. Scott plays on both sides of the ball as a versatile playmaker while Potts, a 6-foot-3 junior that runs a 4.63 40-time, is a gifted athlete.
Tremayne Anchrum (Clemson) leaves a void along the offensive line while tight end Christian Roberson (Mississippi State) and running back Sam Jackson (West Georgia) are also gone, but an electrifying backfield of Quay Holmes and Paris Brown can soothe the growing pains. Holmes, a senior, racked up 433 yards rushing while Brown, a sophomore, tacked on 213 yards on the ground.
New Look Tigers
Will Bearden stunned McEachern on a 1-yard quarterback sneak with 35 seconds left to put a capper on the Tigers' wild 24-21 comeback win over the Indians. Bearden hit on 29 of his 42 passing attempts for 222 yards while Jamyest Williams gained 85 yards on the ground.  A lot has changed since that cold night on November 20 however. Bearden is now at West Georgia while Williams has transferred to Grayson for his senior season. Junior Dillon Waye takes over under center replacing Bearden's 2,430 yards passing and junior Keegan Strickland slots in to make up for Williams' 1,249 yards and 23 touchdowns.
Also gone is four-star Auburn wide receiver Kyle Davis, who amassing 47 receptions and 776 yards his final season. Tyler Ranel and Malik Sproles are projected starters that should see the most action in the passing game. While the offense might go through some growing pains, the Archer defense could be potent. Junior cornerback Taiyon Palmer is a three-star prospect that has received offers from Duke and Indiana. Sophomores Jalyn Phillips and Andrew Booth are wet behind the ears but have bright futures ahead of them according to Head Coach Andy Dyer. "They are young players with very high ceilings and good ball skills."
State champion wrestler Quinn Miller is a wrecking ball on defense. He will be the unquestioned leader defensively. Sophomore Colby Wooden, junior Will Choloh and senior Sam Wright are all interchangeable pieces that get after it in the trenches.