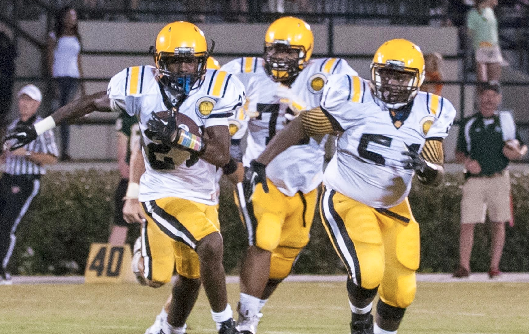 Photo by Michael Chapman
The winningest high school team in the entire nation has fallen on hard times of late. Valdosta, with an overall record of 858-215-34, is arguably the most historic program in the country. With six national titles, 24 state titles and 35 region championships, Valdosta is a name that is feared in South Georgia. However, the stout competition has leveled out in the Wildcats' reign.
Head coach Rance Gillespie will be entering his fifth season with the team and has seen his program's record slide the past few seasons. He started his tenure with the Wildcats with a bang going 11-2, but fell in a 22-0 shutout loss to Grayson in the quarterfinals. In 2011, the Wildcats were shocked in the first round by Newnan 17-7.
Gillespie then saw his team's record slip to 7-4, then 6-5 this past season; both of the previous seasons resulting in first-round blowout losses. The question now is can Valdosta regain their historic pedigree and get back that much-feared swagger? Or has South Georgia and the rest of the state finally caught up with the once untouchable Wildcats?
Talent has never been an issue for Valdosta as they have produced 11 NFL players over the program's decorated history. This past season saw defensive lineman Darius Sapp gain all-state honorable mention from the Associated Press and his teammate, punter Mac Loudermilk, notch second-team all-state honors. Linebacker Anthony Smith will leave a void in the middle of the field for the defense after graduating and signing to play at Savannah State. On the offensive side, star running Back Nelson Herring and his 2000+ yards rushing in his high school career has graduated. Receiver Alex Cason also has graduated leaving the wideout position up for grabs coming into the 2014 season.
The main question for this Wildcats team this offseason was at the quarterback position. Junior Seth Shuman and senior Cole Massingill have split first-team reps in camp and summer workouts. Gillespie knows he is fortunate to be in the situation of having two solid quarterbacks.
"Got an interesting problem this year, we don't see it as a problem," said Gillespie. "There may be two quarterbacks in Valdosta. If one of those guys gets a hot hand, that's the one that we will play."
Taking over in the backfield at the running back position will be either senior Tim McClain or juniors DeAngelo Williams and Tim Griffin. It is fair to say that they will all get an opportunity to get some carries once the season starts. So far in practice, the defense seems to be a strong suit for the Wildcats. They are fast and like to hit. Senior defensive backs Tre Barrett and Josh Norwood are ball-hawking playmakers that will control the secondary this season. Year 5 will be a big one for Gillespie. He will try to turn the program's recent slide around and look to get back in the hunt for a state title.