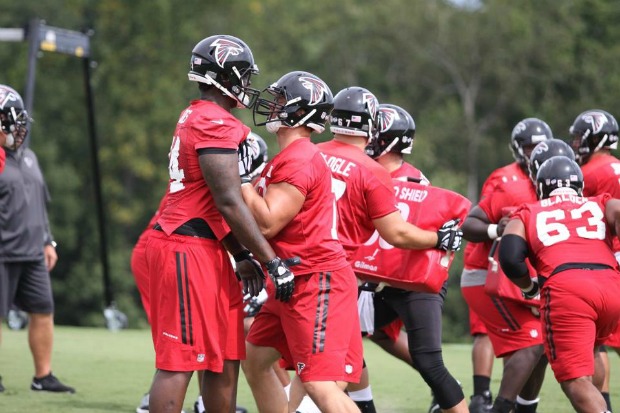 Atlantafalcons.com
After suffering a loss to the Houston Texans on Saturday night, the Falcons returned to the field on Monday morning for the final day of training camp.
The team was able to get nearly two hours of work in before they were able to head home for the first time in nearly a month. But the story of the day was who was going to replace tackle Sam Baker who is out for the year with a torn patella tendon in his knee.
The answer would be Jake Matthews who was playing right tackle to start training camp, but head coach Mike Smith said moving Matthews to left tackle just makes sense.
"It's an easy switch," Smith said. "Jake is the sixth pick in the draft. He's got left tackle written all over him."
Moving Matthews was a no-brainer for the coaches. But who is now going to play right tackle?
"We've got some guys that are banged up right now," Smith said. "We'll be working Lamar Holmes and Ryan Schraeder. And when Gabe Carimi is back, he'll be in the mix as well."
Holmes was working with the first team during practice and he also worked at left tackle when Baker went down with the injury in the Houston game on Saturday. Holmes, who is entering his third season and started 15 games last year, wants to be a much better player in 2014.
"My personal key is to play more physical, have better sets, have better hand placements and have better footwork than what I had last season," Holmes said.
The left tackle position in the NFL is an important position on the field because that particular lineman is protecting the quarterbacks blind slide. The right tackle spot is also important because coaches put their best run blocker at the spot.
Matthews, who played left tackle when he was at Texas A&M, realizes that he will have to make adjustments with the new position change.
"The stagger changes," Matthews said. "You go a long time getting used to bracing a guy with one leg back and now you have to flip it around. But I feel comfortable on both sides."
Smith agrees with Matthews and fells like the offensive line won't miss a beat with the switch.
"We don't blink," Smith said. "He's capable of playing left tackle. He's going to be just fine."
Another player that looks like he's going to be just fine is Corey Peters who returns to on-field action after missing all of training camp after tearing his Achilles in the final game of the 2013 season. And Smith is glad how much he has progressed over the last few months.
"Corey is ahead of schedule in terms of his rehabilitation," Smith said. "It will be fun to watch him work with Coach [Bryan] Cox."
Smith also said that they will take it slow with Peters and they will make a decision on whether he will play in the opener against the Saints after the preseason ends.
Speaking of the preseason, the Falcons are now in regular season mode in terms of the rest of the practice week. They will do a little game planning for the Tennessee Titans, which will be the Falcons opponent at the Georgia Dome on Saturday. But Smith said this is only a taste of what the Falcons will show in the regular season.
"This will be a dry run for our players and out staff," Smith said. "We can't do 100 percent work against the Titans. We still have some things we have to clean up. We do have to continue to work the young players. We're not going to show everything."