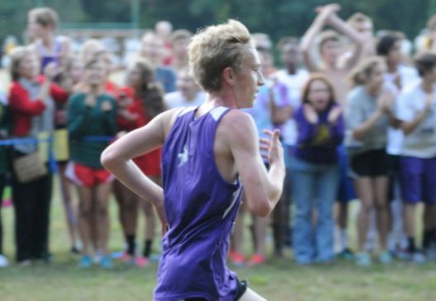 Photo by Walter Pinion
North Paulding won the boys Class AAAAA and Class AAAAAA race while Oconee County won the boys Class A-AAAA race at the Alexander High School/Asics Cross County Invitational Saturday. The North Oconee girls won the Class A-AAAA race while Northgate took the Class AAAAA-AAAAAA race.
Individual winners included Archer's McKenzie Knudsen (girls 5A-6A), Emma Grace Hurley of Fellowship Christian (girls A-4A), Ermais Tewolde of Druid Hills (boys 5A-6A) and Michael Hans of Oconee County (boys A-4A).
Etowah swept the Cherokee County Championships Saturday at Boling Park in Canton.
The Eagles took only 42 points in the girls meet and were followed closely behind by Woodstock (49) and Creekview (51). Cherokee, Sequoyah and River Ridge rounded out the event. Kingsley Green of Etowah (18:18.93) won the race and was followed by Alexandra Melehan of Woodstock (18:33.08). Lauren Wallin of Creekview (19:12.44), Caitlyn Ferrell of Cherokee (19:20.66) and Shelby Rensell of Etowah (19:38.51) rounded out the top five.
The boys meet saw Etowah defeat Cherokee (64), Woodstock (69) and Creekview (71). River Ridge and Sequoyah took fifth and sixth, respectively. Cherokee's Taylor Scarbrough won the boys race in a time of 15:46.15 and Woodstock's Owen Bailey took second in 15:51.92. Brennan Garriques of Creekview (15:53.11), Michael Perrona of Etowah (16:02.50) and Ahmed Jama of River Ridge (16:08.07) rounded out the top five.
Veterans won the girls Houston County Cross Country Championships at Huntington Middle School while Perry won the boys race.
Veterans came in second in the boys event with 56 points, just edging Warner Robins' 60 points. Perry took second in the girls race with 49 points while Houston County took third with 52.
Veterans harrier Bethany Bailey won the race in 20:42.75 and Tiffany Mountin of Perry took second in 20:57.06. Autumn Glynn-Johnson of Houston County (21:42.47) came in third, Autumn Straw also of Houston County (22:16.91) took fourth and Katie Luque of Veterans came in fifth (22:35.50).
Rob Ray of Veterans won the boys race in 16:48.28, Michael Rowlands of Veterans came in second in 17:18.50, Tanner Reid of Perry took third in 17:40.42, Josh Spalding came in fourth in 18:27.88 and Brandon Bodony of Veterans came in fifth in 18:29.09.
Class AAAAAA
Marietta
South Forsyth
Etowah
Brookwood
Walton
Mill Creek
West Forsyth
Peachtree Ridge
Lakeside-DeKalb
Milton
Class AAAAA
Forsyth Central
Starr's Mill
Clarkston
Alexander
Lakeside-Evans
McIntosh
Flowery Branch
Creekside
Cambridge
Ware County
Class AAAA
North Oconee
St. Pius X
Woodward Academy
North Hall
Whitewater
Johnson-Gainesville
Wayne County
Marist
White Coutny
Pickens County
Class AAA
Blessed Trinity
East Jackson
Westminster
Oconee County
Coahulla Creek
Savannah Christian
Banks County
West Hall
Dawson County
Hart County
Class AA
Pace Academy
Wesleyan
Lovett
Holy Innocents'
Bleckley County
Darlington
Benedictine
Union County
Lamar County
Berrien County
Class A
Trion
Jenkins County
Providence Christian
Baconton Charter
Galloway
Whitefield Academy
Georgia Military
Hawkinsville
Towns County
Hebron Christian
Girls
Class AAAAAA
South Forsyth
Etowah
Northview
Milton
Mill Creek
West Forsyth
Brookwood
Walton
Marietta
Harrison
Class AAAAA
Starr's Mill
McIntosh
Dunwoody
Creekview
Columbus
Northgate
Cambridge
Winder-Barrow
Flowery Branch
Lakeside-Evans
Class AAAA
Marist
St. Pius X
Heritage-Catoosa
White County
Buford
Whitewater
Woodward Academy
North Oconee
North Hall
Pickens County
Class AAA
Westminster
Blessed Trinity
Hart County
Oconee County
Savannah Arts
Dawson County
Jefferson
Coahulla Creek
Banks County
Morgan County
Class AA
Darlington
Lovett
Holy Innocents'
Wesleyan
Pace Academy
St. Vincent's
Model
GAC
Lamar County
Bremen
Class A
Landmark Christian
Hawkinsville
Commerce
Providence Christian
Hebron Christian
Athens Academy
Jenkins County
Trion
Marion County
Towns County