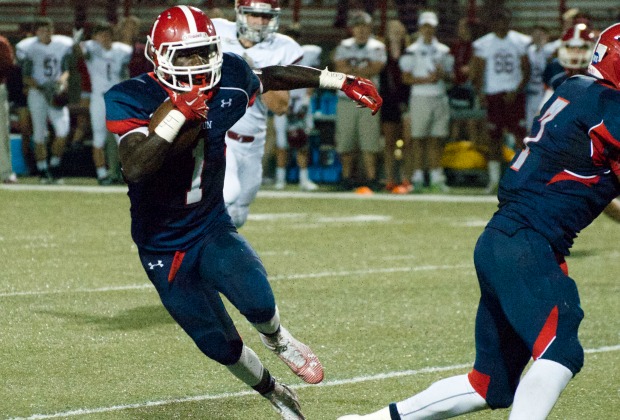 David Wilson
North Cobb went on the road to win a Region 4-AAAAAA showdown against Marietta 41-20. It was an especially important battle for playoff position with both teams coming off two-game losing streaks in the region. Marietta chipped away at an early double-digit deficit to pull within 21-14 in the third quarter, but North Cobb scored 13 unanswered points to end the game while shutting out the home team in the fourth quarter. Quarterback Tyler Queen led the offensive attack for the Warriors. He threw for 143 yards and two touchdowns while adding two additional scores on the ground to go along with 75 rushing yards. Bryce Perryman ran for 256 of North Cobb's 365 total rushing yards and he also found the endzone twice.
AAAAAA
Alpharetta 56, Chattahoochee 7: Alpharetta rolled to a 42-7 halftime lead and never looked back against Chattahoochee as the visiting team remained undefeated in region play and stayed atop the 6-AAAAAA standings. The Raiders got the job done in all three phases of the game. A strong defensive effort included a safety on a sack by Austin Hoffman, a 91-yard interception return by Mark Eze, and a virtual shutout as Chattahoochee's only score came on the defensive side of the ball. Alpharetta also got a punt return for a touchdown by Ryan Kopec.
Archer 52, Shiloh 7: Host Archer used a field goal and 49-yard touchdown pass from Gabe Tiller to Aramis Bryant to establish a 10-0 lead at the end of the first quarter. Jamyest Williams and Randy Nails rushed for Tigers' touchdowns and Gabe Tiller found Kyle Davis for a 40-yard touchdown to make it 31-0 at intermission. Nails ran in a second score to open the half and Maleek McCatty added two late touchdown runs to stamp Archer's 52-7 victory.
Cherokee 56, Lassiter 52: Cherokee won what was unquestionably the wildest game of the night as its home fans had the pleasure of witnessing an incredible fourth quarter. The Warriors trailed 38-14 with less than three minutes remaining in the third quarter before erupting for 42 points over the final 15 minutes of play. The fourth-quarter tally alone read Cherokee 35, Lassiter 14. After seeing the Warriors surge in front 42-38 with 28 unanswered points, Lassiter went back ahead 45-42 as the teams began alternating touchdowns. There were five lead changes in the final 6:16. Pearson Van Horn made two touchdown catches for Lassiter and Micah Grigsby had a touchdown catch in addition to a score on the second-half kickoff return.
Colquitt County 48, Valdosta 20: Sihiem King rushed for three of his four touchdowns in the second half to help Colquitt County run over host Valdosta and gain sole possession of first place in Region 1-AAAAAA. Valdosta scored first on a field goal, but the Packers led 20-3 by halftime and eventually extended their advantage to 41-12. Chase Parrish threw two touchdowns, including a 28-yard screen pass to Ty Lee that put Colquitt County on the scoreboard in the first quarter. King finished with 302 yards on the ground.
East Coweta 41, Pebblebrook 7: East Coweta powered its way to leads of 14-0 after one quarter and 34-0 at halftime to cruise past host Pebblebrook. Carlos Ford and Cole Antley accounted for all of the scoring in the first half when the Indians put the game out of reach. Ford rushed for all four of his touchdowns in the opening two quarters and Antley booted field goals of 45 and 25 yards. Lernilous Newsom capped off East Coweta's scoring in the fourth with a 1-yard plunge.
Hillgrove 52, Kennesaw Mountain 20: Quarterback Matt Wilson accounted for six touchdowns, rushing for three and throwing for three, to lead host Hillgrove. Wilson threw touchdown passes to Eric Montgomery, Richard Hallman and Marcus Bowens and rushed seven times for 32 yards. Sonny Harris rushed 10 times for 45 yards and a touchdown for Hillgrove. Nigel Hayes rushed 20 times for 101 yards and two touchdowns for Kennesaw Mountain.
Lambert 3, Northview 0: Tanner Hall kicked a 40-yard field goal in the first quarter and visiting Lambert held on for its first shutout since Nov. 4, 2011 (31-0 over Cass). Northview took over at the Lambert 44-yard line with 1:50 left and three timeouts but the Longhorns stalled the drive and Justyn Jean-Felix intercepted Northview at the 2-yard-line to seal the game. Lambert's win puts the Longhorns and Titans at 4-2 in Region 6-AAAAAA.
McEachern 60, North Paulding 34: Bailey Hockman passed for 312 yards and four touchdowns, three of them to Tyler Smith, for host McEachern. Smith had 90 yards receiving, and Sam Jackson rushed for 74 yards and two touchdowns. Quay Holmes led McEachern in rushing with 92 yards and a touchdown, and T.J. Rahming and Tyler Woodley also had rushing scores. Dorian McNeal added 57 yards rushing, and Dylan Hamilton led the McEachern defense with six tackles.
Milton 20, Walton 17: Micco Brisker helped Milton erase a 17-3 deficit in the second half with two touchdown runs. Brisker finished with 85  yards on 24 carries. Host Walton built its lead with a K.K. Brooks touchdown run and a Ryan Roegge blocked punt and return for a touchdown. Milton's Ethan Suda hit a 49-yarder in the first quarter to get Milton on the board and added a 35-yarder with a minute left to break a 17-17 tie and seal the comeback victory. Milton outgained Walton 247-183 yards of total offense and held Walton's rotating quarterbacks to just 7-of-25 passing for 82 yards.
Newnan 35, Campbell 7: After a scoreless first quarter, visiting Newnan scored an 18-yard strike from Chancellor Jackson to Randell Arnold for the 7-0 lead. Jackson stayed hot in the second, tossing touchdown passes of 38 and 70 yards as the Cougars reach the end zone four times in the quarter to make it 28-0 at halftime. The Campbell passing game struggled, tossing three interceptions in the game including one returned 55 yards for a Newnan score by Frankie Williams.
North Forsyth 14, Johns Creek 13: Jesus Torres rushed 23 times for 91 yards and an 11-yard touchdown in the first quarter. Torres also blocked the extra point after Johns Creek's first touchdown to give North Forsyth the 1-point win. Lance McGonigle scored North Forsyth's second touchdown on a 12-yard run in the second quarter, and Matt Kriteman and Kevin Nalecz scored rushing touchdowns for Johns Creek. Jamal Davenport added 11 carries for 77 yards for host North Forsyth.
South Gwinnett 23, Parkview 20: Parkview missed a 41-yard field goal attempt as time expired to give visiting South Gwinnett the win. Josh Shim was 22-of-37 passing for 231 yards, including a 10-yard touchdown pass to Antonio Woods. Woods scored the go-ahead 1-yard rushing touchdown with 29 seconds to play. Elijah Shah opened the scoring for South Gwinnett, making it a 13-7 game with a 70-yard punt return in the third quarter. Noel Hussey had seven receptions for 71 yards for South Gwinnett.
West Forsyth 27, South Forsyth 14: Hampton McConnell threw touchdown passes to Nathan Schmitz (80 yards) and Austin Reid (35 yards), who also had a rushing touchdown for visiting West Forsyth. McConnell finished with 282 yards on 11-of-19 passing. Grant Torgerson led West Forsyth with 71 yards rushing and a touchdown, and Schmitz had 125 yards receiving.
Westlake 34, Douglas County 3: Host Douglas County struck early in the first with a field goal. Westlake quarterback Dakota Rocker answered by connecting with Ronnie Blackmon for a 37-yard score. Rocker followed up with two more touchdown passes to A.J. Terrell and Tyshun Render, respectively, as Westlake built a 20-3 lead at halftime. Rocker wrapped up his day with an 80-yard strike to Terrell for his fourth touchdown pass of the game.
AAAAA
Alexander 49, Villa Rica 27: Visiting Alexander forced four Wildcat turnovers and Baylor Whitfield threw for 297 yards and four touchdowns. Mikell Lands-Davis rushed for 72 yards and a touchdown on 17 carries. Lands-Davis also added 87 yards receiving and a touchdown. Caleb Freeman ran for 51 yards and a score. Isaac Zico caught five balls for 189 yards and three touchdowns. Derrell Mims had a 65-yard interception return. Noah Smith threw for 170 yards and one score in the loss.
Allatoona 35, Hiram 7: Theron Guidry tossed a touchdown pass to Jonathan Greenard to give Hiram a 7-0 lead, but the visiting Buccaneers responded with 35 unanswered points. Russell Halimon rushed for two touchdowns, including an 8-yard run that gave Allatoona a 28-7 lead. Bucs quarterback Conner Larson threw three touchdown passes to wideout Zach Nichols, including a 50-yard touchdown for the game's final points. Allatoona matched last year's win total and improved to 7-0 for the third time in four seasons.
Cambridge 64, North Springs 7: Cambridge overwhelmed the visiting Spartans as the Bears forced five turnovers. Craig Carter picked off a pass and the special teams forced a fumble on kickoff coverage that was returned for a score. Kaelin Byrd ran for more than 100 yards and scored twice. Brian Moore tossed a 25-yard touchdown to Hunter Smith and also added a 1-yard rushing score. J.D. White had a 73-yard scoring run in the early fourth quarter. North Springs' lone score came on a Rees Viersen 30-yard pass to Derrien White late in the third.
Creekview 31, Sequoyah 28: Dawson Ewers opened the scoring with a 31-yard interception return for a touchdown to give host Creekview the early 7-0 lead. Sequoyah answered with a 5-yard Cameron Gales touchdown run and Creekview's Lalo Pena booted a 27-yard field goal to reclaim a 10-7 lead at the half. Kyle Wilkie and B.J. Smith extended Creekview's lead to 24-7 with third quarter touchdown runs. Sequoyah cut the deficit to 24-14, but Creekview answered with a 73-yard bomb from Wilkie to Smith that pushed the lead to 31-14. Sequoyah added an Austin Tracy touchdown run and a late Tracy touchdown toss to Blake Miller that made it a 31-28 ballgame.
Dalton 45, River Ridge 18: Host Dalton kicked off the scoring on a reverse handoff to by Peter Sigmon who took it 78 yards for an early 7-0 lead. Dalton continued to build momentum with two touchdown passes by Payton Veraldi as the Catamounts saw the 28-6 score in their favor at the half. River Ridge pulled within 10 points following a 14-point third quarter, but Dalton pulled away with two touchdown scores including Veraldi's third passing score in the game, connecting with Sigmon on a 35-yard pass.
Drew 40, Mundy's Mill 28: The visiting Titans picked up a huge road win to advance to 6-1. Drew shutout Mundy's Mill in the second half. Fullback Josh Harrison got the Tigers on the board first with a 12-yard rushing touchdown halfway through the first quarter. Quarderman Sloan answered for Drew with a 38-yard run, but the two-point conversion went awry making it 7-6 in favor of Mundy's Mill. Marquis Terry went 28-yards for an early second quarter score to give Drew a 14-7 lead. Rodricous Gates hit Cornell Washington for 38-yards to tie the game. Sloan tacked on an 18-yard run for his second score of the half. Gates hooked up with Washington once more for 34 yards to give the Tigers a 28-27 lead going into the half after Joseph Newman scored from 33 yards out for the Titans. The rushing attack continued to overwhelm Mundy's Mill in the second half as Drew began to pull away. Terry punched in a 5-yard score in the third and later in the fourth Newman delivered a dagger on a 21-yard run. Terry racked up over 150 yards in the high-scoring game.
M.L. King 28, Miller Grove 24: M.L. King picked up its first win of the season and did it in dramatic fashion in front of its home fans. The Lions trailed 24-14 in the third quarter before closing out the night on a 14-0 run to stun Miller Grove. Ravarius Rivers passed for two touchdowns and rushed for one more to lead M.L. King's comeback. He connected with Muhktar Byard in the back corner of the endzone for a game-winning score with less than three minutes remaining. Donovan Goodwin also returned a blocked field goal 71 yards for another Lions' touchdown. Meco Jackson scored twice on the ground for the Wolverines, including on a 60-yarder to give them their 10-point cushion in the third quarter.
Northgate 51, Forest Park 12: Northgate stormed out of the gates with a 23-point first quarter that included two touchdown socres by Ton Evans. Forest Park got its first touchdown midway through the second period when quarterback Courtney WIlliams connected with Chris Winston on a 29-yard passing score. Northgate continued piling on with touchdowns by Malik Wade, on a 35-yard run, and Evans, his third of the game, to build a 37-14 lead at the half. Two scores in the fourth by Wade and Jai'Eon Madison wrapped up the Northgate onslaught.
Northside-Warner Robins 24, Warner Robins 21: Northside got two touchdowns from Tobias Oliver and a touchdown from Willie Jordan and held on to beat crosstown rival Warner Robins. The Eagles led by 10 points twice, until Warner Robins' Ivan Corbin scored on a 4-yard run with 8:07 remaining in the game to cut the lead to 24-21. The Demons got the ball back with a little more than a minute remaining, but could not mount a drive. Northside led 10-0 early on a 21-yard field goal by Justin Alonso and Jordan's 5-yard touchdown run. Warner Robins cut the margin to three when Terry Harris scored on a 1-yard run. Oliver's first touchdown, which came midway through the second quarter, gave the Eagles at 17-7 halftime lead. His second, with 58 seconds left in the third quarter, followed a 47-yard punt return for a touchdown by the Demon's Danny Hite III.
Sprayberry 34, Forsyth Central 7: Forsyth Central was within 14-7 late in the first quarter thanks to a 4-yard touchdown run by Sabrian Howard, but host Sprayberry ultimately had little trouble pulling away. The Yellow Jackets led 20-7 at halftime and by the final margin of 34-7 at the end of the third quarter. Andrew Pereira got the scoring started with a 49-yard touchdown pass to Jontae Williams and Rakeem Myricks and Trey Sermon each padded Sprayberry's lead with touchdown runs.
Stephenson 54, Druid Hills 20: Stephenson used a 34-point second quarter to surge past host Druid Hills. Dewann Ford kicked off the explosive second quarter with a 48-yard touchdown strike to Isaiah Zuber.  The Jaguar defense did its part as well forcing two safeties. Dexter Neal scored on a kick return and also caught a 20-yard touchdown from Ford. Zuber found pay-dirt to open up the second half taking a kickoff 95 yards for a score to go up 48-0.
Woodland-Stockbridge 14, Union Grove 10: Woodland-Stockbridge senior quarterback Kobie Lain accounted for both Wolfpack touchdowns as Woodland-Stockbridge defeated Union Grove 14-10. It was the first Woodland win over Union Grove in school history, and it put the Wolfpack in the driver's seat in Region 4-AAAAA, Division B heading into next week's contest at Stockbridge.
AAAA
Buford 51, Monroe Area 12: Xavier Gantt rushed for 112 yards and three touchdowns on just six carries for visiting Buford, scoring from 15, 21 and 44 yards out. Josh Thomas, Jordan Perlotte and Connor Tarleton also rushed for touchdowns, and Wolves quarterback Luke Humphrey found Avery Turner for a 19-yard touchdown pass. Matt Bonadies connected on a 24-yard field goal. The Buford defense had three interceptions and a fumble recovery.
Carrollton 21, Whitewater 20 (OT): In overtime, Marlee Fishing scored the go-ahead touchdown for visiting Carrollton before Malique Gallon blocked a Whitewater extra point attempt to clinch the win for the Trojans. Whitewater led 14-7 at the half after Chris Wafford rushed for 113 yards and Jay Ashley scored twice. Carrollton's Jarvis Terrell scored on a 10-yard run to get the Trojans on the board in the first half.
Jonesboro 15, Riverdale 13: Trailing 7-0 at the beginning of the second half, visiting Jonesboro kicked a field goal to begin cutting away at the Riverdale lead. Running back Montavion Brooks put the Cardinals in front with a 20-yard score for the 9-7 after the missed extra point. Jaylin Cambridge would give the lead back to Riverdale following a 10-yard scoring run. Brooks was at it again, breaking off a 35-yard run to set up the Sabree Curtis touchdown for Jonesboro and the 15-13 lead. Late in the fourth, Riverdale missed a 26-yard field goal which sealed the victory for the Cardinals.
Marist 43, Grady 13: Marist running back Griffin King rushed for 116 yards and four touchdowns, including three in the first quarter. The visiting War Eagles led 21-0 after one period and 28-6 at the half. Grady fumbled on its first offensive snap and Marist converted it into a score to make it 14-0. The War Eagles rushed for 368 yards and held Grady to just 49 on the ground. Ryan Pepperman and Sam Phelts also rushed for Marist scores.
St. Pius X 45, Chamblee 14: Dalton Wilson returned an interception for a touchdown on the first play from scrimmage to put host St. Pius X up 7-0. A Nick Spear touchdown run and Michael Matthews field goal gave the Golden Lions a 17-0 halftime lead. Grant Holloman and Ransom Kingler rushed for St. Pius X touchdowns and Kingler added an 80-yard kickoff return for a touchdown. Bryan O'Reilly's 17-yard touchdown run in the fourth quarter ballooned the lead to 45-7.
Woodward Academy 35, Fayette County 7: Elijah Holyfield returned the opening kickoff 73 yards for a touchdown and Darien Wiggins forced a safety to give the host War Eagles a 9-0 halftime advantage. Holyfield rushed for the first of his two rushing touchdowns to open the second half and Woodward Academy quarterback Jes Sutherland tossed touchdown passes to J.R. Pace and William Collins to close out the third quarter. Holyfield rushed for a fourth-quarter touchdown to make the score 35-7.
AAA
Cedar Grove 42, Towers 6: The Saints went on the road and routed Towers to move to 6-1 on the season. Quarterback Jelani Woods went 4 of 9 for 121 yards and three touchdowns. Woods also ran for 22 yards and a rushing touchdown. LaBron Morris carried 24 times for 212 yards and one score. Syracuse-commitment Christopher Fredrick caught a 56-yard touchdown and collected an interception.
Central-Macon 37, Southwest-Macon 0: Central quarterback Derrick Evans passed for three touchdowns, and Chris Sparks and Ivorie Childers each scored two touchdowns to lead Central to a blowout victory against Southwest. Evans threw a 40-yard touchdown pass to Sparks and had 67- and 65-yard touchdown passes to Childers. Sparks also scored on a 6-yard run. Central got a 2-yard touchdown run from Jeremiah Daniels and a 32-yard field goal from Tema Flint.
Decatur 34, Douglass 14: Decatur racked up more than 400 yards in its win at Douglass. Devontae Carter threw for more than 200 yards and totaled three touchdowns. Carter had two rushing scores and found Terrill Hall for a 33-yard touchdown. Dennis Bell racked up eight catches for 121 yards. Grant Walker scored on an 8-yard run. Demetrius Harris had three sacks and Ronald Madison totaled 10 tackles to lead the defense. Mikhail Johnson added an interception.
AA
Lamar County 34, Northeast-Macon 17: Lamar County's Juan Tucker scored four touchdowns to lead the Trojans past Northeast-Macon. Tucker scored on runs of 2,1,1, and 8 yards. Two of Tucker's rushing touchdowns came in the first half. Noah Eure added a 20-yard touchdown run in the first half to apply the pressure. Tucker added two rushing touchdowns in the second half to put the game out of reach.
Lovett 42, Holy Innocents' 13: Willie Candler passed for three touchdown and ran for two more as the host Lions rolled. Lovett led 21-7 at the half and scored 21 more points in the third period. The Lions rushed for 205 yards and held the Golden Bears to just 41. Candler completed 10 of 14 passes for 173 yards. Will Geraghty caught three passes for 82 yards and a score while Jon Thomas caught two passes for 59 yards and two touchdowns.
Vidalia 35, Benedictine 28: Devin Johnson rushed for 88 yards and three touchdowns to help lead visiting Vidalia past Benedictine in a second-half comeback from a 21-14 halftime deficit. Shon Jones scored a 5-yard rushing touchdown, and Vidalia quarterback Jordan Black found Josh Eason on a 7-yard touchdown pass for the night's final touchdown to help the Indians stay perfect at 7-0. John Kennedy scored twice on the ground for Benedictine.
A
Mount Paran 45, Christian Heritage 9: Visiting Mount Paran jumped to a 45-0 lead in the first half and improved to 7-0 for the first time in school history. The Eagles used long touchdown runs from Ryan Moran and Dorian Walker to take a 14-0 lead and Jake Allen found Emoni Williams for a touchdown pass before the end of the first quarter to make it 21-0. Ryan Moran booted a 41-yard field goal in the second quarter and Allen would find Williams for three more touchdowns, including a 49-yard throw and catch at the end of the first half.
Mount Pisgah 21, Pinecrest Academy 14: Aaron Winchester rushed for two touchdowns and passed for one to lead host Mt. Pisgah past Pinecrest. Winchester scored on a 1-yard run in the fourth quarter to put Pisgah up 21-7. A Nick Palmer touchdown reception for Pinecrest with under a minute to play made it a 7-point game, but the ensuing onside kick went out of bounds. Linebacker Max Miller had 11 tackles for Pisgah.
St. Francis 25, King's Ridge Christian 13: Host St. Francis was able to shake off a sluggish start and defeat King's Ridge. After trailing 7-0, the Knights scored on an A.J. Cummings 19-yard touchdown run, but missed the extra point. St. Francis recovered an onside kick and later scored to make it 12-7 after a failed two-point conversion. King's Ridge returned a third quarter fumble for a touchdown. Jordan Ferguson ran for a score in the third and a Cummings 65-yard touchdown run put the game out of reach in the fourth.