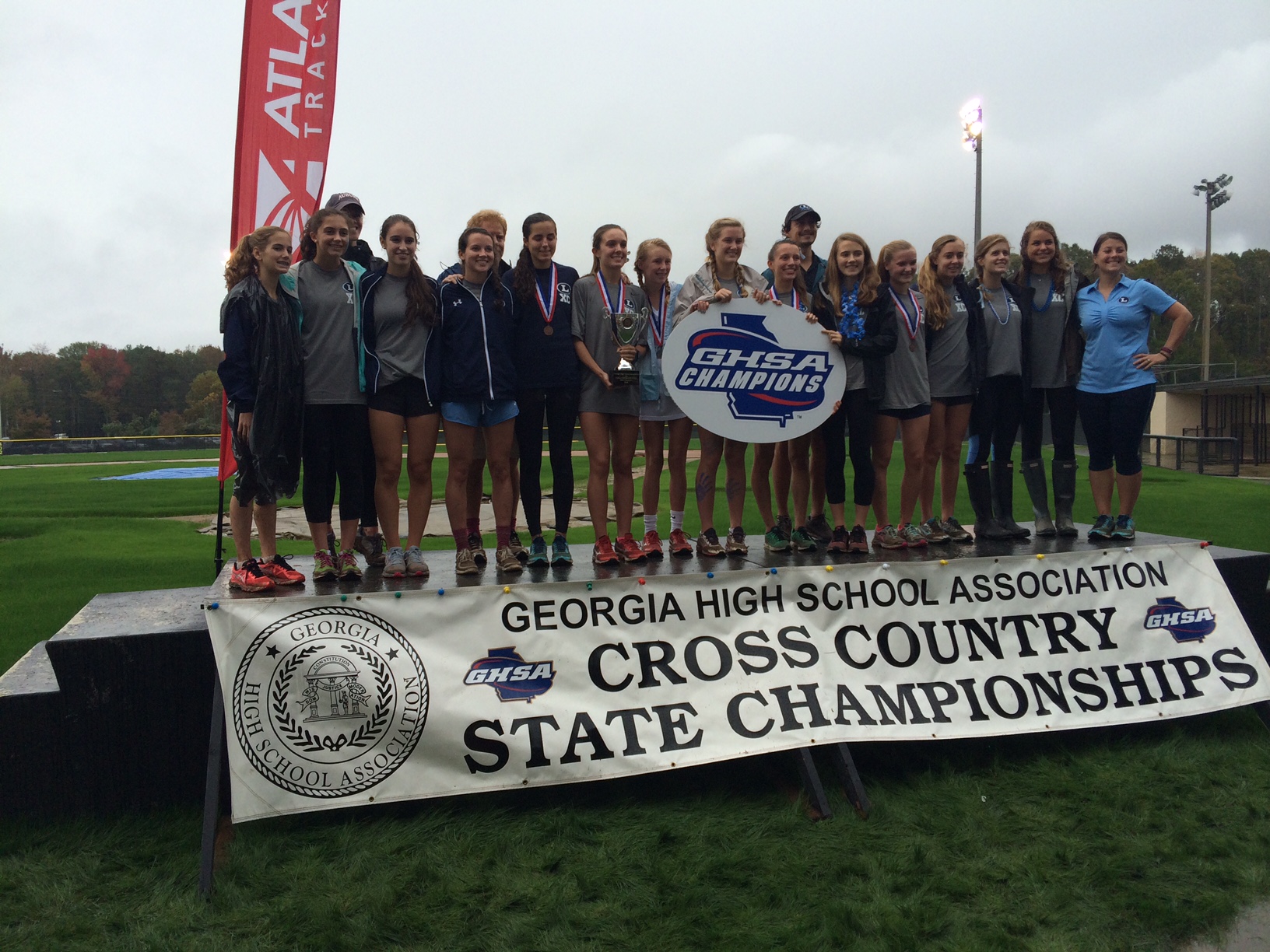 Photo by Tyler Andrews
Marietta boys repeat, Mill Creek girls capture first title
Carrollton – The Marietta boys placed four runners in the top six finishers and clinched a second consecutive GHSA Class AAAAAA boys cross-country state title at Carrollton High School. Their top five runners in the 5K event combined for the top overall time of 1:22:18.56. Prior to their race, the course was modified for the last four races due to the muddy conditions. Marietta's Carlos Torres (16:06.61) beat out teammate Hayden Tullos (16:15.70) to capture the individual title. The Mill Creek girls (1:41:15.41) captured their first state title by placing two runners in the top ten. Lindsay Billings (18:10.73) from Northview won her second straight individual title.
Class AAAAA: Both champions successfully defended their titles in Class AAAAA. The Clarkston boys (1:29:18.29) outraced Forsyth Central (1:30:23.70) to win a second straight championship. Flowery Branch's Jake Shewbert (16:49.83) won the individual title. The Dunwoody girls (1:46:02.38) won their second straight title and third overall. Samantha Cameron (20:26.01) took the individual title by edging out Dunwoody teammate Kelly May Sheehan (20:33.65).
Class AAAA: The Marist boys (1:29:02.46) edged out defending champion St. Pius (1:29:30.27) to win their 11th title in school history. Frank Pittman (17:08.92) finished off a magical season for Marist by winning the individual crown. The Marist girls completed the War Eagles sweep (1:48:17.70) and won their eighth straight state championship. Ellie Glenn (21:00.88) from St. Pius took the lead late in the race to win the individual title.
Class AAA: The Blessed Trinity (1:30:29.61) boys won their second consecutive state title by beating out Oconee County (1:32:13.50). For the second straight year, the Kennedy boys from East Jackson finished first and second individually, with Chase (17:07.73) beating out Chandler (17:21.70) to win back-to-back individual state titles. The Westminster girls (1:48:14.76) clinched back-to-back titles and the program's 20th state championship in the last 24 years. East Jackson's Sue Ann Morales (19:51.03) notched the individual title for the school.
Class AA: The Bleckley County boys (1:33:15.05) won their first state title by beating out Pace Academy (1:33:53.68) and defending champion Wesleyan (1:36:33.94). Individual champion Carl Ellis Corley (17:50.67) led the Bleckley County team. The Lovett girls (1:46:18.02) captured their second straight team title and 16th overall. Serena Tripodi (19:50.74) won her second straight individual title ahead of Lovett teammate Haley Hooper (20:01.47).
Class A-Private: Landmark Christian (1:32:59.66) took care of business in the boys race for their ninth state title to open the morning session. Paideia's Griffin McCauley (17:24.85) took home the individual title. The Landmark Christian girls (1:43:34.94) completed sweep of the classification by clinching back-to-back state titles and their 11th overall championship. Athens Academy's Anna Marian Block (19:09.97) won the individual title over Helen Audrey Williams (19:24.25) from Atlanta International School.
Class A-Public: The Drew Charter boys (1:39:33.98) clinched their first state title in school history by beating two-time state champion Georgia Military College (1:43.10.94) and Towns County (1:44:28.41). Telfair County's Blake Bargeron (18:27.28) took home the individual crown. The Towns County girls (2:01:35.39) won their fourth straight title as Hannah Whitehead (22:08.21) won her second consecutive individual title.
GHSA 2015-16 Cross Country State Meet results
Class AAAAAA
Boys
1. Marietta (27) 1:22:18.56
2. Brookwood (77) 1:24:16.64
3. Peachtree Ridge (100) 1:25:19.56
4. Milton (121) 1:25:12.54
5. Lambert (149) 1:25:55.42
6. Mill Creek (229) 1:27:29.30
7. Mountain View (295) 1:28:05.06
8. Walton (304) 1:28:43.57
9. Lakeside-DeKalb (317) 1:28:52.55
10. Etowah (317) 1:28:56.49
Girls
1. Mill Creek (85) 1:41:15.41
2. South Forsyth (93) 1:39:59.42
3. Northview (125) 1:40:46.59
4. Milton (136) 1:42.50.83
5. West Forsyth (188) 1:44:23.49
6. Brookwood (204) 1:44:50.56
7. Harrison (210) 1:45:35.56
8. North Paulding (267) 1:46:54.03
9. North Gwinnett (270) 1:47:05.71
10. Etowah (302) 1:47:52.11
Class AAAAA
Boys
1. Clarkston (90) 1:29:18.29
2. Forsyth Central (128) 1:30:23.70
3. Flowery Branch (153) 1:30:07.30
4. Alexander (166) 1:31:08.59
5. Cambridge (180) 1:31:17.53
6. Allatoona (250) 1:31:48.55
7. Lakeside-Evans (251) 1:31:54.54
8. McIntosh (257) 1:32:51.71
9. Starr's Mill (282) 1:33:08.17
10. Greenbrier (307) 1:33:27.71
Girls
1. Dunwoody (70) 1:46:02.38
2. Creekview (113) 1:48:16.61
3. Union Grove (128) 1:49:35.99
4. Flowery Branch (174) 1:50:52.63
5. Jones County (209) 1:51:08.27
6. Starr's Mill (216) 1:52:13.37
7. McIntosh (225) 1:53:03.58
8. Cambridge (241) 1:54:15.09
9. Northgate (249) 1:53:47.12
10. Richmond Hill (254) 1:53:33.85
Class AAAA
Boys
1. Marist (69) 1:29:02.46
2. St. Pius (76) 1:29:30.27
3. Whitewater (115) 1:30:44.75
4. North Hall (151) 1:31:44.21
5. North Oconee (179) 1:32:51.76
6. Johnson-Gainesville (196) 1:33:08.73
7. Grady (235) 1:33:59.92
8. Heritage-Catoosa (256) 1:34:31.41
9. Gilmer (311) 1:36:17.07
10. Eagle's Landing (319) 1:35:37.80
Girls
1. Marist (37) 1:48:17.70
2. St. Pius (95) 1:50:44.16
3. North Oconee (160) 1:53:49.00
4. Grady (162) 1:53:43.53
5. Woodward Academy (185) 1:55:04.68
6. Eagle's Landing (246) 1:56:59.57
7. North Hall (253) 1:57:01.73
8. Chamblee (257) 1:57:39.23
9. Heritage-Catoosa (264) 1:57:15.82
10. White County (304) 1:59:16.99
Class AAA
Boys
1. Blessed Trinity (49) 1:30:29.61
2. Oconee County (88) 1:32:13.50
3. Westminster (104) 1:33:04.89
4. East Jackson (125) 1:32:18.18
5. Jefferson (176) 1:35:20.01
6. Banks County (205) 1:36:15.26
7. Savannah Arts Academy (213) 1:36:39.12
8. Calhoun (221) 1:36:45.84
9. Coahulla Creek (227) 1:36:23.37
10. Dawson County (276) 1:38:18.96
Girls
1. Westminster (31) 1:48:14.76
2. Blessed Trinity (81) 1:52:12.53
3. Hart County (92) 1:53:28.27
4. Dawson County (116) 1:55:54.37
5. Decatur (207) 2:01:31.18
6. Coahulla Creek (260) 2:05:41.16
7. Jackson County (289) 2:05:51.20
8. Fannin County (304) 2:06:15.30
9. Oconee County (313) 2:07:21.95
10. Jefferson (340) 2:07:56.59
Class AA
Boys
1. Bleckley County (42) 1:33:15.05
2. Pace Academy (51) 1:33:53.68
3. Wesleyan (85) 1:36:33.94
4. Lovett (112) 1:37:48.01
5. Holy Innocents' (165) 1:40:25.87
6. Union County (211) 1:42:26.96
7. Benedictine (256) 1:44:39.14
8. Armuchee (268) 1:45:02.63
9. Darlington (273) 1:45:18.42
10. Bremen (292) 1:45:45.71
Girls
1. Lovett (24) 1:46:18.02
2. Wesleyan (73) 1:53:38.66
3. Darlington (84) 1:54:32.97
4. Pace Academy (105) 1:57:11.17
5. Holy Innocents' (125) 1:58:07.42
6. St. Vincent's Academy (192) 2:02:58.29
7. Model (221) 2:04:55.48
8. Bleckley County (238) 2:05:39.39
9. Bremen (271) 2:07:19.06
10. Union County (272) 2:07:46.56
Class A-Private
Boys
1. Landmark Christian (59) 1:32:59.66
2. Hebron Christian (110) 1:35:53.59
3. Paideia (110) 1:34:50.28
4. Athens Academy (138) 1:37:00.45
5. Galloway (152) 1:37:46.61
6. Providence Christina (158) 1:38:19.42
7. Whitefield Academy (211) 1:40:15.51
8. Atlanta International (243) 1:40:54.94
9. North Cobb Christian (275) 1:42:04.15
10. Mt. Paran (284) 1:42:56.22
Girls
1. Landmark Christian (40) 1:43:34.94
2. Athens Academy (85) 1:49:04.38
3. Hebron Christian (91) 1:51:39.77
4. Atlanta International (148) 1:54:17.97
5. Providence Christian (172) 1:56:09.38
6. Mount de Sales (177) 1:57:25.14
7. Savannah Christian (209) 1:59:33.41
8. Paideia (218) 1:57:44.88
9. Athens Christian (225) 2:00:52.88
10. Mt. Paran (266) 2:02:38.72
Class A-Public
Boys
1. Drew Charter (42) 1:39:33.98
2. Georgia Military (92) 1:43:10.94
3. Towns County (112) 1:44:28.41
4. Atkinson County (132) 1:45:58.83
5. Montgomery County (136) 1:45:42.23
6. Hawkinsville (170) 1:47:21.83
7. Jenkins County (171) 1:48:24.59
8. Baconton Charter (199) 1:50:12.50
9. Trion (210) 1:50:49.93
10. Echols County (212) 1:49:56.86
Girls
1. Towns County (36) 2:01:35.39
2. Commerce (79) 2:09:35.13
3. Marion County (115) 2:14:15.96
4. Trion (123) 2:14:48.47
5. Atkinson County (151) 2:19:02.32
6. Baconton Charter (151) 2:20:46.37
7. Telfair County (153) 2:19:30.47
8. Johnson County (201) 2:28:43.03
9. Hawkinsville (224) 2:30:39.37
10. Schley County (225) 2:51:47.43
GHSA Cross Country State Championship Individual Top 5 Results
At Carrollton High School
5K Run
Class AAAAAA Boys
1. Carlos Torres, Marietta, 16:06.61; 2. Hayden Tullos, Marietta 16:15.70; 3. Zach Israel, Brookwood 16:26.82 4. KhayVonn Benson, Marietta 16:28.51; 5. Jonathan Schwind, Lambert, 16:31.40
Class AAAAAA Girls
1. Lindsay Billings, Northview, 18:10.73; 2. Savannah Carnahan, South Forsyth, 18:52.18; 3. Kaylee DuPont, South Forsyth 19:17.39; 4. Yanely Gomez, Grayson, 19:38.86; 5. Hannah Petit, Mill Creek, 19:40.96
Class AAAAA Boys
1. Jake Shewbert, Flowery Branch, 16:49.83; 2. Colton Page, Allatoona, 16:54.89; 3. Sam Bowie, LaGrange, 16:59.80; 4. Allen Clark, Lakeside Evans, 17:04.81; 5. Suheib Mohamed, Clarkston, 17:16.43
Class AAAAA Girls
1. Samantha Cameron, Dunwoody, 20:26.01; 2. Kelly May Sheehan, Dunwoody, 20:33.65; 3. Alyssa Hooker, Lakeside Evans, 20:36.05; 4. Kacie Wilson, Winder-Barrow, 20:36.49; 5. Erin Leonard, Jones County, 20:39.11
Class AAAA Boys
1. Frank Pittman, Marist, 17:08.92; 2. Sean Parker, Pickens County, 17:15.20; 3. Corson Teasley, North Hall, 17:16.85; 4. Gerardo Suarez, Johnson Gainesville, 17:26.52; 5. Ryan Gabelein, Heritage Catoosa, 17:26.98
Class AAAA Girls
1. Ellie Glenn, St. Pius X, 21:00.88; 2. Josie Wirtz, Marist, 21:16.35; 3. Grace Griffith, Grady, 21:18.14; 4. Jaelen Alexander, White County, 21:26.36; 5. Madison Allie, Locust Grove, 21:28.68
Class AAA Boys
1. Chase Kennedy, East Jackson, 17:07.73; 2. Chandler Kennedy, East Jackson, 17:21.70; 3. Sam Ellis, Decatur, 17:35.92; 4. Ben McCoy, Blessed Trinity, 17:40.85; 5. Michael Hans, Oconee County, 17:55.16
Class AAA Girls
1. Sue Ann Morales, East Jackson, 19:51.03; 2. Audrey Honiotes, Hart County, 20:21.43, 3. Mary Claire Solomon, Blessed Trinity, 20:37.15; 4. Victoria Flowers, Westminster, 21:16.89; 5. Frankie Muldoon, Dawson County, 21:23.24
Class AA Boys
1. Carl Ellis Corley, Bleckley County, 17:50.67; 2. Jack Douglass, Pace Academy, 17:56.41; 3. Rob Warren, Pace Academy, 18:15.68; 4. Nicholas Klavohn, Lovett, 18:17.86; 5. Bailey Renfroe, Wesleyan, 18:21.04
Class AA Girls
1. Serena Tripodi, Lovett, 19:50.74; 2. Haley Hooper, Lovett, 20:01.47; 3. Stephanie Ward, Darlington, 21:15.16; 4. Ellie Bradach, Wesleyan, 21:35.93; 5. Abby Kettle, Greater Atlanta Christian, 21:41.90
Class A Public Boys
1. Blake Bargeron, Telfair County, 18:27.28; 2. Andres Abeja, Echols County, 18:45.77; 3. Adan Martinez, Hawkinsville, 18:54.38; 4. Tyler Grimsley, Towns County, 19:18.93; 5. Henry Cox, Drew Charter, 19:22.73
Class A Public Girls
1. Hannah Whitehead, Towns County, 22:08.21; 2. Taylor Cornett, Towns County, 22:30.21; 3. Alli Hay, Pataula Charter, 22:46.11; 4. Kate Massey, Commerce, 23:04.14; 5. Arnesha Hardee, Telfair County, 24:17.17
Class A Private Boys
1. Griffin McCauley, Paideia, 17:24.85; 2. Sam Shaylor, North Cobb Christian, 17:35.79; 3. Hugo Levisse, Atlanta International School, 17:53.12; 4. Seth Cruver, Landmark Christian, 18:03.09; 5. Austin Taylor, Landmark Christian, 18:06.54
Class A Private Girls
1. Anna Marian Block, Athens Academy, 19:09.97; 2. Helen Audrey Williams, Atlanta International School, 19:24.25; 3. Emma Grace Hurley, Fellowship Christian, 19:42.43; 4. Nicole Fegans, Landmark Christian, 19:51.21; 5. Sophia West, Paideia, 19:54.01
For all final results, CLICK HERE