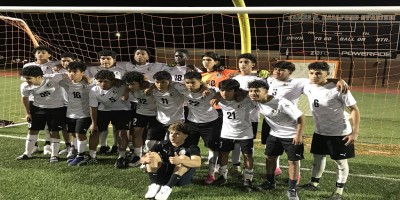 The Cross Keys Indians boys soccer team notched an important 2-0 victory on the road over the Clarkston Angoras on Tuesday night.
The first goal for the Indians came from senior Anthony Maldonado, who found the back of the net with just over seven minutes left in the first period.  At the back end of the second period, junior Roberto Hernandez fired a shot past the Clarkston goalie to seal the deal on the Indians' victory.
Sophomore goalkeeper Angel Montelongo also played a big  role on Tuesday, coming up with some crucial saves and maintaining a shutout over the Angoras.
With this win the Indians move to 8-4-1 overall and 3-3 in 5-5A, moving them up a spot to fifth in the region.
This was a crucial win for the Indians, as it keeps their playoff chances alive. Head coach Derrick Burgess is proud of his team for sticking to their style of playing soccer, and utilizing everything they've been taught through practice and game experience.
"Being calm, being disciplined," coach Burgess said. "Not letting emotions get carried away, being able to ride the good waves and the bad waves and play to the final whistle."
The Indians next game will be at home this Thursday at 7:30 p.m. against the Stone Mountain Pirates. If they win, they will clinch a spot in next month's state playoffs tournament.