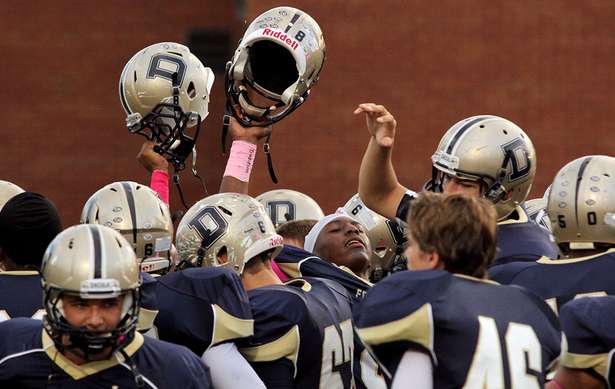 Class AAAAAA Dacula at Class AAAAAAA Walton is the Atlanta Falcons High School Game of the Week. The last time Walton and Dacula faced was 2011. Current Ola head coach Jared Zito was leading a senior-laden Dacula squad into Raider Valley, where current Glynn Academy head coach Rocky Hidalgo's undefeated Raiders would host the quarterfinal showdown. Walton's Tyren Jones (Class AAAAA Offensive Player of the Year) ran for 156 yards and a touchdown on 31 carries and returned a punt for a score, while Zack Blaylock (First-Team All State Defensive Back) had two crucial fourth-quarter interceptions to go with a 96-yard touchdown reception to help the Raiders hold on for a 21-13 victory. In the five years since the Elite 8 classic, both programs have ushered in new coaching eras and seen a pendulum of successful and substandard seasons. Dacula went 1-9 in 2012 and current head coach Tommy Jones took over the program the following 2013 season. The Falcons returned to contention and went on to finish 10-2 in 2014, but fell to 5-5 this past season. Walton plummeted to a 2-8 finish in 2014, before current head coach Mo Dixon led a 9-2 effort this past season in what marked his second season on the job.
Now, Dacula faces a 2-2 Walton team in Raider Valley, with a 1-3 record that includes three straight losses. This is the final non-region matchup for both teams.
Walton opened the year with back-to-back losses to Gwinnett schools. First, Norcross defeated the Raiders 46-14 in the MetroPCS Corky Kell Classic and the following week Brookwood roared past Walton for a 40-13 victory. A 59-33 win over rival Pope and a 35-14 win over neighboring Wheeler the past two weeks, however, has the Raiders back on track.
Dacula opened the season with a promising 34-13 win over visiting Central Gwinnett, but was outmatched by Mill Creek 30-0 the following week. The loss over the No. 1 ranked Hawks was vindicated, but a 24-21 loss to Arabia Mountain and a 31-14 loss to West Forsyth last Friday gives the Falcons one last chance to search for answers before region play opens up.
Two contrasting offensive styles will likely determine the outcome. Walton's offense is orchestrated by quarterback Addison Shoup, while Dacula will feature 6-foot-1, 220-pound running back Ty Harris in its run-oriented offense.