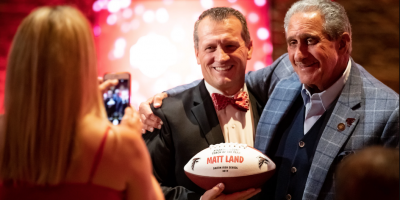 Dalton head football coach Matt Land was announced Don Shula NFL High School Coach of the Year this Sunday during ESPN's broadcast of the 2020 Pro Bowl in Orlando. Each of the NFL's 32 teams nominate one coach to be considered for the prestigious annual award and Coach Land was selected among the group of nominees to be this year's winner.
"We are incredibly proud of Coach Land for how he has represented his family, school, and the great state of Georgia—he truly is deserving of being named the Don Shula Coach of the Year," said Atlanta Falcons Owner and Chairman Arthur Blank. "Coach Land's commitment to his players and community over the last 10 years is a genuine reflection of his character and further demonstrates the life skills taught in and through football by coaches like him that make an impact far beyond game day."
Land will receive $15,000 from the NFL Foundation, $10,000 of which will go to the Dalton football program. Additionally, Land will be recognized at the NFL Honors primetime award ceremony on Feb. 1 before getting to attend Super Bowl LIV the following night at Miami's Hard Rock Stadium between the Kansas City Chiefs and San Francisco 49ers.
As for the award and what it represents, Shula is the winningest coach in NFL history and is part of the selection process each year that chooses the honoree based off the character, integrity, leadership, dedication to the community, commitment to player protection and on-field success of each nomination.
Since taking the job in 2010, Land has led the program to a 78-36 overall record with playoff appearances in eight of the last nine seasons. This year's team finished the season 7-4 with a 21.9 average margin of victory in Class AAAAAAA. In addition to the success on the field, Land has made sure to cultivate a community that supports each other and teaches young men the valuable lessons about life.
"The great blessing of this job is to be able to do it with my family," said Land. "They share in this mission to help change our community."
This "bigger than football" mission continues to make an impact on the lives of individuals while promoting the program's commitment to the serving the Dalton community. The Catamounts welcomed in a young man named Floyd Coffey during Land's first season at the school after Hurricane Katrina left Coffey displaced him and took away his home. Coffey ended up playing football at Eastern Kentucky University after his varsity career ended and is currently gaining his Bachelors and Masters while working on his Ph.D. at USC. This past year, a young man by the name of Yvenson Vignier was taken in by Land and his family after an earthquake in Haiti had taken everything from him. Vignier joined the football team and ended up hauling in a receiving touchdown against Sprayberry this season.
"One of the great honors of my career is being recognized as the Don Shula High School Coach of the Year, an award which recognizes more than on the field achievement, but rather integrity and making a difference in my community," said Land. "Part of this journey is helping our players understand life and go through it as a team. In the last four years I have lost two coaches, one to ALS and one to cancer, along with one coach's wife to breast cancer, and two players mom. … Sometimes my job is to help explain those kinds of things, but it's always my job to be there for them and let them know they are loved and not alone."