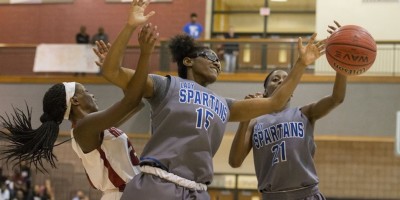 The top-ranked Grayson boys moved to 24-1 and 9-1 in 8-AAAAAAA after a 96-55 victory over South Gwinnett at home on Tuesday.
The Rams led 18-10 after the first quarter and pushed the lead to 50-21 at the break after a 32-11 run in the second quarter. Grayson pushed its lead with a 30-16 run in the third quarter and held on after an 18-16 run by South Gwinnett in the fourth quarter.
Deivon Smith, a 6-foot-2 senior guard, led with 24 points, 11 assists and four steals. Senior Toneari Lane, a 6-5 wing, scored 20 points and Caleb Murphy finished with 15 points and five assists.
In a 2-AAAAA boys game, Richmond Hill defeated No. 9 Brunswick 60-48 and Sheldon Lewis led with 13 points and Liam Markgraf scored 12 points. Brunswick was led by Jaden Dunham's 14 points and eight rebounds. Tyrease Jones scored 13 points for the Pirates.
In a 7-AAA game, the No. 6 Greater Atlanta Christian girls beat East Hall 64-30 and Kaleigh Addie's 39 points and 10 steals led the way. Jaci Bolden finished with 14 points, Molly Pritchard scored 13 points and Laurren Randolph scored six points with eight rebounds.
See the rest of the scores below.
Boys
Alexander 68, Oxford, AL. 66
Archer 72, Rockdale County 40
Banks County 49, Union County 39
Buford 63, Loganville 38
Butler 72, Westside-Augusta 56
Callaway 56, Jordan 48
Carrollton 98, Woodland-Cartersville 31
Cedar Shoals 69, Johnson-Gainesville 33
Chapel Hill 73, Cartersville 39
Chattahoochee 68, Cambridge 50
Chattooga 56, Model 54
Claxton 42, Calvary Day 39
Clinch County 58, Echols County 37
Colquitt County 83, Dooly County 49
Cross Creek 59, Richmond Academy 40
Darlington 40, Trion 27
Dawson County 67, Cherokee Bluff 55
Drew Charter 64, Trinity Christian 58
Eagle's Landing Christian 61, Landmark Christian 58
Fitzgerald 63, Berrien 49
Glenn Hills 57, Laney 53
Glynn Academy 54, Bradwell Institute 40
Grayson 96, South Gwinnett 55
Greater Atlanta Christian 80, East Hall 57
Hancock Central 77, Georgia Military 55
Holy Innocents' 54, W.D. Mohammed 51
Jackson-Atlanta 60, Banneker 53
Jeff Davis 66, Bacon County 60
Jones County 67, Woodland-Stockbridge 55
Lakeside-DeKalb 56, Brookwood 54
Lakeview Academy 58, Athens Academy 50
Lakeview-Fort Oglethorpe 60, Sonoraville 45
Langston Hughes 83, South Paulding 55
Lee County 67, Houston County 56
Liberty County 50, Appling County 45
Lithonia 79, Arabia Mountain 64
Long County 67, Tattnall County 56
Lovejoy 67, Forest Park 53
Lowndes 92, Hamilton County, FL 37
Luella 62, Salem 53
Marist 57, West Hall 51
Mays 56, Creekside 52
McIntosh 49, Griffin 39
Miller Grove 72, Columbia 58
Milton 69, West Forsyth 53
Murray County 67, Ringgold 50
North Atlanta 57, Alpharetta 51
North Gwinnett 63, Peachtree Ridge 59
North Hall 57, Lumpkin County 44
Northview 54, Johns Creek 50
Oconee County 64, Stephens County 60
Parkview 91, Central Gwinnett 74
Paulding County 87, East Paulding 86
Pebblebrook 69, Westlake 56
Perry 86, Mary Persons 80
Pickens 86, Southeast Whitfield 51
Pope 74, Centennial 57
Richmond Hill 60, Brunswick 48
Riverdale 61, Starr's Mill 42
Rockmart 86, Armuchee 66
Sandy Creek 98, LaGrange 50
Savannah Christian 54, Portal 48
Shiloh 67, Newton 62
Social Circle 55, Rabun County 49
South Atlanta 67, Douglass 63
South Cobb 85, Allatoona 56
Southwest 48, East Laurens 35
St. Anne Pacelli 58, Brookstone 36
St. Pius X 65, North Oconee 49
St. Pius X 65, North Oconee 49
Stratford Academy 53, Mt. de Sales 51
Swainsboro 88, Metter 72
Terrell County 73, Early County 63
Tift County 63, Crisp County 60
Towers 59, Westminster 52
Towns County 66, Tallulah Falls 61
Treutlen 87, Emanuel County Institute 40
Tucker 82, Mundy's Mill 51
Veterans 57, Bleckley County 31
Vidalia 59, Toombs County 43
Ware County 60, South Effingham 40
Warren County 95, Aquinas 60
Weber 84, Howard, Atlanta 51
Wesleyan 72, Fulton Leadership Academy 37
Westside-Macon 83, Jackson 42
Wilcox County 72, Charlton County 57
Windsor Forest 69, Johnson-Savannah 60
Woodville-Tompkins 79, Bryan County 28
Woodward Academy 68, Eastside 61
Girls
Alpharetta 66, North Atlanta 34
Americus-Sumter 54, Shaw 50
Archer 37, Rockdale County 28
Bowdon 49, North Cobb Christian 27
Brantley County 35, Pierce County 33
Brookwood 48, Lakeside-DeKalb 41
Brunswick 41, Richmond Hill 27
Buford 65, Loganville 47
Butler 59, Westside-Augusta 37
Calhoun 63, Coahulla Creek 53
Cambridge 57, Chattahoochee 42
Campbell 46, Newnan 37
Carrollton 54, Woodland-Cartersville 24
Cartersville 33, Chapel Hill 29
Cass 45, Hiram 30
Central-Talbotton 72, Turner County 54
Chattooga 67, Model 59
Cherokee Bluff 56, Dawson County 53
Clinch County 57, Echols County 32
Colquitt County 68, Dooly County 42
Columbia 54, Miller Grove 44
Commerce 53, Providence Christian 32
Creekview 45, Osborne 33
Cross Creek 61, Richmond Academy 26
Dacula 36, Habersham Central 35
Dougherty 50, Northside-Columbus 45
Dougherty 50, Northside-Columbus 45
Douglass 47, South Atlanta 35
Drew 74, Morrow 71
Elite Scholars Academy 73, Our Lady of Mercy 64
Fayette County 57, Whitewater 22
Fitzgerald 61, Berrien 37
Forest Park 46, Lovejoy 43
Forest Park 46, Lovejoy 43
Forsyth Central 67, South Forsyth 49
Galloway School 57, Atlanta International 42
George Walton Academy 46, Walker 44
Gilmer 46, Northwest Whitfield 44
Glynn Academy 58, Bradwell Institute 35
Gordon Lee 56, Mt. Zion, Carroll 29
Griffin 63, McIntosh 25
Grovetown 52, Heritage-Conyers 50
Hancock Central 45, Georgia Military 37
Hephzibah 53, Harlem 45
Hillgrove 48, Marietta 41
Jackson 43, Westside-Macon 35
Jackson County 44, East Jackson 35
Jeff Davis 54, Bacon County 39
Jefferson 75, Hart County 37
Johnson-Savannah 103, Windsor Forest 23
Jones County 43, Woodland-Stockbridge 42
Kendrick 51, Pike County 45
KIPP Atlanta Charter 65, Coretta Scott King 36
Lakeview Academy 55, Athens Academy 44
Lakeview Academy 55, Athens Academy 44
Laney 89, Glenn Hills 15
Lanier 71, Apalachee 15
Lee County 40, Houston County 35
Liberty County 32, Appling Christian 30
Lithia Springs 37, Decatur 36
Locust Grove 53, Stockbridge 41
Lowndes 55, Hamilton County, FL 14
Lumpkin County 51, North Hall 36
Macon County 59, Schley County 39
Marion County 69, Manchester 45
Marist 58, West Hall 35
Mill Creek 46, Duluth 39
Monroe 41, Worth County 27
Montgomery County 58, Johnson County 28
Morgan County 66, Monroe Area 33
North Oconee 63, St. Pius X 44
Parkview 65, Central Gwinnett 26
Pelham 54, Baker County 19
Perry 40, Mary Persons 26
Pickens 80, Southeast Whitfield 39
Prince Avenue 61, Athens Christian 21
Randolph-Clay 80, Stewart County 73
Ringgold 54, Murray County 42
Riverwood 81, North Springs 28
Rome 60, Villa Rica 51
Rutland 54, Peach County 30
Savannah 49, Jenkins 24
Savannah Christian 62, Portal 22
Sonoraville 58, Lakeview-Fort Oglethorpe 34
Southwest 48, East Laurens 35
Southwest DeKalb 59, Stephenson 47
Sprayberry 69, Sequoyah 61
Starr's Mill 47, Riverdale 19
Stephens County 45, Oconee County 43
Tallulah Falls 62, Towns County 29
Thomas County Central 44, Seminole County 40
Tift County 69, Crisp County 32
Trinity Christian 61, Drew Charter 29
Union County 55, Banks County 47
Veterans 51, Bleckley County 46
Vidalia 69, Toombs County 34
Warner Robins 55, Jonesboro 53
Washington County 70, Northeast-Macon 57
West Forsyth 64, Milton 33
West Laurens 51, Howard 33
Westminster 45, Towers 24
White County 68, Denmark 41
Wilcox County 56, Charlton County 36
Woodward Academy 86, Eastside 55