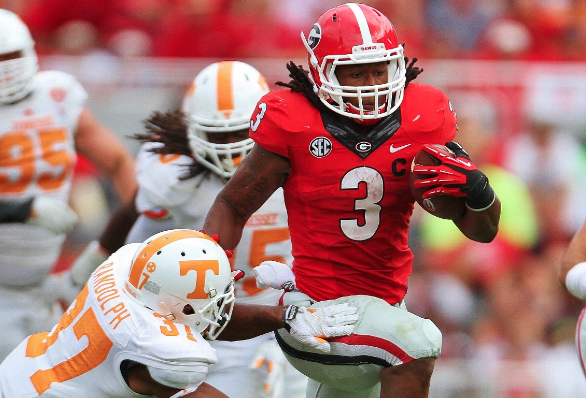 Photo by Rob Saye
Every college football season breeds new life into fan bases across the country. "This could be our year!" is echoed throughout the nation with students, boosters and support- ers all feeling their team has a chance to win the national championship, especially this year with the new four-team playoff system. Living in Georgia my entire life, no fan base is ever more vocal than the true die-hard Georgia Bulldog fans. I love the optimism, even when it seems there shouldn't be as much as there is. Being a fan, I understand what it means to be cautiously optimistic and to be a realist.
As much as I love UGA fans already planning their trips to Arlington, I think they must take it one step at a time. No doubt Georgia has been an upper echelon team in the SEC; a school good fo eight to 10 wins a year. Sometimes you have to realize that your team is very good, but not great. After the week one drubbing of Clemson, Athens could be heard across the nation screaming that this is the team to beat in the SEC this year. The sample size was much too small and I knew the true test would lie in Columbia. The Dawgs flunked the test 38-35, romped Troy 66-0 and then survived against Tennessee 35-32.
Georgia is a dangerous team, but the problem in my opinion rests upon the quarterback and the defense. Hutson Mason is not going to lead any team to a national championship, let alone a conference title. The homegrown senior from Lassiter High School has looked skittish in his starts this season. The numbers may not exactly show it, but by watching the games it seems that offensive coordinator Mike Bobo must put the majority of the load on Todd Gurley's back. Mason is under center to hand the ball off to his running backs and not make mistakes. In the win against Clemson, he was unspectacular but did what he needed to do: complete 18 of 26 passes for 131 yards and no turnovers. In the loss to South Carolina, Mason was 16 of 22 for 191 yards and two scores.
This past week illuminated Mason's weaknesses when he tossed two picks and was lucky to survive against an up-and-coming Volunteers team. If Georgia wants to make a run for the title, Mason must play better. Gurley is a Heisman frontrunner, but he can't be expected to carry the ball 30 times a game and shoulder the entire load. To stop Georgia, the defensive game plan is simple: load the box and make the quarterback beat you. If Bobo is unable to build confidence in his senior play caller, this team will continue to be a one-trick pony. The dynamic rushing attack of Gurley, Sony Michel and Nick Chubb should open up plenty of play action passes for Mason to pick apart the defense; it is just a matter of him having the confidence to do so.
ALL BARK NO BITE…
Aside from the limited aerial attack, the defense has not lived up to its talent level. Five-star freshman Lorenzo Carter has only recorded eight tackles in four games. Take out the shutout over lowly Troy and the Bulldogs are allowing 29 points per game, good for third worst in the conference. South Carolina's Dylan Thompson and Tennessee's Justin Worley both shredded the Dawgs' secondary for 250-plus yards and three touchdowns. New defensive coordinator Jeremy Pruitt came from Florida State this past offseason, but hasn't been able to replicate the Noles' defense from a year ago here in Athens. Georgia has been decent getting to the quarterback corralling 11 sacks; the secondary, however, has struggled in intercepting just three passes this year. Fans have murmured about the weak passing defense due to soft cover- age allowing receivers to pick their spots in the defense.
With these problems, you have to remember that UGA is still 3-1 and there is plenty of football left to be played. A very favorable schedule lies in front of the Bulldogs with the SEC East being weaker than years past. If Mason can find his touch behind center and Pruitt can smooth out the kinks in the defense, this Bulldog team just might sneak into the final four.