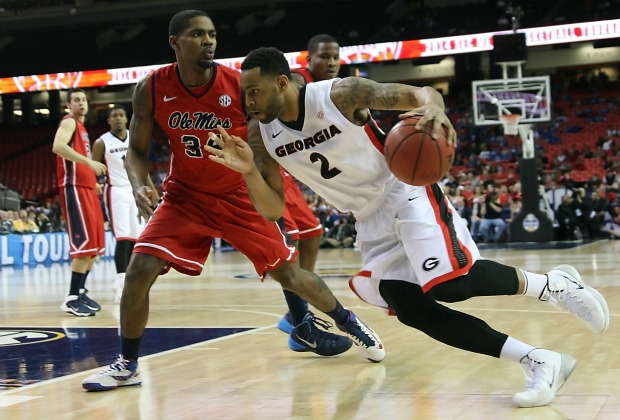 Photo by Sonny Kennedy
Charles Mann drove to the basket and laid in the game-winner for Georgia with 17 seconds left as the Bulldogs beat Ole Miss 75-73 in the quarterfinals of the SEC tournament. The second half was a back-and-forth affair that saw several lead changes and dozens of fouls. Two Rebels fouled out and three others got to four fouls. Three Bulldogs also hit the four-foul mark as a total of 51 fouls were called.
Georgia coach Mark Fox was just happy to survive and advance.
"It's March Madness, so we figured it'd be a battle," said Fox. "We're fortunate to make the last basket so we feel good about it and we're ready to go home and get some sleep and move on for a quick turnaround."
Ole Miss was a dreadful 2-of-25 from beyond the arc, led by high-scoring guard Marshall Henderson's ice-cold 2-of-16. Henderson would finish with 19, but missed several crucial shots down the stretch including a three-pointer with less than 10 seconds left that all but ended Ole Miss' hopes.
"He deserves special attention and obviously we worked hard on how to cover him," said Fox. "Kenny Gaines and Juwan Parker did a nice job and I thought the assistants had a nice plan in place. He's got a really quick trigger, and you have to give him great attention. Fortunately for us, we were able to sustain that for just about the whole game."
Jarvis Summers was the star for Ole Miss tonight. He led the Rebels with 26 points and made a fall-away jumper with 45.5 seconds left to give the Rebels a one-point edge. Mann led Georgia with 16 points and Brandon Morris and Kenny Gaines each totaled 12. Marcus Thornton pulled down a game-high 11 rebounds.
Georgia shot 35.8 percent from the field, including a horrid 27.6 percent in the second half.
The first half was a tale of two runs as Ole Miss raced to an 18-7 lead, but the Rebels watched as Georgia took a 33-30 lead before the half. Summers led all scorers with 12 while Henderson had just six. Seven Bulldogs scored and J.J. Frazier led Georgia with eight.
Despite the emotional win, the Bulldogs have little time to enjoy it. A date with Kentucky tomorrow afternoon looms.
"You can't dwell on this win," Mann said. "We've got to go on to the next one and focus on tomorrow."
Georgia will face Kentucky in the semifinals. The Dawgs fell to the Cats in the only regular season game, a 79-54 blowout in Rupp Arena on Jan. 25. The Bulldogs have one SEC tournament win over Kentucky in program history, a dramatic 60-56 win in the 2008 tourney when Georgia would go on to miraculously win the championship.
Georgia is now 6-9 in the Dome for SEC tournament games and is 9-14 all-time in the building.