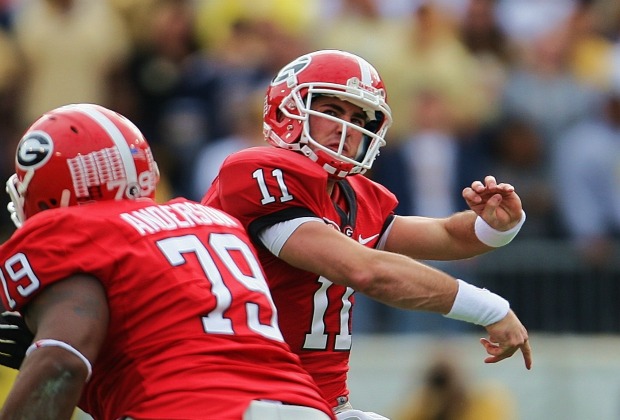 Rob Saye
After an offseason of being the darlings of the SEC East, the Georgia Bulldogs held their preseason media day and opened fall practice Thursday afternoon.
Members of the media gathered in the team meeting room around noon anxiously awaiting Mark Richt's press conference. There was chatter about the status of Kolton Houston, who is starting in the backfield, offensive line depth, and what can be expected from the duo freshman kickers. Richt would answer these questions and more.
Kolton Houston, atop the depth chart at right tackle, was ineligible last season due to an NCAA decision that the school would not elaborate on. The question with Houston was when he would be eligible and not his talent. Georgia coaches hoped that he would be able to play this season, but he has yet to be cleared.
Richt finally broke the silence on Houston's situation, stating that the lineman unknowingly received a substance, banned by the NCAA, after undergoing surgery on his shoulder in high school. The substance, known as Norandrolone, is an anabolic steroid that promotes muscle growth. NCAA policy is for an athlete to sit out a year if he/she fails a drug test, which is why Houston did not play last year. Houtson has been tested numerous times since the initial test but still shows signs of the steroid. Until his level of Norandrolone reaches an acceptable level, he will continue to be ineligible. While Georgia awaits the return of Houston, Watts Dantzler will start at right tackle and will be backed up by freshman John Theus.
"Over time you assume that this substance would leave your body to the point where the NCAA says you can go back and play" said Richt. "We've been waiting for that moment and it hasn't come. It has been two and a half years and this thing has not gotten out of there."
Another issue for Georgia is the fallout from Isaiah Crowell's dismissal. Richard Samuel will move from fullback to tailback to add depth and will compete with Ken Malcome for the No.1 spot. Freshmen Keith Marshall and Todd Gurley will also compete for snaps, as well as, Brandon Harton and Kyle Karemplis, who Richt mentioned by name.
"Historically, true freshman have been able to play big, so I'm thinking that there's a chance those kids could possibly play big, but they have to beat out Richard and Ken first" said Richt when asked about Marshall and Gurley.
OTHER NOTES …
Freshman Colin Barber and Marshall Morgan will compete with Adam Erickson and Jamie Lindley for the placekicker and punting jobs, respectively. … Jarvis Jones' decision to stay another year was a big factor in other players staying. … Malcolm Mitchell will play both offense and defense this year with most of his time on defense early on. However, as the season drags on, Mitchell will continue playing the same amount of snaps on defense while adding more snaps on offense. … The plan for Hutson Mason has been to redshirt him this season but if something were to happen to Aaron Murray, Mason would step in as the starter. … Georgia announced that linebacker Chase Vasser will be suspended the first two games of the season due to a spring DUI.