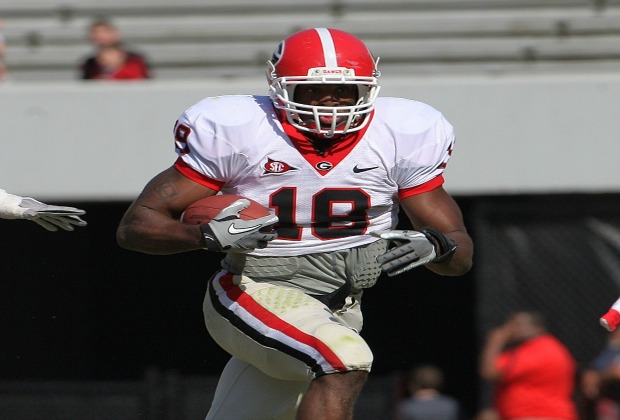 Rob Saye
After months of practicing and scrimmaging against each other, Mark Richt and the sixth-ranked Georgia Bullgods are ready for the season to start.
"We've been waiting a long time and we're getting tired, quite frankly, of running into each other," said Richt at his first game week presser. "I'm sure every coach in America is saying this, but it's true. We want to play."
PECKING ORDER
The Bulldogs' head coach went over a plethora of subjects with members of the media Tuesday, but what garnered the attention of the group was the release of the team's depth chart.
On offense, there were few surprises on the team's first depth chart of the 2012 season. As expected, Ken Malcome is listed as the starter at tailback after enjoying a great fall camp and is followed by Todd Gurley, Keith Marshall and Richard Samuel. Gurley, a less-hyped prospect than Marshall, ran for more yards than any other back in the team's three scrimmages. Former walk-on Merritt Hall is the starter at fullback and is backed up by Samuel. Freshman John Theus will start at right tackle after showing great athleticism at the position. The starters at wide receiver are the same as last year, Tavarres King and Marlon Brown, but the surprise is Malcolm Mitchell being listed third behind Brown.
Defensively, the Bulldogs look very similar to last year but have made some changes. Cornelius Washington is now a starter at defensive end opposite Abry Jones. Sophomore linebacker Ramik Wilson will start at Washington's old position. Malcolm Mitchell is listed as the starter at cornerback opposite Branden Smith and Damian Swann is the team's nickel corner.
SUSPENSIONS
Though the depth chart turned out as expected, what is interesting is that linebacker Alec Ogletree and safety Baccari Rambo are listed as starters. The duo is facing suspensions after failing drug tests but the school has been tight-lipped about how long they will miss, if they will miss time at all.
"I don't know if there is anything etched in stone, but we are handling it a little bit different this year," added Richt.