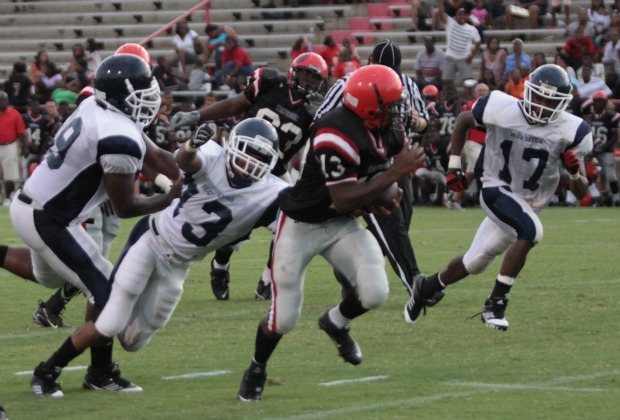 Shine Rankin
If any state in our football-infatuated country should have enthusiasm heading into the 2012 season, it should be us. This offseason suggests we could be witnesses to one of the biggest and most exciting years on the gridiron that Georgia has ever seen. It seems like everything is falling into alignment from the high school level to the professional ranks. The Falcons have been on the radar since Matt Ryan and Mike Smith debuted in 2008 season and appear to be on the threshold of a breakout season. They have been busy all offseason with new playbooks on both sides of the football.
CAMPUS CALAMITY
In the collegiate realm, we have UGA, Georgia Tech and Georgia State in our backyard. UGA is a preseason top 10 at No. 6 right now, and after a few down seasons, it looks like coach Mark Richt will once again lead a dangerous band of Bulldogs. Georgia Tech should finally have an improved defense this season and could return to top form and jump back into contention for the ACC title.
Legendary football coach Bill Curry will coach in the final season of his storied football career with Georgia State. The Panthers travel to the University of Tennessee on Sept. 8 to take on the Volunteers.
The most notable entity of Georgia's football has already kicked off: high school teams. We need to understand the magnitude of our high school football.
The statewide wealth of Peach State football persuaded Rivals to nominate Georgia as the top high school football state for the first time in 2011. The rankings were based on overall competitiveness throughout all classifications.
In this year's NFL draft, former Central Gwinnett Black Knight Jonathan Massaquoi was taken by the Falcons in the fifth round and was one of 14 former Georgia high school football players taken in the draft. The 14 Georgia players picked is right at the 13.7 average since it was first recorded in 1988. The 2011 draft had the most picks with 19, including No. 1 overall pick and former Westlake Lion Cam Newton.
The more statistics that have been collected to locate football talent, the more it pinpointed how superior certain hotspots were, and college football dove into a feeding frenzy to recruit them.
California, Texas, Florida and Georgia came out as the zenith of high school football, and this quartet has been battling it out since. When it comes to the overall production of football talent, though, Georgia should be the clear candidate. California has about four times the population of Georgia, Texas about two and a half times more and Florida is about double the size. The fact that Georgia matches up with a similar capacity of these states and can produces comparable draft picks and college talent is amazing.
PURE PERSPECTIVE
High School football is prominent throughout the state and has divided our landscape into rivaled regions all claiming to have the best football. We saw North vs South in the Dome last weekend when North Gwinnett topped Colquitt County and then Camden County stomped Peachtree Ridge. Then we saw the county rivalries that are heating up each season with Cobb County's Walton beating Gwinnett County's Brookwood and then Gwinnett County's Grayson beating Cobb County's McEachern.
All the big name recruits and the rivalries are easy to focus on, but that is not what makes our football great. We have some of the top recruits in the country now, but it is the other guys that matter. It is the high school football star that may not have the frame to play in college but does a darn good job on Friday nights. Any time you watch a high school or college game these days, the measurements of the athletes can overshadow what they are doing.
I remember watching a 5-foot-11 shooting guard put up 30 points last season and lead his team to an impressive upset. The reporter responded with, "Wow this kid is great, but he will never have the size to play at the next level."
Let that be a lesson. Recruiting has turned high school football into a bidding war, but we have to remember what makes it so great, because in the end, all that matters is what they do on Friday nights.