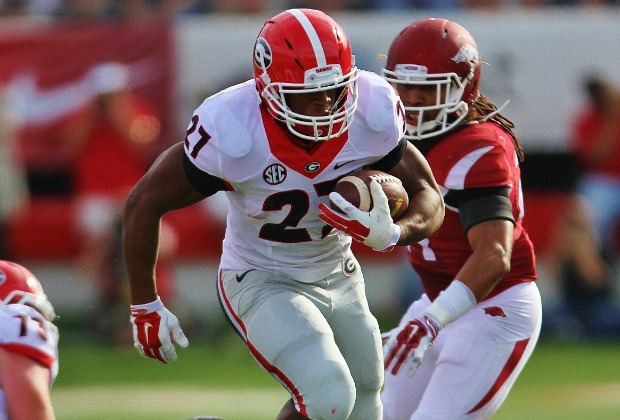 Rob Saye
Georgia scored 38 points in the second quarter on its way to a 45-32 win at Arkansas Saturday in Little Rock. It was the Dawgs' fifth straight win since a loss at South Carolina in the second game of the season.
Leading just 7-6 heading into the second quarter, Georgia poured it on before exiting the field for halftime with a 38-6 lead. A Marshall Morgan field goal got things going with 14:21 left in the second quarter. Then, Nick Chubb ran for two straight scores (43, 3) and Hutson Mason threw a seven-yard touchdown pass to Michael Bennett. Just before the half, Dominick Sanders returned a fumble 54 yards for a score and the rout was on.
Arkansas outscored Georgia 26-7 in the second half, but never truly threatened to catch the Dawgs. A 36-yard scoring strike from Mason to Chris Conley closed the scoring for Georgia early in the fourth period and gave the Bulldogs a commanding 45-19 lead. Georgia caused four turnovers and sacked Razorbacks quarterback Brandon Allen three times for a loss of 35 yards.
The Bulldogs rushed for 207 yards and Mason threw for 179 yards on just 10 completions. Chubb rushed for a game-high 202 yards on 30 carries a week after toting the rock 38 times for 143 yards against Missouri. The Cedartown product is just the second Bulldog freshman ever to rush for more than 200 yards in a game.
Georgia was actually outgained as the Hogs totaled 422 yards (to Georgia's 386) including 296 through the air (a career high for Allen).
The Bulldogs improved to 6-1 (4-1) with the victory while Arkansas fell to 3-4 (0-4). The Hogs have yet to win an SEC game under coach Brett Bielema. Arkansas became the first SEC West team to lose a game to a non-divisional foe.
Georgia has the week off prior to the annual Jacksonville trip in two weeks to face the reeling Florida Gators.