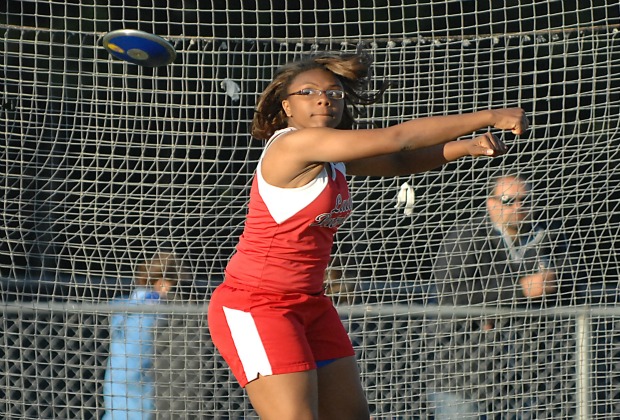 Sonny Kennedy
With Walton, Redan, Monroe-Albany, Greater Atlanta Christian and Athens Christian all heading to Albany's Hugh Mills Stadium looking to defend GHSA state titles, the eyes of the Georgia high school track and field world will expect great things of these athletes.
Walton claimed the AAAAA title in 2012 and has six individual entries set for action in Albany, led by a pair of distance runners. Avery Bussjager and Alexa Womack have both qualified for the 1600- and 3200-meter runs while Katie Frey (pole vault) and Tatiana Taylor (shot put) will look to score points for the Raiders in field events. Walton's six individual entries match Valdosta for most in the meet. The Wildcats are led by Stormm Phillips, who will compete in the 100- and 200-meter dashes as well as the long jump. Roswell has five individual entries and two relay teams entered while Peachtree Ridge has nine individual entries and one relay team competing. Brookwood is one better with 10 individual entries and one relay.
Simone Glenn will race in the 100- and 200-meter dash while QuanDra Shanks will run the 800- and 1600-meter double. Katherine Yost of Norcross will look for hardware in a pair of events as she will compete in the 1600- and 3200-meter runs while Casidy Callahan will compete in the discus and the shot put after a pair of sectional victories. Mill Creek's Malayshia George may be the busiest competitor as she will race in the 200- and 400-meter sprints, the 4×400 relay, the 4×100 relay and will compete in the high jump. Mill Creek has 13 individual entries and two relays and is fresh off the Region 7-AAAAAA title.
McEachern, Marietta, Archer and Parkview are also threats for a team title.
DeKalb County was impressive in the recent AAAAA sectionals as Southwest DeKalb, Miller Grove, Dunwoody and M.L. King all will send a host of athletes to compete for individual titles. M.L. King had seven individuals qualify and two relay teams advance to Albany including Jada Martin in the 100- and 200-meter dashes and two relay teams. Dunwoody will be led by Lauren Jackson, who finished first in the 400- and 800-meter events at the sectional qualifying, and Alex Cameron, a threat to take the 3200-meter event. Kenya Wheeler will look to spark Southwest DeKalb in the shot put and discus events while Miller Grove will look to Tiffany Flynn, who won B-Sectional long jump, triple jump and 100-meter hurdles events. Creekview, East Paulding, Pope and Lakeside-Evans will also be threats for a team title, as will Kell and Loganville, who each qualified 10 individuals and one relay team.
LOADED AAAA FIELD …
Redan has a chance to win a second straight Class AAAA title with eight individual entries and four relay squads competing. Crystal Gray and Shequilla McClain will look to push Redan back atop the podium.
Rutland has a pair of competitors that will be all over Hugh Mills Stadium in various events. Adriunna Brown will compete in the long jump, 400-meter dash and the 300-meter hurdles as well as on a pair of relay teams while Tyler Ragin will compete in the triple jump, 100- and 200-meter dashes and the 4×100 relay.
Rutland has eight individuals qualified and two relay teams. Sandy Creek has six individual entries while Shaw boasts eight individuals and three relay squads. Spalding, Westover and defending AAA champion Monroe-Albany could make noise in the final team standings as well.
Look for Blessed Trinity to be all over the standings with 12 individual entries and two relays competing for state titles. Bailey Willett, Zion Lewis and Shannon Innis figure to be the busiest Titans in Albany. Cedar Grove poses a challenge with Kayla Pryor (300-meter hurdles), Christian Pryor (400-meter run) and Danielle Mitchell (long jump) looking to build on success attained at the recent sectional meet at Lakewood.
Cedar Grove features 12 individual entries and four relays in action. Chapel Hill will send 11 individuals to Albany looking to help bring home GHSA hardware. Faith Joseph will run in the 100-meter dash and 300-meter hurdles while Ashton Lord will compete in the 1600-meter run and the 3200-meter run. Cartersville, Buford, Douglass, North Hall, North Oconee, Oconee County, Hart County and Maynard Jackson will be threats to the team title.
STAYING POWER …
Greater Atlanta Christian will have 11 individuals and two relay teams attempting to keep the AA title at the Norcross campus, but Bleckley County, Bremen, Cook, Greene County, Heard County, Monticello, Lovett, Wesleyan and Jefferson will send large numbers to try and knock off the Spartans.
In Class A, Athens Christian will look for a fourth straight title in the private competition while Commerce, Johnson County and Marion County could make noise in the public competition. Jada Gardner will compete in three individual events and on two relay teams for Marion County, which is sending 13 individual entries to Albany. Lexie Downer will compete in five events for Athens Christian, which also has 13 individual entries as well as two relay squads competing.