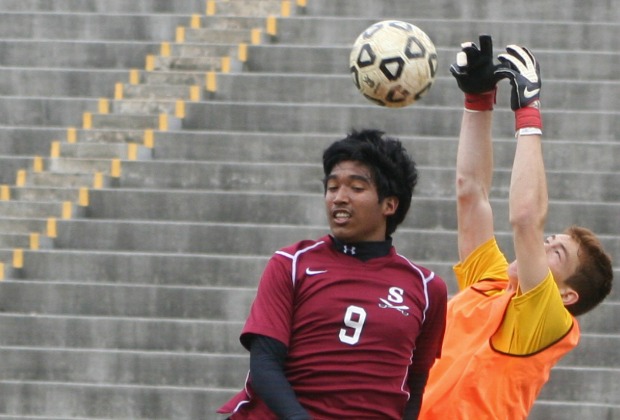 Mark Brock/DeKalb County
Boys soccer second round action kicked off Wednesday night and all the tickets were punched for Saturday's quarterfinals. In Class AAAAAA No. 3 North Cobb advanced with a 2-0 win over No. 1 Druid Hills. The Warriors will play Berkmar, which won 2-0 over North Gwinnett. Campbell held an early lead, but No. 1 East Coweta answered it, and topped the Spartans 4-2. East Coweta will play Lambert in the quarterfinals after the Longhorns edged a 1-0 win over confident South Gwinnett Wednesday night. Newnan held off Lowndes 3-2 and will match up with Collins Hill after its 3-1 win over Central Gwinnett. No. 1 Harrison survived 3-2 over Douglas County, and a late goal helped No. 1 Centennial in its 2-1 win over Brookwood.
In Class AAAAA No. 1 seeds Houston County and Clarke Central move on to square off in the quarterfinals this Saturday. Visiting Starr's Mill knocked off No. 1 Glynn Academy 1-0 and will play Allatoona, which won a 2-1 contest with Tucker. No. 3 Windsor Forest advances after topping No. 4 Whitewater 2-0, and play the Pope Greyhounds who posted a 2-1 home win over Gainesville. No. 1 McIntosh took a 6-0 win over Evans, and Lakeside-DeKalb won 2-1 over Heritage, Conyers.
Mary Persons and Northwest Whitfield slate the first of the Class AAAA quarterfinal matchups. Mary Persons beat Upson-Lee 3-0 and Northwest Whitfield topped Chestatee 4-1. Dutchtown beat Howard 1-0 and Southeast Whitfield cruised to a 6-1 win over Carrollton. No. 4 seed Jonesboro stays alive and heads into the Elite 8 after a 2-0 win over Veterans. Dalton's 2-1 win over Johnson, Gainesville earned them a matchup with the streaking Cardinals. Spalding and Alexander earned spots in the Elite 8 as well Wednesday night.
No. 3 Woodward Academy beat No. 1 North Oconee 2-0 and will visit Islands on Saturday in the quarterfinals. No. 3 seeded East Hall will visit No. 3 Pierce County. East Hall won 1-0 over North Murray, and Pierce County dominated in its 10-0 win over Dodge County. Savannah Arts continues to blow out opponents and will face Oconee County after its 7-1 win over Peach County. No. 1 Chapel Hill and No. 1 St. Pius will square off Saturday. The Panthers won 3-1 over Thomson and the Golden Lions defeated Cartersville 3-0.
No. 1 Benedictine is no surprise in Class AA and took a 10-0 route over Cook to earn its spot in the Elite 8. Lovett will face the Cadets after earning a 2-1 win over Riverside Military. Westminster beat Oglethorpe County 8-0 and will get Toombs County next round. No. 1 Greater Atlanta Christian plays Vidalia after a huge 10-0 win over Union County, and Calhoun will get Atkinson County.
Fellowship Christian, Aquinas and First Presbyterian are the three No. 2 seeds to make the Class A quarterfinals in a remaining field of five No. 1's. Fellowship Christian knocked off No. 1 Mt. Paran, Aquinas topped No. 1 Pacelli, and First Presbyterian scored a 5-2 win over No. 1 Athens Academy. No. 1's Our Lady of Mercy, Hebron Christian, Paideia, Holy Innocents', and Savannah Christian round the Elite 8.
In Lacrosse Class AAAAAA boys, a Region 2 sweep over Region 4, results in four the final eight teams coming out of Region 2. Walton jumped to a 10-2 halftime lead over Peachtree Ridge before shutting the door on a 12-5 win. Roswell beat Mill Creek 7-6, Milton scorched Collins Hill 16-2, and Lassiter beat North Gwinnett 15-9. In the rest of the field, No. 3 Lambert defeated Hillgrove 14-1, Harrison topped Johns Creek 12-7, and Chattahoochee beat Kennesaw Mountain 18-6. Walton at Harrison, Lassiter at Centennial, Lambert at Milton, and Roswell at Chattahoochee set Saturday's quarterfinals matchups.
In girls Class A-AAAAA No 1 Westminster was no match for Lakeside-Evans in its 21-3 win. Woodward will face the No. 1 Wildcats next round, after winning 13-11 over Blessed Trinity. Starr's Mill escaped with a 12-11 win over Cambridge, and Kell skates into the quarterfinals after a checking a 22-3 win over Decatur.