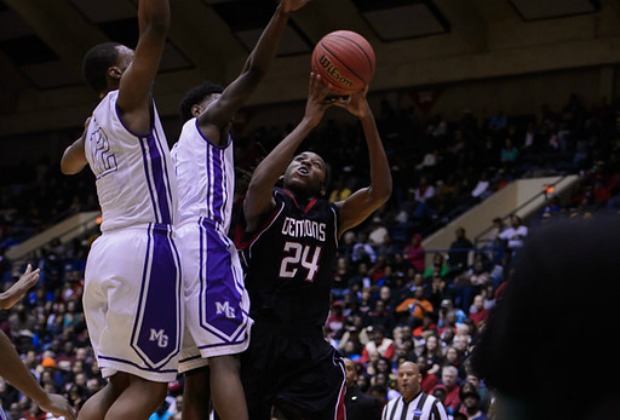 Photo by Ty Freeman
An incredible year of high school basketball came to an end this past weekend in Macon, where 15 state championship games were played and four teams captured first-ever state titles. The Miller Grove boys tied a state-record with their sixth straight state championship and the Redan girls, Kendrick girls and Greater Atlanta Christian boys finished the season with perfect records.
DeKalb County crowned its 25th state champion in the past seven seasons last Friday with Miller Grove's 70-43 win over Warner Robins. The Wolverines' sixth straight title was fueled by a 26-7 scoring advantage in the third quarter and a game-high 21 points from senior Keith Pinckney.
The Tucker girls won their first-ever state title with an 83-65 victory over defending Class AAAAA champion Southwest DeKalb. Nuba Jackson led with 26 points and shot 12-of-13 from the foul line, while her twin sister Naima finished 9-of-10 from the charity stripe and netted 11 points.
Redan finished 33-0 and won its second girls state title with a 63-53 win over Columbus. Brea Elmore led Redan with 20 points and Destini McClary and Jada Byrd each added 16. St. Pius X, which is also in DeKalb County, won its second straight girls Class AAA title. Buford took a 15-1 lead before junior Asia Durr sparked a 20-6 scoring advantage in the second quarter and the Golden Lions held on for a 48-45 win. Durr finished with a game-high 23 points and went 10-for-10 from the foul line in the fourth quarter.
In Class AAAAAA, the Tift County boys won their first state title since 1996 with a 63-49 win over Wheeler. The Blue Devils led 11-3 at the end of the first quarter and stifled Wheeler while allowing just four fast break points all game. McEachern claimed the girls Class AAAAAA state title with an 81-62 win over Archer. The Indians won their five playoff games by an average of 32.6 points per game and were led along the way by junior Caliya Robinson. The 6-foot-2 forward finished the postseason averaging 17 points, 12 rebounds, 9.6 blocks and 4.8 assists per game.
Jonesboro won its first-ever state title 56-51 over Columbia. Tracey Hector, Jr. led the Cardinals with 19 points and 10 rebounds while freshman James Walker Jr. added 14 and a clutch 11-of-12 shooting from the foul line. It is just the second state title for a Clayton County school (North Clayton boys won in 1993).
TOOKIE MONSTER …
The most notable individual performance of the weekend came in the boys Class AAA state championship by Morgan County junior Tookie Brown. The 5-foot-10 guard led the Bulldogs to their first-ever title with a game-high 36 points. Morgan County scored 15 points off turnovers in the first quarter alone and Brown's fearlessness and highlight-reel plays ran Buford right out of the gym in a 69-45 Morgan County win.
CHAMPIONSHIP NOTES ...
St. Francis rallied from a 35-26 deficit to defeat Region 6-rival Whitefield Academy 65- 60 in the A-Private boys championship. Southwest Atlanta Christian toppled previously unbeaten Holy Innocents' 57-52 in the girls Class A-Private finals. The state-champion Warriors played the whole season with just seven players on the roster.
Greater Atlanta Christian escaped Calhoun 58-55 in the boys Class AA championship and finished its perfect season. The Spartans have won four titles in the last five seasons and were led by Virginia-signee Isaiah Wilkins' 29 points and 12 rebounds.
The Kendrick girls finished their perfect season by topping Wesleyan 69-58. The win kept the Wolves off the podium for the first time in seven seasons. Kahlia Lawrence led the Cherokees with 25 points, including 10 in the third quarter.
Wilkinson County won its seventh state championship in program history with a 72-64 victory over Turner County and the Randolph-Clay girls beat Mitchell County for the fourth time this season 53-32 for the girls Class A- Public girls state title.
Houston County captured its second consecutive AAASP/GHSA Wheelchair Basketball with a 38-16 victory over Henry County. The sharks opened on an 21-0 run and JaQue Billingsley tallied a game-high 16 points, seven rebounds, five steals and four assists.