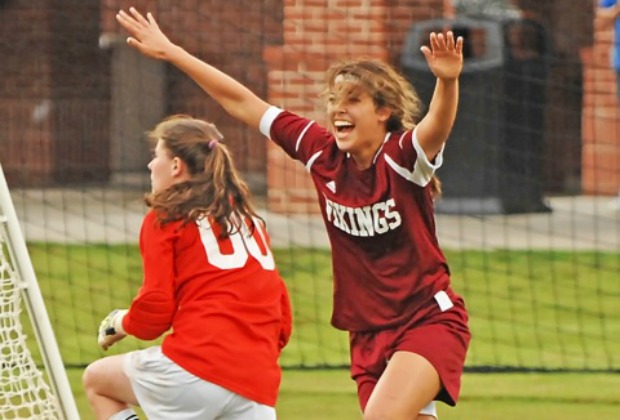 Photo by Sonny Kennedy
Defending champion Parkview boasts early-season wins over Class AAAAAA competition in Peachtree Ridge and Collins Hill to stay atop the rankings.
Northgate in Class AAAAA, Marist in Class AAAA and St. Pius X in Class AAA are the other 2013 champions still perched atop their respective classes.
McIntosh, also undefeated like Northgate, is making a real charge in Class AAAAA with a win over Class AAAAAA top 10 team Lassiter. In Class AAAA, Columbus' tie against Woodward is its only mark outside the win column. As such, Columbus is applying pressure on Marist. St. Pius X and Blessed Trinity have done nothing to suggest that a rematch of their Class AAA state championship game is not in the cards.
Region rivals Lovett, Greater Atlanta Christian, Westminster and Wesleyan swept into the Class AA semifinals last year and once again have a monopoly on the top four spots. Calhoun, though, is looking to crash the party after beating Armuchee, which is ranked one spot below the Yellow Jackets at No. 6.
Class A so far is all about First Presbyterian Day. The Vikings already have wins over Veterans, the No. 3 team in Class AAAA, and St. Vincent's, the No. 7 team in Class AA.
Class AAAAAA
1. Parkview
2. Harrison
3. Peachtree Ridge
4. Brookwood
5. Grayson
6. John's Creek
7. South Forsyth
8. Lassiter
9. Collins Hill
10. Walton
Class AAAAA
1. Northgate
2. McIntosh
3. Starr's Mill
4. Pope
5. Flowery Branch
6. Loganville
7. Allatoona
8. Heritage-Conyers
9.Northview
10. Lakeside-DeKalb
Class AAAA
1. Marist
2. Columbus
3. Veterans
4. Alexander
5. Heritage-Catoosa
6. Grady
7. Chamblee
8. Spalding
9. Cairo
10. Carrollton
Class AAA
1. St. Pius X
2. Blessed Trinity
3. Woodward Academy
4. Dawson County
5. Pike County
6. Decatur
7. Oconee County
8. Buford
9. Cartersville
10. Chapel Hill
Class AA
1. Lovett
2. Greater Atlanta Christian
3. Westminster
4. Wesleyan
5. Calhoun
6. Armuchee
7. St. Vincent's
8. Vidalia
9. Jefferson
10. Murray County
Class A
1. First Presbyterian Day
2. Hebron Christian
3. Paideia
4. Providence Christian
5. Mt. Paran Christian
6. Fellowship Christian
7. Calvary Day
8. Holy Innocents'
9. Pace Academy
10. Walker