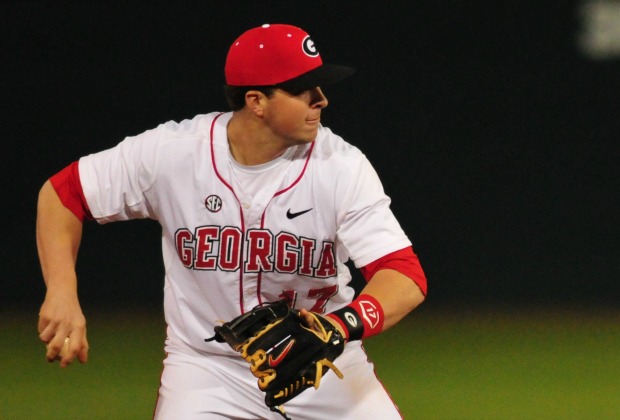 UGA Sports Communications
When the Georgia baseball team's schedule came out, not many would have thought the Bulldogs would have lost three of their first four games to in-state opponents Georgia Southern and Kennesaw State.
In tonight's 2-1 loss to visiting Kennesaw State, Georgia couldn't get their bats going. In a cold, windy night the Bulldogs' sputtering offense only managed a measly four hits in 31 at bats as well as leaving six runners on base; a recipe for failure.
Kyle Farmer was frustrated at the team's hitting performance. "We're not hitting the ball really hard right now. We're hitting a lot in the air, myself included. We just have to put the ball on the ground."
Georgia may not have brought it's "A game," but Kennesaw State's starting pitcher, Steve Janas made a spectacular season debut and pitched for the first time since having Tommy John surgery on his right elbow. The redshirt sophomore pitched three perfect innings, recorded two strikeouts and showcased pinpoint command, all before being pulled due to his pitch count.
MIXED EMOTIONS
The Dawgs' defense certainly raised a few eyebrows tonight with their stellar infield play, especially by senior third baseman, Curt Powell, who made a couple of incredible diving stops throughout the course of the game.
On the other hand, senior shortstop Kyle Farmer may wish he could have a mulligan on a play that some may say cost the Dawgs the win. With two down in the top of the ninth inning, Farmer scooped up a fielders' choice and flipped the ball to second, but didn't count on the KSU baserunner to beat out the throw. In the midst of all the chaos, KSU second basemen, Andy Almonte sprinted home from third base and touched home plate for the game winning run. The visiting Owls edged out the Bulldogs by a score of 2-1.
"It was a tough play, a read play and I should have thrown it to first," said Farmer.
Georgia coach Dave Perno is not in any hurry to pull the alarm by any means.
"It's coming. We've just got to give these guys a couple more weeks and then if we're still slugging out four hits a game and scoring one or two runs, then we've got problems."
With 52 games remaining and about a month before league play, Perno and the Diamond Dawgs feel that they have plenty of time to right the ship.