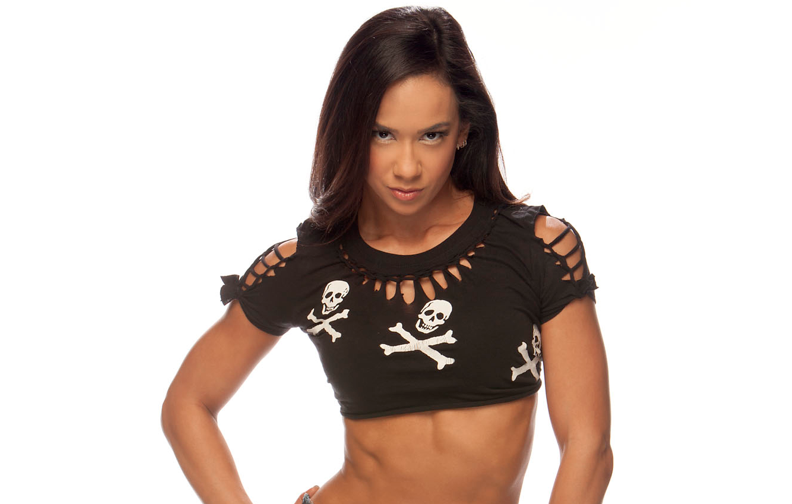 WWE
In the long and distinguished history of World Wrestling Entertainment, the superstars of past and present always featured certain characteristics that appealed to fans. Whether it be the strong, chiseled frame of John Cena, the anti-authority persona of Stone Cold Steve Austin, or the gorgeous model-look of Stacy Keibler, the standard for who would pass as a possible big-time star always fit within a certain mold.
Enter WWE Diva's Champion AJ Lee, a 27-year-old out of Union City, N.J. whose deep passion for professional wrestling and sports entertainment, alongside an unbreakable will, allowed her to overcome the rigors and pressures of the wrestling industry to become one of the faces of the WWE. AJ, whose real name is April Mendez, doesn't have the stereotypical look of some of her fellow WWE Divas. She doesn't have the tall, supermodel frame, as she stands just 5-foot-2 with "girl next door" looks, and while most women find joy in shopping and jewelry, AJ prefers science fiction, comics and video games. What separates the Diva from all other competitors is her undying love for the business of professional wrestling.
The proclaimed "Geek Goddess" attributed her love for wrestling to her older brother, who got AJ hooked while watching the wild, crazy world of professional wrestling when she grew up. That eventually motivated the then-teenage AJ to be like the Divas of that time.
"(WWE) had Lita, Trish (Stratus), Molly (Holly), and Stephanie (McMahon) at that time and they were these women who were so capable, so strong, and different. It was so inspiring for me," said AJ.
When her brother went overseas to serve in the military, AJ continued to watch wrestling as a tribute to him, budding the love for the business and creating her aspirations to become a professional wrestler.
It was not an easy journey growing up for the future superstar. Her childhood has been previously documented of troubling times that saw her family deal with poverty that, at points, left them living in their car, while AJ worked up to three jobs just to make ends meet. When she received word of a wrestling school located less than a mile from her house, the future WWE Diva enrolled, beginning a three-year journey that would see her train and perform for independent wrestling companies across the Northeast as she looked to make her mark in the industry.
BACK TO BASICS …
A few years into her infant wrestling career, AJ came across a tryout opportunity for Florida Championship Wrestling in 2009, a developmental league for WWE at the time. She was one of more than 100 entrants and the former indy star would come out signing a contract with the sport-entertainment empire, and was assigned to FCW.
It was during her time in WWE's developmental territory when AJ admittedly had to make the biggest adjustment.
"I just kind of got my feet wet when I was on the independents and I was in no ways skilled," AJ chuckled. "FCW was where I really learned everything that I know now."
She mentioned the likes of Norman Smiley and Billy Kidman among others, who helped find her personality and come out of her shell while relearning the basics of wrestling. The future Diva's time in the developmental territory was undoubtedly rewarding as she won the FCW Divas Championship along with the title proclaiming her as the 'Queen of FCW'.
RISE TO FAME …
In the fall of 2010, AJ debuted to the WWE Universe while taking part in the NXT 'Rookie Challenge' for a chance to win a spot on the main roster. The young superstar reflected on that opportunity, saying the time spent on the program was important for her career.
"I feel like if it wasn't for NXT, I wouldn't have been brave enough to be me," said AJ. "There weren't many rules in regards to what character I could portray and I took full advantage of it. I could say, 'Hey, I'm a goofball, I like to wear (unique) shoes, I like to talk about video games, and I don't wear a lot of makeup' and it could have bombed but it helped make me successful."
It would be that genuine personality that endeared her to the WWE Universe, beginning a remarkable run for the "Black Widow."
AJ made her television debut alongside her best friend and former WWE Diva, Kaitlyn, on May 24, 2011 in an emotional moment while reflecting on the road she travelled up to that point. "It was such a long journey to get there and to debut with my best friend Kaitlyn, it was one of the happiest moments of my life," she remarked.
Soon after her debut began a meteoric rise as she became a staple on WWE programming in 2012, working alongside the likes of WWE superstars Daniel Bryan, Kane and John Cena, among others. Her on-screen persona transformed from being the shy, innocent girlfriend of Bryan, to becoming the General Manager of Raw, to a flirtatious vixen, and most notably, the proclaimed "crazy chick" of WWE. AJ would establish herself as arguably the top Diva in the company, but she claimed it wouldn't have been the case if not for her first role as Bryan's girlfriend.
"We were both big underdogs and nobody really saw upside to us. We proved everyone wrong together and it was the best thing that ever happened for me," said AJ.
Her main-event run would be capped off with a WWE Divas title, when she defeated her best friend, Kaitlyn, at the Payback pay-per-view in June of 2013 in a lengthy feud that captured the attention of the WWE Universe that the now three-time Divas Champion called a "dream scenario".
"That (time) was so amazing. My debut was with Kaitlyn. She was my best friend and we stumbled into this rivalry, which will forever be my favorite work, and the thing that I'm most proud of," AJ reflected. "It was kind of the (WWE) Universe's way of rewarding me for 14 years of working for it."
AJ now stands as the one of the main faces of WWE, as she travels around the world entertaining millions of fans. She will have the opportunity to perform at Philips Arena on Oct. 13 for a live Monday Night Raw event featuring the likes of Cena, Randy Orton, and Triple H, among others. Not too bad for a small-town girl from Union City.