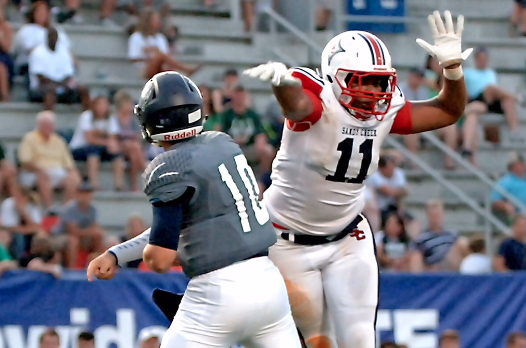 Photo by Sonny Kennedy
The weekend started early on Thursday with the fourth annual MetroPCS Corky Kell Luncheon sponsored by Sprinturf. The 14 participating coaches in the Classic's seven game lineup arrived with one star from their team and met with media and nearly 300 people in attendance. The state championship coaches from a year ago and eight of this year's AJC Super 11 were on hand to celebrate the start of the new high school football season on the eve of its biggest event.
Sandy Creek kicked off the 2015 Corky Kell Classic with a 41-0 rout of the Creekview Grizzlies in the first of two contests held at McEachern's Cantrell Stadium on Friday. Sandy Creek outgained Creekview 375 to 102 in total yards and notched 22 first downs to the Grizzlies' six. Jaelon Greene gained 84 yards rushing and scored twice while Bryant Walker threw for 135 yards and two scores.
In the backend of the double-header, Archer's Jamyest Williams set a Corky Kell record with five rushing touchdowns on 172 yards. Quarterback Will Bearden went a perfect 8-for-8 with 198 yards and two scores. Aramis Bryant and Kyle Davis both scored a touchdown and recorded three catches with Bryant gaining 97 yards and Davis 70. North Paulding's Kyle Banks threw for 195 yards and three scores in the loss.
BACK IN THE DOME…
For just the 10th time in Corky Kell history, the Kell Longhorns pitched a shutout in the first of five Saturday games at the Georgia Dome. Defense and special teams were the story for Kell as Kennesaw State-commit Bryson Armstrong returned punts of 64 and 66 yards back for scores and added a 26-yard fumble recovery for a touchdown.
Sophomore running back Josiah Futral got the Horns off to a fast start, scoring on a 39-yard run at the 9:29 mark of the first quarter. After a fumble on Carrollton's first possession, Kell quickly cashed in with a Futral two-yard score to make it 14-0. By the end of the first quarter, the Longhorns had already piled up a 21-0 lead. Kell forced five fumbles and held the Trojans to 100 yards of total offense. Futral gained 75 yards on 12 carries to power the Kell running game.
Conrad Jackson led Carrollton with 40 yards rushing on 14 carries. Armstrong set the tone early for Kell and made plays on both sides of the ball. Along with his three touchdowns, he recorded five catches for 29 yards and added four tackles and a forced fumble.
In the second game, Mill Creek stormed past Brookwood 42-7. After Daniel Lecounte scored on runs of 17 and one yards, Tanner Winskie of Brookwood found Dorian Miles over the middle for a 59-yard score to bring the game to 14-7 with 7:24 left in the first half.
On 3rd-and-7 with 26 seconds left in the second quarter, Cameron Turley hit Miles Riley on a streak pattern for a 70-yard score that would ultimately change the entire complexion of the game. The Hawks held a 21-7 advantage at halftime and would go on to pour on 21 more points in the third quarter to put the game on ice.
A blocked punt was returned 40 yards by Joe Thomas which proved to open the flood gates in the second half.  Riley Snyder caught a 35-yard touchdown from Turley and later Aaron Anderson picked off a pass and went 66 yards to complete the scoring.
Turley completed 13-of-19 passes for 214 yards and two scores while Lecounte finished with 63 yards and two rushing touchdowns on the day.
NORTH VS. SOUTH…
The third game was this year's closest game and Norcross escaped with a thrilling 34-31 win over Valdosta. The two teams set the stadium ablaze, trading big play for big play. Just 26 seconds into the game on Valdosta's second play from scrimmage, Seth Shuman hit running back Tim Griffin for an electrifying 80-yard touchdown pass that got the Valdosta faithful out of their seats early.  But just 19 seconds later, on Norcross' first play from scrimmage, quarterback Baron Radcliff ripped off a 57-yard run of his own to knot the game up at 7. Radcliff would finish the game with 27 yards passing and 130 rushing, while compiling three scores. JJ Strickland would tack on a four-yard touchdown reception from Shuman and Davis Baldwin booted a 33-yarder to give the Cats a 17-7 cushion, but with 1:52 left in the first, Radcliff hooked up with Jordan Palmer for a 23-yard score.
The Wildcats would force five total turnovers with their smashmouth defense, but Norcross gained the lead late in the second quarter after a controversial swing pass to the flats was ruled a fumble and was recovered by the Blue Devils deep in Valdosta territory. Just one play later, the tides turned when backup Max Tracey connected with Robert Sims for a 22-yard touchdown to take a 21-17 lead into the half.
In the third period, the fireworks were on display again, highlighted by back-to-back-to-back touchdowns on consecutive plays. Radcliff rumbled 42 yards to give Norcross a short-lived 27-17 lead before Jayce Rogers returned the ensuing kickoff 99 yards. Not to be outdone, Norcross' Jacobe Burrell sprinted his way through the Wildcat special teams and brought an 89-yarder to the house to regain a 34-24 lead.
Valdosta would go on to cash in on a Norcross turnover and score on a three-yard Strickland run to cut the lead back to three at 34-31.
In the fourth quarter Valdosta had one last breath when it held Norcross and forced a punt, but the Cats were faced with the tall task of driving 97 yards with zero timeouts remaining. Shuman would drive Valdosta to the Norcross 47, but a last second hail marry fell short.
PACKER PRIDE…
With youth under center after losing gunslinger John Urzua to graduation, the Bulldogs struggled to move the ball on offense and totaled just 174 yards through the air as Colquitt County stamped a 45-15 win over North Gwinnett. Bulldogs starter Cade Fortin completed 10-of-17 passes for 96 yards but the veteran leadership of Kiel Pollard and quarterback Chase Parrish proved to be too much.
Parrish finished with 16-of-28 for 191 yards and one score, with his favorite target being Pollard. Pollard caught seven balls for 124 yards and one touchdown. The uncommitted wide out also scored twice on the ground.
North Gwinnett's main source of offense came from Miami (OH) commit Kameron Pickett and Southern California-commit Josh Imatorbhebhe. Picket gained 75 yards on 14 carries with a touchdown, while Imatorbhebhe caught four passes for 68 yards and one score.
OFFENSIVE EXPLOSION…
In the final game, star-studded McEachern dazzled in a 50-14 rout over Tucker. With four defensive starters out, Tucker was unable to slow down the explosive Indians. Sam Jackson ripped off 161 yards on nine carries and scored three first half touchdowns. Quay Holmes tacked on 64 yards rushing of his own. He and the rest of the starters were all pulled by the five minute mark of the second quarter.
Bailey Hockman completed 5-of-12 passes for 101 yards and one score, finding Tyler Smith three times for 50 yards and the lone touchdown. The Indians led 48-7 at the half. Garrett Rigby threw for 113 yards and two touchdowns in the loss.