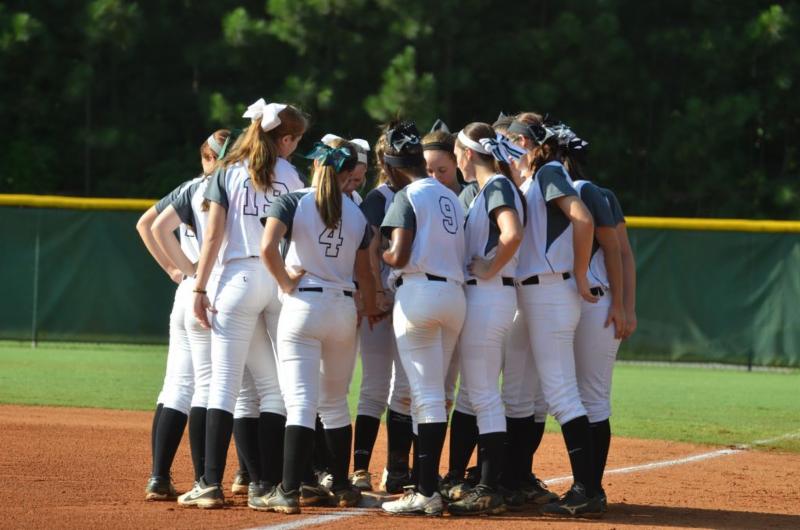 Photo by Sandy McGrail
No. 1 North Gwinnett (10-0) scored four big wins over Collins Hill, Brookwood, South Effingham and Shiloh to remain undefeated in Class AAAAAA. Another undefeated, No. 4 Woodstock (8-0) has jumped up four spots into the top five. No. 5 East Coweta (7-0) also has enjoyed a hot start and has not allowed more than one run in any of its games this season. Freshman Skyla Herbst has propelled Dacula (6-0) into the top ten at No. 10 after driving in seven runs in five games and leading the Falcons with a .538 batting average.
Greenbrier (7-1) slips to No. 2 in AAAAA after falling to AAAAAA's No. 7 Brookwood (4-3).  Cambridge (3-0) now holds the top spot in the state. Northgate (2-6), Harris County (1-5) and Effingham (3-2) have all dropped out of the rankings. Replacing them is No. 6 Allatoona (5-1), No. 8 Grovetown (7-1) and No. 10 Cross Creek (8-1). Ola (7-1) has jumped to No. 5 after defeating Harris County, Alexander and Columbus. Against Columbus, Laura Couch cracked a three-run homer to power the Mustangs. Haley Moore, Taylor McClendon and Caleigh Peters all added two hits apiece.
In Class AAAA, Gilmer (7-1) debuts in the polls at No. 10 and replaces Wayne County (3-3) who falls out. Walnut Grove (7-1) holds tight at No. 3 after a 7-3 loss to Class AAA No. 2 Ringgold (4-1). Brooke Parker supplied the Warriors with two hits in the defeat. Junior Riley Patton was tagged with the loss after allowing six runs in two innings. She struggled with her control, walking six batters in her appearance.
Dodge County (11-1) continued its dominance of AAA, as the No. 3 Indians picked up wins of 12-0 and 17-0 on Saturday. No. 5 Jackson County (9-2) fell to Collins Hill on Friday, but rebounded with wins over Class AAAAA No. 7 South Effingham and Shiloh. No. 10 Southeast Bulloch enters the poll at No. 8 after Blessed Trinity (3-5) has dropped out.
The Yellowjackets (7-0) have outscored their opponents 81-8 to open the season.
No. 1 Heard County (6-0), No. 2 Gordon Lee (5-0) and No. 3 Vidalia (9-0) look like the teams to beat early on this season in AA. Harlem has also made a push, starting 6-0 and jumping to No. 7.
Eagle's Landing Christian Academy (4-2) slides to No. 2 in Class A-Private after losing to Class A-Public Georgia Military College 3-2 in a battle of two defending champions. The Bulldogs are ranked No. 7 and received a Kay Harding homerun to best the Chargers. No. 4 Tattnall Square Academy (9-0) remained unblemished over the weekend and beat Veterans at the Brawl in the Fall tournament. Sophomore Ashley Walker hit a big three-run homerun to lift the Trojans.
Johnson County remains No. 1 in Class A-Public and sits at 9-0. Wilcox County is No. 2 with an 8-1 record while No. 3 Echols continues to make a push at the top two, at 8-0. No. 4 Charlton County and No. 5 Baconton Charter both have one loss at 10-1 and 11-1 respectively.
Class AAAAAA
1. North Gwinnett
2. South Forsyth
3. Archer
4. Woodstock
5. East Coweta
6. Lambert
7. Brookwood
8. North Forsyth
9. Lassiter
10. Dacula
Class AAAAA
1. Cambridge
2. Greenbrier
3. Chapel Hill
4. Creekview
5. Ola
6. Allatoona
7. South Effingham
8. Grovetown
9. River Ridge
10. Cross Creek
Class AAAA
1. Buford
2. Marist
3. Walnut Grove
4. Heritage, Catoosa
5. Thomas County Central
6. North Hall
7. Madison County
8. Carrollton
9. Whitewater
10. Gilmer
Class AAA
1. Calhoun
2. Ringgold
3. Dodge County
4. Pierce County
5. Jackson County
6. Pepperell
7. Rockmart
8. Southeast Bulloch
9. Franklin County
10. Morgan County
Class AA
1. Heard County
2. Gordon Lee
3. Vidalia
4. Bremen
5. Bryan County
6. Union County
7. Harlem
8. Social Circle
9. Wesleyan
10. Seminole County
Class A-Private
1. Prince Avenue Christian
2. ELCA
3. Brookstone
4. Tattnall Square Academy
5. First Presbyterian Day
6. Stratford Academy
7. Calvary Day
8. Mount Pisgah
9. Savannah Country Day
10. Christian Heritage
Class A-Public
1. Johnson County
2. Wilcox County
3. Echols County
4. Charlton County
5. Baconton Charter
6. Trion
7. Georgia Military
8. Telfair County
9. Atkinson County
10. Treutlen