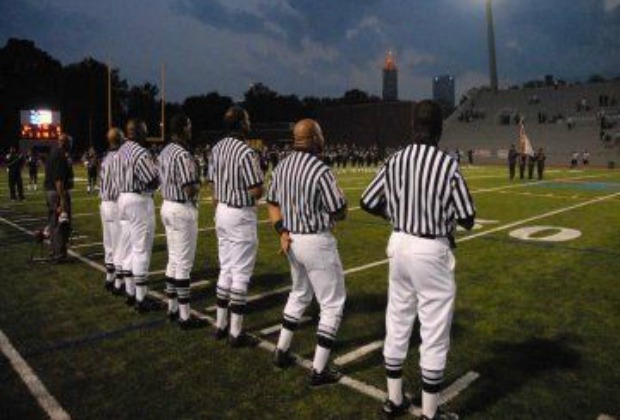 Jon Barash
The 2nd annual Tri-Cities Labor Day classic is set to kickoff this Saturday. It will be a day devoted to football as community recreation games and youth football slate a carnival of football. After the youth games, the action will continue with K.I.P.P. Collegiate vs. Washington at 5:30.
K.I.P.P. Collegiate is in its first Varsity season, and head coach Lester Caldwell will lead the Warriors during the inaugural season. The school was founded in 2011, and will play three varsity games this season without a senior on the roster.
Washington will be a difficult first opponent for K.I.P.P, and the Bulldogs come off an 8-3 season that ended in a 45-21 first-round loss to state finalist Ridgeland.
The nightcap will be Stockbridge vs. Tri -Cities at 8:30. Tri-Cities head coach Kenneth Miller established this Labor Day tradition last season.
"I wanted to form a tradition of football that would be fun for the teams, the fans and the community each year," said Miller.
The backend of the double-header will feature a football first for Tri-Cities and Stockbridge as well, as the two programs have never faced each other on the gridiron.
Tri-Cities went 10-3 in 2011, and Stockbridge finished 11-2 in 2012. The Bulldogs jumped up to Class AAAAAA in 2012, and Stockbridge remains in Class AAAA.
Stockbridge has a pair of highly recruited stars in Kendarius Webster and Maetron Thomas. Thomas is an all-purpose back who committed to Charlotte earlier this month, and Webster is a 4-star cornerback that holds multiple SEC and ACC offers.
"With the game being on Saturday, we really expect a lot of family members to be able to come, as well as surrounding schools that played their games on Friday," said Miller.
This is a great event for the community and tickets for the classic are
$10.00 in advance and $12.00 at the gate with all-day wristbands available for anyone wanting to come and go.