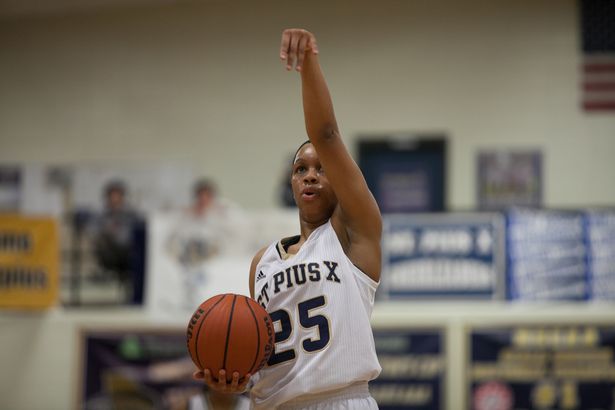 Photo by MyAJC BRANDEN CAMP/SPECIAL
St. Pius superstar and Louisville-signee Asia Durr finished with 52 points, one-point shy of her own school record, as the second-seeded Golden Lions rallied past third-seed Woodward Academy 72-63 to advance to the Class AAAA Sweet 16. St. Pius head coach Kyle Snipes has become well-aware of the caliber of player he has in Durr, (the No. 1 overall prospect in the nation and two-time state champion), but tonight he left the court equally astonished by a hailstorm of three-pointers Woodward Academy used in the third quarter to build a 55-51 lead.
"I couldn't believe what I was seeing," explained Snipes. "They [Woodward Academy] hit 14 3-pointers tonight, including nine in that third quarter. We were not playing our best defense but they just kept shooting from farther and farther away and they kept making them."
War Eagles freshman Tyler Collins went scoreless in the first half, but led the third quarter shooting clinic with five of her six made three pointers as Woodward Academy outscored St. Pius 30-17 in the period. Collins ended the night with a team-high 18 points and freshman Taylor Sutton (17) and junior Jade Allen (13) also finished with double-figures. Woodward Academy led 63-58 with four minutes left in the game but Durr's experience and leadership went on full display and St. Pius closed the game on a 14-0 run. The ambidextrous guard kept St. Pius in the game but was able to take over in the second half with 32 of her 52 points.
"She [Asia] works harder than she plays," explained Snipes. "We should have lost the game the way they came out and shot the ball but Asia is so prepared in every detail of the game and that gives her confidence in any situation."
Durr finished the game with five made 3-pointers and included 18-21 shooting from the foul line. Teammate Miah Allen made two big 3-pointers in the first half and finished with eight points.
Class AAAAAA
Tucker 63, Lowndes 39: No. 1 seed Tucker (18-11) defeated visiting No. 4 Lowndes (11-15). Mariya Trimble scored 24 points to lead the Tigers while Najla Shamsid-Deen added 19. The Vikings were led by Akasha Williams' 10 points.
McEachern 82, Douglas County 60: The Indians (20-5) advanced to the second round of the playoffs after defeating visiting Douglas County (20-9) behind three players in double figures. Te'a Cooper posted a double-double with 22 points and 10 assists. Jada Lewis scored 17 and Tierra Lindsey chipped in 13 points and nine rebounds. The Tigers were led by Santasia Faust's 17 points and Arsula Clark's 12.
South Forsyth 46, Cherokee 35: No. 1 seed South Forsyth held fourth-seeded Cherokee to just 13 first half points and took a 34-23 lead into the fourth quarter. Maryland-signee Sarah Myers led South Forsyth with a game-high 18 points.
Woodstock 60, West Forsyth 57: Woodstock took a 39-31 lead into the fourth quarter and held off third-seeded West Forsyth despite a huge 33-point performance from Jenna Staiti. Taylor Reed scored nine points and Woodstock teammate Kennedy Montgomery led the second-seeded Wolverines with 26 points, six rebounds and three steals.
Class AAAAA
Sequoyah 62, Flowery Branch 60: A last second lay-in from Lauren Hartman secured the victory for No. 1 seed Sequoyah (26-3) as the Lady Chiefs survived visiting No. 4 Flowery Branch (21-5). Hartman finished with 10 points while her sister Kelley led the way with 23 points and nine rebounds. Megan Garcia pitched 12. Breanna Locke led the Falcons with 13.
Brunswick 49, McIntosh 37: Class AAAAA No. 1-ranked Brunswick (28-0) led fourth-seeded McIntosh (18-11) 22-18 at the half before increasing its lead to 41-25 with a 19-7 scoring advantage in the third quarter. Cassidy Williams led visiting McIntosh with 17 points and junior Jomaiya Garner netted a game-high 27 points to pace the unbeaten Pirates.
Class AAAA
Carrollton 63, Redan 52: No. 1 seed Carrollton was led by Emily Water with 14 points. She was helped by Alecia North and Malariah Ranson, both with nine points. Redan mounted a 24-12 run in the final quarter and Keyontae Jones led the way with 13 points and Taylor Jones added 10.