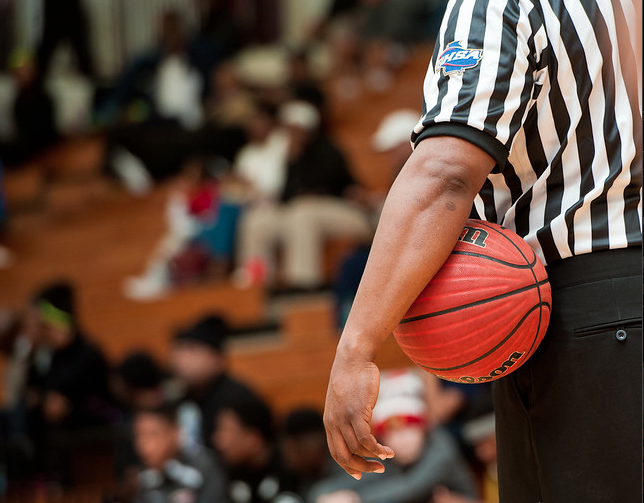 Photo by Ty Freeman
Class AAAAAA fourth-seeded Newton pulled off a stunning upset Wednesday night, beating Tift County 52-49 in the first round of the GHSA State Playoffs. Newton led 24-18 at half and was cruising in the second half before Tift went on a 20-15 run in the final quarter. Tift, the second-ranked team in the state, trailed 50-48 when Newton turned it over with 23.8 second left, stepping out of bounds after an inbounds pass. Preston Horne was then fouled but hit only one of two free throws. D.J. Hill would then hit both free throws for Newton and Tyrie Jackson's three-point shot as time expired for Tift bounced off the rim. Newton was led by J.D. Notae with 22 points. Four Newton players added six points: D.J. Hill, Jaquan Simms, Malik Wilson and Donovan Grubb. Tift finishes the season at 26-2.  Newton came into the game at 20-7 but had finished 6-7 in Region 2 and will visit No. 2 seed Dacula out of Region 8 in Saturday's second round.
Class AAAAAA
Tucker 77, Lee County 51: Bryce Brown and Ayinde Russell both scored 21 points to lift No. 1 seed Tucker (27-2) over visiting No. 4 Lee County (10-17). The Trojans were led by Jalin Wimberly's 19 points and Otis Reece's 14.
Pebblebrook 81, Kennesaw Mountain 52: The No. 1 seeded Falcons (24-5) controlled the game the entire way as they downed the No. 4 Mustangs (18-11). Ty Hudson scored 19 points, Jared Harper pitched in 16, and Chris Nelson added 12 in the win. The Mustangs were led by Nigel Hayes who scored 15.
Hillgrove 62, Langston Hughes 52: No. 3 Langston Hughes (21-8) did everything it could on the road to clip the Hawks (22-5), but the absence of second leading scorer Khalil Cuffee was too much. Chuma Okeke shouldered the load scoring 35 points, but Hillgrove's balanced attack was too much. Antonio Wade led the Hawks with 22 while Jourdan Julian chipped in 17 and Collin Sexton netted 12. Hillgrove will now face the winner of Lambert-Cherokee in round two of the AAAAAA playoffs.
Archer 51, Duluth 46: No. 2 seed Duluth was upset by third-seeded Archer. The game was close at half with Archer leading 27-24. Kwei Larty paced Archer with 14 points with six rebounds. Aleem Ford added 11 points and nine rebounds and Darrion Taylor scored eight. Duluth stayed close until Archer went on an 18-8 run in the final quarter. Duluth was led by Joseph Gordon with 11 points and Anthony Showell with 10.
Douglas County 62, North Cobb 39: No. 2 seed Douglas County was led by K.J. Johnson, who finished with 16 points while Corey Tillery added 10 points and Brandon Robinson had nine. North Cobb was led by D.J. Render with 12 points and Kenny Ume added nine.
Class AAAAA
McIntosh 74, Camden County 47: Class AAAAA's lone undefeated team, No. 1 seeded McIntosh (29-0) cruised at home against 19-9 Camden County. Jordan Lyons did his usual damage for the Chiefs scoring 27 points. Chase Walter pitched in 17 in the win.
LaGrange 60, Houston County 41: The Cinderella story in AAAAA fell short as the visiting No. 4 seeded Bears (9-16) fell at the hands of No. 1 LaGrange (21-7). Laperion Perry led the Grangers with 17 and Rico Smith added 16. Houston County received nine points from Quinton Childs in the loss.
Apalachee 72, Rome 58: Kamar Baldwin scored 28 points and grabbed 10 rebounds as No. 3 Apalachee (20-8) pulled away in the fourth quarter against host No. 2 Rome (17-10). Baldwin, the Region 8-AAAAA Player of the Year along with Kent Knowles helped the Wildcats race past Wolves after leading by just four heading into the fourth. Knowles finished with 23 points including four 3-pointers in the second half. Rome was led by Desmond Johnson and Jaylen Griffin who scored 16 and 15 respectively.
M.L. King 64, Alexander 58: Third-seeded Alexander trailed 58-50 entering the fourth quarter before M.L. King slowed the pace down to ice the game. Senior Jordan Martin stuffed the stat sheet and led the No. 2 seeded Lions with a game-high 24 points, 10 rebounds and six assists.
South Paulding 66, Stephenson 37: Kane Williams scored 19 and Kinsey Burgess added 17 as No. 2 seed South Paulding (21-7) took care of No. 3 Stephenson (12-14) at home. Joe Williams and Taquan Evans both pitched in nine points for the Spartans. South Paulding will now travel to face Brunswick in round two of the AAAAA playoffs.
Allatoona 65, Mays 49: The No. 1 seeded Buccaneers (26-2) took out No. 4 Mays (12-13) at home. Rodney Brown finished with 13 points while Trey Doomes added 12 and Ephraim Tshimanga netted 11. The Raiders were led by Tobias Little's 14 points and Charles Arnold's 10.
Class AAAA
Buford 87, Northwest Whitfield 54: The No. 2 seeded Wolves (16-12) rolled at home against the visiting No. 3 Bruins (16-11) out of Region 7-AAAA. Buford held a 51-29 lead at the half and never looked back. Tre Hansborough led the charge with 23 points and seven assists. Taylor Mills pitched in 17 while Will Springer netted 11.
Class AAA
Blessed Trinity 32, Washington County 30: The visiting No. 3 seeded Titans (24-5) held on late in first round play as Jackson Svete led the way with eight points. Cameron Johnson and Cody Pelitera both chipped in seven. No. 2 Washington County (18-11) received 11 points from AJ Gray in the loss.
Carrollton 54, Columbia 43: No. 1 seed Carrollton had three players in double figures in the win over No. 3 seed Columbia. Dez Webb led with 16 points, Jarel Rowe added 12 points and Dontae Bonner had 10. Carrollton outscored Columbia 22-12 in the final quarter of play to put away the game. Justin Longstreet paced Columbia with 12 points and Rodriguez Dennis added 10.