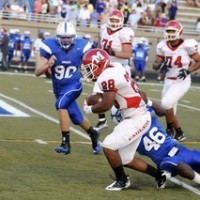 The Milton Eagles made it to the 2011 playoffs despite having a losing record at the time. After being knocked out in the first round, Howie DeCristofaro's first season as head coach resulted in a 4-7 record. The former University of Miami (Fla.) assistant believes he is looking at a different team in 2012 at every position. DeCristofaro doesn't just bring the experience of a year of head coaching into to the 2012 season, but also brings the knowledge of a strength coach and former Olympic powerlifting coach to his first full offseason at Milton.
"This 2012 team is already lifting 50 percent more weight than 2011′s team did at this point," Decristofaro explained.
He claimed as he increased his expectations for each player this offseason, the players' commitment increased with it. "We lifted at 6:30 a.m., five days a week from January until the end of the school year," said DeCristofaro. "Out of the 110 players, 64 never missed a single workout."
Defensive end Carl Lawson Jr. (6-foot-3, 245-pounds) is the strongest player on the team, one of the strongest in the state, and the leader of the team. Much like his team, Lawson flew under the radar during much of 2011. When he was selected to take part in January's RisingSeniors.com all-star game, Lawson had not received any scholarship offers. While there, he continually beat the state's best offensive linemen and was deemed unblockable in the all-star game. Lawson suddenly had his first scholarship offer as well as 24 others to sort through.
Lawson recently committed to Auburn, and the increased attention surrounding Lawson in 2012 will mean an increase in the schemes and focus to block him.
As for what it means to have a player with Lawson's ability in your locker room, the benefits seem to be endless. "When you have someone with the physical ability of Lawson that still works hard as he does, it helps the whole team," says DeCristofaro.
DeCristofaro also mentioned how great of an opportunity it is for his offensive linemen that get to go up against him everyday at practice.
"Getting reps against someone with Lawson's abilities will definitely help our guys," said DeCristofaro. "If they can block him or even just slow him down they are getting better."
DeCristofaro's squad may be bigger and better in 2012, but the schedule doesn't get any easier for them. The Eagles start the season with non-region games against Alpharetta, Johns Creek and Centennial before entering region play. DeCristofaro describes the first three games as almost a preseason. "Obviously we want to win every game, but the real season starts with the first region game. That is when we will need to play our best, and those are the games we need," says DeCristofaro.
The GHSA reclassification has Milton joining the same region as Walton, Lassiter, Etowah, Cherokee, Roswell, Wheeler and Woodstock. Two of the Eagles' losses in 2011 came against Walton which scored 42 points at Milton in the first matchup and 48 in a first-round trouncing of the Eagles.
The 2012 schedule provides the Eagles with perhaps their most challenging and important stretch of games in consecutive weeks. After a matchup with Etowah, the Eagles will have their open week before they have to slow down two of 2011′s best offenses. Milton will host the high-powered passing offense of Lassiter before heading to Walton the following week to try and slow down the running attack of Walton's Tyren Jones.
Jones, who has committed to Alabama, enters his senior season after rushing for 2,375 yards and 38 touchdowns in 2011. With Lawson committing to Auburn, this region matchup just got even more exciting.
As for competing for the region title in 2012, DeCristofaro believes his team's talent and the work this offseason are the keys.
"Does getting stronger win you football games? You can't prove that but when you add it to the talent we already have, it definitely won't hurt our chances next year," says DeCristofaro. Lawson will be the spearhead of the Eagles' attack in 2012.