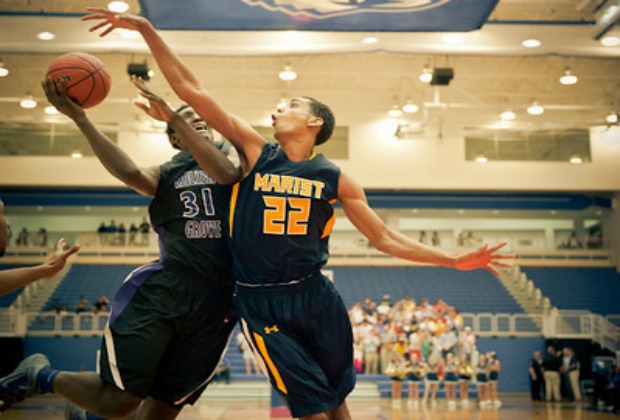 Ty Freeman
Wednesday marked the first day of the NCAA's early signing period, and basketball prospects took that opportunity to send in letters of intent to programs all across the country. Marist forward Quinton Stephens signed with Georgia Tech Wednesday. The 6-foot-8 forward was an all-state selection in 2011-12 after averaging nearly 19 points and six rebounds per game.
The Georgia Bulldogs received a letter of intent from Faith Baptist Christian Academy's J.J. Frazier, considered to be the state's top point guard prospect for the 2013 class. Last season the 5-foot-9 guard averaged 26.2 points per game with 4.9 assists and 5.4 rebounds.
ESPN.com ranks Jones County PF Jarquez Smith as the state's No. 3 overall player. Yesterday, Smith made good on his pledge by signing with Florida State.
There weren't many surprises across the Peach State as several of the top female basketball players submitted their letters of intent. The ACC had a strong showing in the state as ESPN's No. 2 Kaela Davis sent her paperwork in to Georgia Tech. The Buford star's former teammate at Norcross, Diamond DeShields, No. 3 in the ESPN rankings, signed with UNC Wednesday. She will be joined in Chapel Hill by Washington County's Allisha Gray, No. 7 in the rankings. Lovett's Sydney Umeri signed with Virginia yesterday. She is No. 29 in the rankings. North Gwinnett's Lexie Brown, ranked No. 15, has given a verbal pledge to Maryland but did not sign yesterday. St. Francis' Nigia Greene has given a verbal to Miami and Tattnall Square Academy's Ivey Slaughter has verbally committed to FSU. Elsewhere, Buford's Kristina Nelson signed with Notre Dame and Penn State picked up a pair of signings in North Gwinnett's Peyton Whitted and Stephenson's Kaliyah Mitchell. Finally, Alpharetta's Kylee Smith signed with Vanderbilt. Recently, Norcross' Shayla Cooper pledged to Georgetown, but she did not sign on Wednesday.
Wesleyan held a huge signing ceremony with basketball standouts Brittany Stevens (Samford), Kendra Talley (Presbyterian College), Taylor Blackmon (Kennesaw State), Katie Frerking (Auburn) and Paige Mosley (Towson) all signing letters of intent. Swimmer Rachel Koch signed with Vanderbilt while softball sensation CaraMia Tsirigos signed with Indiana. Finally, Jennifer Miller signed to play volleyball at Texas Christian.
Meanwhile on the gridiron, recent Score 44 non-playoff member Mario Mathis committed to Central Florida according to the AJC. The Thomasville linebacker committed to Ole Miss but had his offer revoked when the Rebels coaching staff did not like the progress of his rehabilitation from knee surgery.
Brendan Douglas is headed to Georgia Tech to play B-Back. The Aquinas back has 22 yards this season and also holds offers from Georgia Southern, Samford and Wofford.