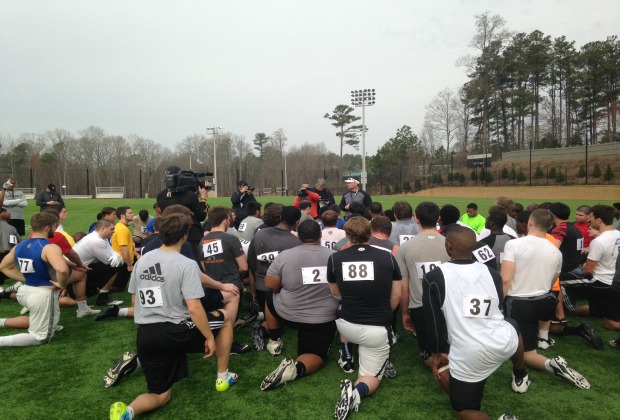 Brian Jones
It was another groundbreaking day for the football program as the coaches held tryouts for potential players on Saturday at The Perch at the KSU Sports and Recreation Center.
The coaches, which included head coach Brian Bohannon, led 85 current KSU students in a two-hour workout. The prospects began the workout with the 40-yard dash, then went on to do agility testing and it ended with position-specific drills.
The prospects displayed their talent in front of family, friends, KSU Athletic Department personnel and local media members. KSU Director of Athletics Vaughn Williams was in attendance as well as former Atlanta Falcons and Atlanta Braves star Brian Jordan and former Falcons quarterback and current 790 the Zone radio personality Dave Archer.
Another star that was in attendance was former Georgia Tech running back and Harrison High School standout Robert Godhigh and he was there to support his brother, Ryan, who recently transferred to KSU. Ryan graduated from Harrison in 2011 and spent a year playing at Jacksonville State. He was one of the players that stood out during the tryouts.
Another player that caught the eye of the coaches is linebacker Zachary Ridlehuber from Walton High School. Ridlehuber graduated from Walton in 2010 and played at Reinhardt University last season.
But Bohannon wanted to let everyone know that all the prospects who came out and took part in the tryouts did an exceptional job.
"I told this group of kids that they made history just by being here today. This is the first-ever football tryout in Kennesaw State history," Bohannon said afterwards. "I was pleasantly surprised by the talent level that was out here today. I wasn't really sure what to expect going into this, but was surprised and excited by what I saw, and the work ethic and seriousness that they showed. They came here to impress."
After the tryouts, Bohannon and his staff used Saturday afternoon to evaluate the prospects. They will make their decisions and will send out emails to all eighty five participants on Monday which will tell them the next step. And for a select few, that means being invited to join the signees and preferred walk-ons in the fall when practice begins.
Between now and fall practice, the only other event for the football program is the unveiling of the uniforms. Not much has been said since the unveiling of the helmet back in September. But the full home, away and alternate uniforms are slated to be released this spring.
Afterwards, fall practice will begin and the 2015 recruiting class will be announced next February. Spring practice along with the spring game will follow and then the first game will be on the horizon as they will travel to Johnson City, Tennessee and face East Tennessee State on September 3, 2015.